VOLUME 4 • CHAPTER 1 • January 2004

---
---
Bubba the janitor wants to say something: Anyone out there recall when, if you rolled up a tube of toothpaste or shaving cream, it stayed rolled up? Do any of you remember when you could buy a decent steak? Whereas there were fine restaurants in South Bend, a bunch of us used to drive to Chicago (100 miles) to eat at George Diamond's on South Wabash near Congress. This would be in the late 40s, early 50s. Great New York strip. The salad person would come to your table with a head of lettuce and a machete…how much do you want, Sir? When your steaming baked potato was served, the butter person arrived with a pound of butter and another machete. Then the sour cream person with a shovel. I think the meal cost 5 bucks. Across the street was Johnny's Steak House where the specialty was a great steak with roquefort cheese melted over the top. Ummm! I 'spect that both have now succumbed in the name of progress… Emil Denemark. '44 tells us: I accidentally came upon this info concerning a coed high school in Loveland, Colorado operated by the Seventh Day Adventists — CAMPION ACADEMY. They have a very nice website at www.campion.net.
From Tim McCarthy '47: 9/27/03 — Dear Aaron…After receiving the Campion Forever issue of April '03 with Tom Doyle's letter I contacted Tom. We met last weekend in St. Paul and had a great get-together! It was the first time we had seen each other since graduation — thanks to your work in keeping Campion grads in touch with one another.
Thanks, Tim, this is the kind of correspondence that makes CF all worth while. Bob Killoren who taught and monitored as Mister Killoren from 1942-45 writes: I uploaded four albums of Campion photos to my page on the Epson Photo-Center. I tried to pick out the photos that showed the most faces. Good hunting and hope you find yourself on at least one…Bob Kuhnmuench '40 thinks there should be an aIl-class reunion on or near the west coast to take care of our far west grads. He even has a resort picked out that he thinks would be a perfect location. It's the Flamingo Hotel in Laughlin, Nevada, snugged up against the Colorado river about 90 miles south of Las Vegas. Two championship golf courses, a 90 minute riverboat tour and a full-blown Casino. We have over 200 guys along the coast and in AZ, NM and NV and, of course, many more in the central western states. Please send us your thoughts about this. Also let us know if you have interest in hosting such a party. Bob will be able to help in any plans, but says he is a bit long in the tooth to ramrod such doings. He can be reached at 626-446-3087 and lives in Arcadia, CA…Henry Owings '48 is still teaching in the Houston area. This must be somewhat relaxing after his earlier years when he flew 50 missions as a pilot on a B-26 in the Korean conflict…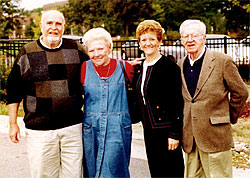 Chuck Shropshire '38 has retired from his medical practice and is now playing golf every day. No word about his traveling handicap…Allen Fink '40 wishes that it was just a matter of a few bucks 67 years ago in order to get out of JUG. Also, in regard on how to handle the juggees, Allen says "no tickee no washee"…Terry Coughlin '66 writes: Unfortunately, the decision of the Jesuits to close the institution that helped so many for about 100 years deprived me of the opportunity of sending my two sons there (born years after Campion closed). Although they went to a fine local high school, I feel they missed a real opportunity for developing independence. I also do not feel the academic rigors of their school compared to Campion, but then that may just be a typical attitude of one generation thinking the next has it easier… George Moran Sr. '41 tells us that Father Schmitt (sp?) a Campion grad was the first chaplain to die in WW 2. He was at Pearl Harbor on the Oklahoma… On the memo line of the check he sent us, John Langenfeld '56 wrote JUG PREVENTION!... Lou Bellini '52 tells us that Bill Lederer '51 got lost in the Grand Canyon, but he had a vision that led him out. Spooky, but Lou gets spooky at times…
Brendan Miles '56 writes "If it weren't for some idealists trying to change the world into their own image things would have been better off without them. Some names that come to mind are Karl Marx, Father Lucey and Father Hilbert who all had one thing in common…the enjoyment of social revolution to impose their own idealistic ways."
Dave Dorsey '50 tells us: One of my favorite stories centers on a Mr. Hotter SJ whose nickname, I think, was Spike. Hard as nails Spike. One late winter evening—which was quite dark after an early sunset—a serious snowball fight took place between Kostka and Campion Halls. When the bell rang for close of free time and study hall to begin, Mr. Holler was observed greeting each student entering Kostka hall with his usual firm handshake. Ah ha! All those with really cold hands got his permission to attend the very next JUG for throwing snowballs. I was not the only one honored this way…Tom Ryan '39 reminds us that some years ago he was commissioned to paint an oil portrait of John Tuohy '38. John at the time was an Illinois State Senator… Bud Hayden '53 compliments Bob Dubrul '53 thusly: At the end of June we celebrated our 50th reunion at Indian Lakes in the Chicago area. We had 57 Knights and 53 spouses. It was really great to renew old friendships. For most of us it was the first time we had seen each other since the day of graduation. All of it was started and pushed by one guy, Bob Dubrul, so I guess that shows the power of one. Now we are talking about another in two years…Mark Criqui '70 is looking for an attorney in the Green Bay area. He is not looking for a Campion discount, just good representation in an insurance matter. Mark is at 407-760-2489.
---
The following story about Father Joe Eagan '40 was gleaned from a beautiful booklet he had made to celebrate his 50 years as a Jesuit Priest and his 80 years on earth. The booklet is primarily a photo album with text to explain the photo content. He has been a world traveler and the photos are remarkable. We can only show you a couple of them in the paper version of our newsletter, but our website has several in living color. We suggest you non-nerds find a computer to view them. We have attempted to make a proper synthesis of this travel-log and hope you find it interesting.
On a hot steamy Kansas day, June 17, 1953, I was ordained a Catholic priest in the beautiful Immaculata Chapel at St. Mary's, Kansas. It was a happy, profoundly spiritual event with my parents and brother John present and many former students from Creighton Prep who drove down from Omaha to be present in the lovely Immaculata Chapel, dedicated in honor of the Blessed Virgin Mary. Now only 11 of 30 in our ordination group remain. At the moment of ordination, Archbishop Hunkeler of Kansas City laid his hands on my head in the ancient ritual of ordination, signifying that he is imparting the Holy Spirit consecrating me to Jesus Christ to bring his healing and strengthening sacraments to all to whom I will minister.
As part of the ordination ritual, the bishop anoints the hands of the priest with sacred oil after which my Jesuit brother John tied my hands. I received Holy Communion from the chalice. At the end of the long ceremony the parents of the newly ordained priests come to receive their son's first blessing. Thirteen years of study, prayer, rich friendships, many good times together after three years on the plains of Kansas climaxed in this our ordination.
"May the blessing of Almighty God, Father, Son, and Holy Spirit come upon you and remain forever." Soon after the ordinations parents and friends came for the priests' first blessings. I blessed my proud and happy parents to whom I owe so much and who generously bade me good-by thirteen years before, and my brother John, three years behind me in the Jesuits. Also attending were students from the sophomore and senior English classes I taught at Creighton Prep four years before who drove down from Omaha to share this happy day with me.
Four days later I celebrated my first public Mass in my hometown, Avoca, Wisconsin. It was a joyous occasion. The old stone church was packed with boyhood friends and relatives. After the Mass my parents, my brothers John and Gene and his wife gathered. My Dad was uncharacteristically solemn!
After a luncheon in the town hall, we gathered in my parents colonial house to receive guests, reminisce and do more blessings! In attendance were three Creighton Prep students from my senior English class who drove all the way from Omaha and three of my closest friends from Campion high school days, Don Cheney, Charlie Welling and Jerry Immel who drove down from Chicago. Only Charlie is alive today.
God's Blessings through 80 years.
Growing up in a small town there were hot summer days, pick-up football and baseball games, shagging flies until it was too dark to see the balls, ice-skating and sledding in winter, and close family life.
I shall always cherish those never-to-be forgotten Campion Years. During the Depression Dad and Mother sacrificed much to send me to Campion for high school. They were four of the greatest years of my life: wonderful friends I'm still close to. Team sports (football, baseball, track), manly Jesuit teachers we greatly admired, and the place where I found my Jesuit vocation, which was the hardest decision of my life. Life at Campion was very good: football, baseball, track, editor of The Campionette, our bi-weekly All-American paper, student office holder, so many friends, one or two (three?) girl friends. Why did I do it? I became convinced God wanted me to become a Jesuit and that I would be happy. Once I made the decision, I experienced much peace. So on August 31, 1940, I said goodbye to my parents and to my best friend Jim Bohan, boarded a train to Chicago and St. Louis, where I spent the "last day" with my Campion classmate and friend Bob McCormack '40 who drove me to Florissant, Missouri and the novitiate to begin my two-year spiritual training.
The Jesuit years of training.
The thirteen years of challenges, great teachers and education, happy times and wonderful companionship with some real "characters" and talented men passed rapidly. There I was at St. Mary's, Kansas. My three closest Jesuit friends the year of our ordination were Ken Killoren who in 1955 took a tramp ship to Korea to found our famous Sogang University in Seoul and to become its first president; Bob Purcell '38 actor, singer, guitar entertainer, home-run hitter, above all kindly priest; Jim Reinert, my study partner for the ad grad two-hour exam covering all four years of theology. Jim's two older Jesuit brothers, were presidents of two Jesuit universities, Paul of St. Louis U and Carl of Creighton U. Only Bob and I remain.
Teaching high school students
I thoroughly enjoyed teaching English and Religion at Creighton Prep in Omaha and at Campion, my alma mater. Those years close to students are full of so many faces and such happy memories of bull sessions, Sodality meetings and projects, of counseling, celebrating Eucharists, coaching baseball and tennis, putting out the yearbook for six years, etc. Among my students was Pat Nugent who later married President Johnson's daughter Lucy and invited me to his wedding and gala White House reception.
From 1957 to 1965 I joined the Summer School of Catholic Action faculty to teach 10,000 high schoolers and over 1000 priests and sisters accompanying them in 10 major cities each summer throughout the United States. The SSCA was a kind of leadership school offering a wide variety of weeklong classes, 7 to 10 electives for each of four periods daily in downtown hotels in cities like New Orleans, Houston, Dallas, San Diego, San Francisco, Pittsburgh, Toronto, Boston, New York, finishing in Chicago with 3000 attending. At first I taught a variety of courses but soon specialized in "The Spirit of the Sodality," the first elective each day in the Grand Ballroom before 500-700 teenagers in the larger schools, "Training for the Apostolate," and special courses for student officers and priest-sister "moderators" of the student groups. It was an exhilarating time: meeting and counseling teenage leaders and their priests and sisters from the entire country. Letters like this each summer made it all so worth while:
"This is just a short letter to thank you from the bottom of my heart for the wonderful love and understanding you have shown to teens in your classes. I have enjoyed "The Spirit of the Sodality" and "Training for the Apostolate." The down-to-earth informal style of your classes made them appealing to everyone. They helped me get a better understanding of how to handle everyday teen problems. I would like very much to keep up a correspondence with you. God bless you and I'll pray for you. Sue Maurer."
Two Student European Tours:
Figuring the only way to visit Europe was to organize a tour, I planned a detailed itinerary, recruited 27 high school boys from Creighton Prep and Campion in 1963 and then in 1965 the History of Civilizations tour for 32 boys. The first tour visited Spain, Italy, Austria, Switzerland, Germany, France, England, Ireland all in six weeks! The students voted to attend the three-hour coronation of Pope Paul VI in the massive piazza in front of St. Peter's, which was the highlight. The second tour added Greece, Egypt, the Holy Land, Istanbul to Italy, Austria, Switzerland, Paris and London. They were great fun and came off without a hitch or problem. To make each tour a genuine educational experience the boys and I met Sundays January to May to study each country and city visited.
My Creighton University Years:
In 1965 the Jesuit Superior pulled me from my beloved high school teaching to become director of campus ministry at Creighton University. It was the wild 60's and a challenge to organize annual retreats for 4000 students, oversee 16 Sodality groups, initiate social action programs, counsel students, plan University liturgies and functions. To help me, the President made me a university Vice-President! With the help of Jesuit faculty and theology students from St. Mary's for the retreats and of many students themselves, it all came off. A highlight of my six years at Creighton was taking 15 college students for a six-week study program at our Jesuit Sophia University in Tokyo. While there I organized an all-night climb of Mt. Fuji!
After six years at Creighton, I took the opportunity to do a doctorate in theology at the Gregorian University in Rome. The best possible midlife decision! Those were three glorious years living in endlessly fascinating Rome with 120 Jesuit doctoral students from all over the world, doing research at the World Council of Churches in Geneva, and writing a 400-page ecumenical dissertation. I passed / survived the two-hour oral thesis "defense."
My 20 Great USF Years:
With the doctorate in Ecclesiology and Ecumenism, I began teaching theology at the University of San Francisco in 1975. I loved sharing information and ideas with my students, 120 or so in four courses each semester. I also lived in the residence hall close to students for counseling and help in their studies and was privileged to perform their weddings. It was a wonderful time!
Two extraordinary Sabbatical years.
These years, rich with round-the-world travel and learning experiences were given by the University to improve one's teaching and publishing. For the first from Sept. 1983 to June 1984 my research project was to study and experience the great world religions: Orthodox Christianity in Greece, Judaism in Israel, Islam in Egypt and Turkey, Hinduism in India and Nepal, Buddhism in Thailand, Chinese religions in Hong Kong and Taiwan. I interviewed scholars and religious leaders and observed people at worship. But first I spent four months writing three long articles in Rome where I personally talked to Pope John Paul II and concelebrated Mass with him in his private chapel.
My second Sabbatical Year, 1990-1991, had multiple goals: study Communism in Russia, the Baltics, Poland, Eastern Europe; visit Martin Luther country in East Germany; learn about Jesuit educational activity in Kenya and Uganda, the Philippines, Korea and Japan; examine the state of the Catholic Church in South and Central America emphasizing liberation theology. Visited Mother Teresa's first home for the dying in Calcutta, viewed the suffering Christ carved by Guarani Indian artists of the famous Jesuit Reductions of the 1700's in Paraguay, experienced life in the Laotian Refugee camp served by Jesuits in northern Thailand, photographed an African risen Christ in the Jesuit chapel in Nairobi, Kenya and a young girl by her cardboard shanty in Asuncion, Paraguay.
My Jesuit brother
My Brother John, (Campion '43) was a great inspiration to me. He was a man of many loves and contagious enthusiasm: for young people to whom he was a gifted teacher, spiritual guide and friend; for hiking in mountains and lakes; for justice; for the poor Mayan Indians of Guatemala; above all for God. He devoured books. Our many conversations were a delight and our tennis matches were no terms given! John loved to celebrate Masses in the homes of his students. Each summer he would take a carload of Marquette High students for two weeks circling cold Lake Superior, each night celebrating Eucharist around their campfire.
John taught us how to die. He accepted his pancreatic cancer as God calling him home. He decided on no treatment. He lived his final five weeks in remarkable peace and strong faith. Five days after he learned of his cancer, he wrote to close friends and former students: "Here is the Lord of my life moving in on me and telling me 'Come home John, I want you to be with me where I am. I want to share my joy, my love and risen life with you. It will be grand and will be forever.' And so deep down I feel myself saying 'Yes, let's go.' I want to be with God and basically, I'm curious as hell about risen life." He asked for their prayers. "Please pray that I may make this last journey in peace, in strong hope of the resurrection, and in growing desire to see face-to-face this incomprehensible God to whom we give our lives. Your prayer, your support, your humor in the days ahead will mean much to me. Feel free to talk with me about it. I feel very free." I chose this letter for the first chapter of Traveler toward the Dawn, the Spiritual Journey of John Eagan, S.J. It is a beautiful, inspiring book which I edited from his hand-written account to tell the story of how God had guided and inspired him throughout his life.
The following are from many letters written to John before he died in response to his letter: "John, you were an inspiration for me while I was at Marquette. You were always so involved with the students and you still had time to take them to Wolf River on your weekends or to help on your retreats. You always had a smile on your face and made our school a better place because of your personality. Paco"
"Our family has such fond memories of your presence in our home throughout the years. You have touched our lives and the minds of our sons. We want you to know you are loved from the bottom of our hearts. Charlie & Kay, Pat, Tim, Kevin."
A large plaque showing John teaching is on the door of Eagan's Milwaukee restaurant. The restaurant is so named to honor John by its owner, James Pandl, the Marquette high student John counseled and helped. James personally wrote the tribute to John under his picture.
Central America Conversion Experience:
At the suggestion of my brother John I read Cry of the People by Penny Lernoux, who spent six years in Latin America researching the Rise of Facism, Torture and Murder and the Persecution of the Catholic Church in Latin America, its sub-title. A troubling book that opened my eyes to the reality there in the 1970's and 1980's. As a result I made four fact-finding trips to Nicaragua, Guatemala, El Salvador and Honduras, talked to government officials, U.S. Ambassadors, to University Jesuits, and to the long-suffering Mayan Indians.
Mountain hiking and climbing.
How my brother John loved mountains and hiking in them! I too confess to a life-long fascination and love for mountains: the majesty and strength, the silence, the bracing air, virgin snow, the grandeur of it all—sacrament of God's creative love. I enjoy the challenge of hiking higher and higher along mountain trails and exulting in the changing vistas, green valleys far below and snow-clad peaks stretching away for miles. What a thrill to reach the top!
50 years a Jesuit.
Early June 1990 at a delicious meal in the USF Jesuit Community dining room and later in the recreation room, 50 special Bay Area friends, USF alumni I got to know through athletics, former students, fellow Jesuits, and relatives from Wisconsin helped me celebrate 50 happy years as a Jesuit.
Second career.
Now I'm richly blessed to be Associate Pastor at St. Patrick's, a "welcoming, prayerful, faith community, an ecumenical, Vatican II parish" It's a joy to minister to such friendly, generous people. To express my gratitude to them, last June I put together The Story of St. Patrick's Colorful Windows. Another blessing has been adult theological education throughout Marin County: each year I lectured to over 100 adults in three parishes, meeting wonderful people eager to learn and discuss. I used my 1995 book, Restoration and Renewal, the Church in the Third Millennium which grew out of my classes at USF and went through two printings. Another blessing has been St. Patrick's Social Justice Action group I started three years ago and has grown into a close-knit community of gifted men & women committed to justice in Marin and beyond. I have come to love parish life, a new career after years in academia!
So many dear and valued Friends.
So diverse: all ages, Jesuits, high school classmates, students, colleagues in the University, so many new friends in Marin County. It is impossible to name them all and risk excluding some.Thank you much. My prayers and best wishes to you.
Father Joe will be an honored guest at the all-class reunion in Orlando in March. Come on down and shake his hand! (Your guests are welcome.) And please do not forget the fund to help out with expenses for our men of the cloth.
---
Without fanfare or flourish of brass instruments, Pat Bowlen (Campion '62) passed by another birthday last Tuesday. No wonder the Broncos' media guide years ago stopped mentioning his age. Mr. Bronco is very old now. He is 59. Mister Bronco? Next season will be Patrick Bowlen's 20th as the Broncos' owner. No other person has been in control of a Denver pro sports team for as many years. Gerald and Allan Phipps owned the Broncos from 1965-81. When he was 40, Bowlen purchased the franchise from fellow Canadian Edgar Kaiser and was introduced as the owner on March 23, 1984. (Kaiser, who belonged to the same church as Bowlen, is suing Bowlen to reacquire the team.) Bowlen was born on Feb. 18, 1944 - not in a log cabin, but on the road in Prairie du Chien, Wisconsin, while his father Paul was moving to Canada for the oil business. Bowlen has been one of the most prominent people in Colorado for two decades. His teams have appeared in five Super Bowls and won two. The Broncos have finished above .500 in 11 seasons and won seven division titles during Bowlen's reign. He led the charge to get a new stadium built - after hinting he would sell the team if the deal wasn't approved. He always has been sneered at for wearing a fur coat on the sideline (in the early years), and he has been laughed at for making disparaging remarks about New Orleans not being a place for families and an NFL jury being made up of common people, like housewives. Bowlen has donated millions of dollars to charities, and he has hosted lavish parties at his Cherry Hills home. He can be seen weekly eating at Del Frisco's steak restaurant, and he has completed a large beach home in Hawaii. He has competed in the Ironman triathlon and has a law degree from Oklahoma. He has chaired some of the NFL's most influential committees and negotiated an $18 billion deal with the TV networks. He has struggled financially at times, but has weathered economic storms and is worth hundreds of millions of dollars. He accepted the Vince Lombardi Trophy after the first Super Bowl victory and said: "This one's for John." He is Irish, Canadian and an American citizen now. But so much is not known about Bowlen. For instance, he and wife Annabel have seven children - and three grandchildren. He is very shy. And he's a good guy in private. However, Bowlen generally is not beloved. After last season, the love for Bowlen is at ebb tide. During the stadium campaign, he may have been the biggest detriment to the issue being approved. His luxury suite with the fireplace at the new stadium doesn't make him an admired man when there's snow and defeat in the air. Ticket prices increase, and his popularity decreases. And many consider him a rich meddler who doesn't know a football from a curling broom. Get used to him, Colorado. Mr. Bronco probably will be with us for another two decades. And, according to a story in The Denver Post today, Bowlen has decided to become more involved in the Broncos' football operations following another mediocre season that ended with the regular season. Al Davis, the anti-Bronco, went to the Super Bowl. Bowlen went to purgatory. Bowlen is the steward for our Broncos. The team belongs to Denver and Colorado and an entire region (Wyoming, Nebraska, Utah, New Mexico, the Dakotas), and he is not supposed to mess it up. He does understand. If he wants to butt into coach Mike Shanahan's office daily for 30 minutes to share a cup of coffee and his beliefs, fine. If he wants to slap the players on the butt at practice, fine. If he wants to say: "but ..." when the scouts recommend a player to be drafted, fine. But the Broncos don't need another Jerry Jones who believes he should be coach, general manager, judge and jury. Shanahan should humor Bowlen, then tell him to get out his checkbook and go run a marathon. Seriously, if Bowlen wants to offer an opinion and hold veto power over a multimillion-dollar bonus - where was he when Shanahan was giving Dink Griese all that money? - he has that right. But he can be wrong. "Griese would be a great quarterback," he once said. He later admitted that Griese wasn't a great or good quarterback. Bowlen should be concentrating in two areas these days: He should be supporting Shanahan's effort to entice Jake Plummer to Denver. Bowlen has to sell some of his jewelry and come up with a $10 million bonus and a seven-year deal. He should be working on making the new stadium as warm to the Broncos and as cold to the opposition as Mile High Stadium was. Bowlen drooled to get this stadium to put more money in his pockets and more money on the table for players. He got it. So Bowlen should be looking at ways to create another South Stands and getting people enthused at games. The predominant colors at the stadium should not be blue and cleavage. Entering the 2003 season, his 20th, Bowlen has the challenges of making the Broncos and the stadium dominant. The bronze horses the Bowlen family donated to the stadium are cute. But stature is more important than statues. And Bowlen doesn't want to turn 60 next February with another lousy team to his credit - and blame. Mr. Bronco could get old in a hurry.
---
Thought this short anecdote might fit in your next edition. I am sure that Fr. Nebrich taught many a Campion student who remember him fondly and some not so fondly. For a pro in the classical languages, he was an interesting enigma. He had a passion for Campion football and walked the opposite sideline for the entire game. Some players got an earful on Mondays. He also took in all the basketball games, but was not as avid about it as he was football. He used snuff in prodigious amounts. He would go to the back of the classroom and inhale a big snort. It was something to hear and see. Glad to see a mention of Dick English. We were traveling together on business in Honduras some years ago and discovered that we were Campion alumni. Thanks for keeping the newsletter going. It brings back lots of memories.
Fr. F.X. "Snuffy" Nebrich, S.J., a classic language professor extraordinaire, taught us fourth year Latin and Greek. He knew these subjects so well that he seldom required a text to conduct his classes. He was one of the best, perhaps, the best, teacher I ever had. He was strict but fair. Sometime in the winter of 37/38 he became annoyed with one of my classmates, "Frenchy" Boisdeau, who wore a built-up shoe because he had once had polio. Frenchy was unconsciously tapping this shoe rather loudly on some underpart of his desk. "Frenchy" sat right in front of me, so I am an eye witness to what ensued. Fr. Nebrich descended from the teacher's platform, walked down the aisle until he was beside Boisdeau. Then suddenly, Fr. Nebrich struck him a mighty blow, almost knocking "Frenchy" out of his desk. The class was awestruck and silence reigned for the rest of the period. The next day Father began his class with the usual prayer, then stood in front of the class and apologized to Mr. Boisdeau. He stated that in 45 years of teaching, he had never struck a student and that his conduct was unseemly for a Jesuit teacher. Class then continued as usual. The end of the story is that as a result we all had greater respect for Fr. Nebrich and for this lesson in humility and justice. This incident along with many others which occurred during my three years at Campion helped to turn this boy into the man that the Jesuits had promised our parents.
Ernie was the valedictorian of his Campion class and is a retired Deacon in the diocese of Covington, Kentucky, having been ordained in 1985.
---
From Jim Radde, SJ '56:
Hi Aaron,
At least once a month I drive to Wahpeton, North Dakota, to visit my two elderly aunts, 88 and 90. Wahpeton is where I grew up. On the last trip my aunts encouraged me to dispose of some books and other items which still took up space in their home. One of those books, with the original bright red and yellow jacket, was Honey Bees and Their Management, — a hot item back in 1951 when I worked for a beekeeper. For some reason I brought the book to Campion my senior year (55-56) — no doubt to impress the big city boys. I was reminded of Fr. Norbie Eberhart, Dean of Marquette Hall, when I found his certificate of inspection on the jacket of my book: "OK. NCE, SJ." I don't recall how he happened to get his hands on my book.
Norbie was on the job right from the beginning of the year. He poured over our outgoing mail watching for illicit letters to "girls." About the third day he knocked on my door and held up a sealed and stamped letter addressed to a "Miss." "What's this all about?" he asked. He relaxed once I explained the "Miss" was one of my aunts. I always liked Norbie but it wasn't until after I joined the Jesuits that I got to know and really appreciate him.
In 1966, ten years after graduating from Campion, I returned as a scholastic. I had just finished a Master of Arts in history and was eager to teach it. They needed a Spanish teacher, so I taught Spanish. Fr. Bob Hilbert, SJ, was the new President. He did away with censorship of student mail and a few other medieval practices. He made the place more humane for students.
I'm not sure how humane Campion ever was for those of us who taught there. I belonged to a generation that was used to doing what we were told. We scholastics were young and full of energy and we did everything we were asked. Occasionally we got off long enough to drive to a movie in Dubuque or LaCrosse. Beyond that it was a 24-6 ½ job — a meat grinder. I'm glad I did regency at Campion. I'm also relieved I'll never have to work there again — unless I get busted in Wisconsin…Campion was a very good school. I had some fine fellows as students. They taught me things I hadn't learned in kindergarten. Then it was two in the morning that day in June of 1968 when I heard the back door to the administration building click closed behind me. I hopped the train for Chicago, the first leg of my travels to Argentina to study theology. I've never looked back.
---
From Chris Westendorf '56:
Dear Aaron,
Thanks for your letter which I received on June 16. Also, thanks for sending me the January and April issues of Campion Forever. I enjoyed both of them—especially the article on Fr. Halloran. During the last few weeks I have had a chance to sit down and read the back issues of Campion Forever. As I read I became increasingly angry, upset and betrayed by the events and evidence leading up to the closing of Campion. After reading the first three issues I felt like I had been punched in the stomach by a pro boxer.
From graduation day at Campion in May, 1968 until May, 1973 I was in college studying, partying and working. From 1973 until 1976 I was a novice and simply professed brother (in lay language, a seminarian) of the Capuchin Franciscan Order. During this time I had read or heard that Kostka Hall had burned down (buildings burn down—no big deal); that there had been a riot at Campion (riots were occurring all over the country at the time) and NBC had aired a piece on the phasing out of ROTC at Campion (I heard about it but didn't see it. With opposition to the war in Viet Nam I wasn't too concerned). I figured that these things happen and Campion would continue forever. How wrong I was.
In the early part of 1975 I found out about the closing from one of the Detroit newspapers shown to me by one of my co-workers. Not believing the news I called my parents who read me the termination letter from Fr. Lucey. At the time and even now some of the reasons given made sense. Considering the ongoing energy crisis and the declining number of men interested in religious life I can understand the decision. But the other reasons given (lack of support for boarding secondary schools and cost of testing hundreds of prospective students) didn't make sense.
I have been back many times to see what is left of Campion but the first time I went back in the summer of 1975 was the most poignant. It was a dreary, gray day when I entered Prairie du Chien. At the time, a lot of the trees in town were bare with a white X painted on the trunks since they had succumbed to the Dutch Elm Disease. Mr. Gosz's basketball camps were still going on but the campus itself looked pretty seedy with uncut grass and bushes. After driving around the quadrangle I stopped in the parking lot in front of Campion Hall. I slumped over the steering wheel and silently shed a few tears after I suddenly realized that my world seemed to be collapsing around me. Since then I have grown to accept Campion's closing and with the help of the internet Campion's spirit is being kept alive.
---
By popular demand, John Bernbrock, SJ '44 fesses up:
Dear Aaron,
How great to hear from you! I could narrate with embellishments lots of stories from Campion. Who couldn't ?
Two events are probably what Pat Grogan was referring to. One was the night I dressed as a Jebby and prefected the whole visiting Marquette High football team who were bunked in the basement of Marquette Hall all night after defeating our football team. I got them out of their beds, down on their knees in the cold, and made them say night prayers. (The real Jesuit scholastics with the team were happy to cooperate and let me take over! And Fr. Diebold was kind enough to loan me a cassock and collar!)
Another frequently rehearsed story involved (Fr.) Bill King, now a Jesuit at Xavier University, but then a sacristan who opened up the altars in Fr. Schutte's church each evening after supper in preparation for the morning Masses next day. He and I were fooling around in Fr. McEvoy's confessional in the rear of the church. I took Fr. Mc's spot and excoriated Bill who was on the penitent's side, for using his "pon" in Greek class that morning. When Bill left, Fr. (then Mr.) Virgil Blum, SJ, entered the chapel and thought Fr. McEvoy was hearing confessions. When he entered and began to make the Sign of the Cross, I fled, going—not out the back—but up the aisle to join Bill who was uncovering a side altar. I can still see Mr. Blum's quizzical look as he stuck his head out of the green curtain. I was convinced he knew it was me, also that I was sure to be on the midnight Zephyr.
So I went to his room and apologized. Mr. Blum, who was never too friendly, that evening merely gave me a candy bar and said, "Don't worry about it!"...entirely out of character. Maybe that was the most memorable part of the evening. Both these escapades involved my "acting as if " I were a real Jebby. My novice master's later remark comes to mind: "John, you are a model Jesuit!" — "Thank you Father!" — "Yes, John, a model is a small imitation of the real thing!"
I am still getting away with the act at 77! I'm enjoying life in this Scottsdale parish and no one has caught up with me. P.S. Dick Hinchion '44 lives close by!
---
Now here's Gerald McDougall '49
Think about this one:
Have you been guilty of looking at others your own age and thinking...surely I cannot look that old? You may enjoy this short story which could be true...
While waiting for my first appointment in the reception room of a new dentist, I noticed his certificate, which bore his full name.
Suddenly, I remembered that a tall, handsome boy with the same name had been in my high school class some 30 years ago.
Upon seeing him, however, I quickly discarded any such thought. This balding, gray-haired man with the deeply lined face was way too old to have been my classmate.
After he had examined my teeth, I asked him if he had attended the local high school. "Yes," he replied.
"When did you graduate?" I asked.
He answered, "In 1951. Why?"
"You were in my class!" I exclaimed.
He looked at me closely and then asked, "What did you teach?"
---
This from Palmer (Pal) Conran '39:
I would be happy to follow the example of the Knights of Columbus and donate a Mass Chalice for each Class to a Missionary Priest for the repose of the souls of the members of each Class. The Knights of Columbus spends about $300.00 per Chalice, divided by those who would participate in each class.
Pal can be reached at 314-962-3208
---
A tribute to Ed Karnacki '42
from the April 30,1985 Congressional Record (99th Congress) follows:
A SALUTE TO EDWARD A. KARNACKI
HON. DAN ROSTENKOWSKI OF ILLINOIS
IN THE HOUSE OF REPRESENTATIVES
Tuesday, April 30, 1985
Mr. ROSTENKOWSKI. Mr. Speaker, it has come to my attention that Edward A. Karnacki will retire from his post as Director of the New Orleans Reception Center of the U.S. Information Agency (USIA) on April 30, 1985. Mr. Karnacki has been director for 5 years bringing his Government service to a career total of 38 years. Prior to his posting in New Orleans, Mr. Karnacki had served in many capacities. He started his career in 1950 as a member of the central intelligence agency. In 1955. he joined the U.S. Department of State and was appointed to the Bureau of Intelligence and Research. From 1961 to 1963 he served as Chief of the Correspondence Division of the Bureau of Public Affairs.
This was followed by assignments as Assistant Director, USIA San Francisco Reception Center, 1963-75, and Assistant Director, USIA Honolulu Reception Center, 1975-80.
Mr. Karnacki has also had assignments in Germany and Eastern Europe. Mr. Karnacki has been a member of the San Francisco and Honolulu Press Clubs. He has been an associate member of the San Francisco World Trade Club and a member of the board of directors of the New Orleans International Trade Mart. A member of Rotary International for many years, he now serves as director of the Rotary Club of New Or1eans.
Born in Chicago, Mr. Karnacki holds a bachelor's degree from the University of Iowa. During World War II he served as a captain in the Air Corps and from 1946 to 1972 served with the U.S. Air Force Reserve, retiring as a Lieutenant Colonel.
Mr. Karnacki is married to the former Marjory Doris Herman.
---
"One person cannot make a difference." Have you ever said that to yourself?
Forty-three years ago a young man, Brother James O'Leary, SJ, (Campion '45) left St. Louis for Honduras. His only baggage, a few clothes and a tool box. On Sept. 22 he died there, at "home." During those years he managed to teach young people to build their own homes. Just simple adobe dwellings that the people there have lived in for eons. Together they managed to build more than 600 houses and learned how to do it with modern efficiency and techniques."
His legacy includes Vocational schools for boys and girls, a high school, an elementary school and a preschool for children who had never had a chance to attend any of them before his arrival. On his journey he learned to speak Spanish and learned to use a computer so he could communicate with the whole world and his private segment of it.
Groves Irish volunteers went to help rebuild his village after Hurricane Mitch. They were so impressed with his activities the president of Ireland came to inspect the results and insisted that he visit Ireland as well.
So one person can make a difference. He did.
Annora K. Koetting Webster
Submitted by Tom Kullman '45
---
Charlie Most (sb '76) writes:
On September 12 - 14, 2003 I'll be cruising the Mississippi River near Campion with 2 class of 1976 friends, Tom Adler, Jr. and James Abderholden. It should be a nice weekend spent on the river remembering old times and creating new memories.
Hey, Charlie…why don't you send us a follow-up on how the tour went?
---
From John Gormley '51:
Dear Aaron,
Enjoy your work on the newsletter, but quite honestly your solicitation letter was marvelous! I hope this gets me out of JUG. JUG gave me an unrelenting hatred of poetry that has lasted to this day.
---
From Dick Day '40:
When I was on the track team, Moose Jajeski and I used to jog to Bridgeport. On the way down we would empty all the bottles of whatever we found in the ditches and when we got back we would each take a little drink. Boy! It was good!!
---
One of you guys sent this article about your stepson to us. Unfortunately, the news item got separated from your name. Very sorry about this. If you will let me know who you are, we shall credit you appropriately in the future.
Corey Flintoff is an evening newscaster for National Public Radio (NPR). He writes and delivers six hourly newscasts each night as part of NPR's newsmagazine "All Things Considered". Flintoff has been a newscaster and reporter with NPR's Washington, National, and Foreign Desks since 1990. Prior to joining NPR, Flintoff was executive producer for Alaska Public Radio Network (APRN), supervising the production of all news programming and hosting an evening newsmagazine. While at APRN Flintoff filed freelance reports for NPR, The Canadian Broadcasting Corporation, Monitor Radio and the Associated Press. He won a 1989 Corporation for Public Broadcasting Silver Award for his coverage of the Exxon Valdez oil spill. He is on the air Monday - Friday at 4, 5 and 6 PM.
---
What does it mean to give MORE than 100%?
Ever wonder about those people who say they are giving more than 100%?
We have all been to those meetings where someone wants you to give over 100%.
How about achieving 103%?
Here's a little mathematical formula that might help you answer these questions:
What makes up 100% in life?
If: A B C D E F G H I J K L M N O P Q R S T U V W X Y Z is represented as:
1 2 3 4 5 6 7 8 9 10 11 12 13 14 15 16 17 18 19 20 21 22 23 24 25 26,
Then:
H-A-R-D-W-O-R-K = 8+1+18+4+23+15+18+11 = 98%
and
K-N-O-W-L-E-D-G-E = 11+14+15+23+12+5+4+7+5 = 96%
But,
A-T-T-I-T-U-D-E = 1+20+20+9+20+21+4 5 = 100%
And,
B-U-L-L-S-H-I-T = 2+21+12+12+19+8+9+20 = 103%
AND, look how far ass kissing will take you:
A-S-S-K-I-S-S-I-N-G = 1+19+19+11+9+19+19+9+14+7 = 118%
So, one can then conclude with Mathematical certainty that: While, Hard work and Knowledge will get you close, and, Attitude will get you there, Bullshit and Ass Kissing will put you over the top.
---
The Jesuit Partnership office located in Milwaukee has been a great help to us in the promotion of the all-class Campion Florida reunions by providing printing and mailing of the announcements. That office has borne the expenses involved and we are most grateful for this service. Now, it seems, it's pay-back time. There are some who say "I told you so." The Partnership wishes to use our mailing list (which is very much larger than theirs) to mail y'all their Wisconsin Province magazine and one solicitation each year. The proceeds of this solicitation is to be used for the benefit of elder Jesuits, many of whom put in time at CHS. Whereas we at Campion Forever have been and remain neutral in this regard, we will always retain the authority to say no. But we will not say yes without a favorable consensus from you. We wish not to get into the advertising business, even for this cause. Please be in touch with us to voice your opinions. (We did a quick survey of several of the guys via e-mail recently — now we are approaching all of you.) As they used to say in Chi, vote early and vote often. In the meanwhile, we have added a link to the Partnership's website under the links tab on the home page of our website. Thus those of you interested in exploring the organization may do so here. It's difficult to say that that is enough to do because we have more non-computer guys than geeks and they would have to exercise their way to the library and seek help in accessing the site. This note will be repeated in the printed version of the April newsletter.
PLEASE KNOW THAT GUESTS ARE WELCOME AT THE MARCH REUNION!!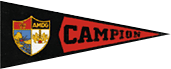 HAPPY NEW YEAR!
See y'all next time…Hugie (Aaron Huguenard '47)