VOLUME 3 • CHAPTER 3 • July 2003

---
---
Tom Murray '43 is the author of the following article. It was published in The South Bend (IN) Tribune several months ago. It is with Tom's permission that we present it to you.

uring six years of boarding in Catholic schools the atmosphere was strong and Catholic; no homosexual activities nor instances of pedophilia ever came to my attention. My "cloistered years" at Campion Jesuit High School, St. Meinrad Seminary (southern Indiana) and St. Francis Seminary (Milwaukee) profoundly and positively affected my later years and my relationship with my wife Pat and our six children.
What has happened to the seminary culture I left behind 55 years ago? What has the hierarchy done to my church, they whom I left behind to "run the store," to grow up in it as I might have done as one of its clergy and perhaps to have grown into a leadership role if marriage and a family had been an option open to me?
I have paid my dues as an active, involved Catholic lay person and I feel that I have been betrayed by the hierarchy, those "running the store." My conclusions and observations to our American bishops, and to Rome, are based on deep thoughts long in process and forged into expression by the recent disclosures of the shameful state we are in. I observe:
The modern Roman Catholic Church has a strong policy permitting only the training of men directed toward the unmarried celibate priesthood.
This policy, if not the cause, has created the climate that has produced and permitted sexual scandals of several distinct categories, not only to emerge, but to continue long unabated to the detriment of the Roman Catholic Church and its mission to: a) foster vocations to the priesthood, b) foster holiness in all of its clergy and c) ultimately through its priests, to bring its members to Christ so that they can live Christ-like lives, following the teachings of Jesus.
The coexistence of a married clergy and a celibate clergy is conducive to serving the needs of the Catholic laity and would be accepted by the great majority of the faithful - and is their preferred, if not yet demanded, objective.
In this age of high literacy and ever greater open dialogue and communication between the flock and the hierarchy the presence of married clergy with wives and children, working in tandem with a celibate clergy would never tolerate pedophile priests being sheltered by the hierarchy and shuttled for years from parish to parish while leaving a trail of victims and promises of future victims, as has occurred in the past 40 years.
The present-day multiple scandals which include clergy and hierarchy misdeeds
and silence, as well as the surrender of seminaries in too many instances to a
dominant homosexual culture which in some cases foster unbelievably corrupt
doctrines (see page 70, 1.23, and pages 63-87, "Goodbye, Good Men," Michael S.
Rose, Regnery Publishing, Inc. 2002), would not occur let alone be permitted to
endure, in a climate that included family (married) priests and men studying
for the priesthood who had the marriage and family option open to them.
We have suffered a 23 percent drop in the number of priests in the United States between 1965 and 2001, dropping from 58,632 to 45,191, a loss of 13,441 priests. The number of parishes without priests has increased from 599 to 3,151 between 1965 and 2001. During these later years the average age of priests rose so that by 1999 the average diocesan priest was 59 years old and 24 percent of all diocesan priests were over the age of 70. These statistics come from Georgetown University Center for Applied Research in the Apostolate as quoted on Page 195 of "Betrayal" and don't include those who have left or been forced out in 2002 by the scandal disclosures made public earlier this year. "Betrayal" was published in the
spring of 2002 and was authored by the Investigative Staff of The Boston Globe.
In conclusion: We have run the church without a married clergy, and this method has failed miserably during this past 40 years. Let's operate the church with both celibate and married priests working together in this new era and get the train back on the track in a climate that will not permit what history shows has happened: That the unimaginable has become the reality.
I would like to further observe that: 1) because of Bishop John M. D'Arcy's experience in his early years as a priest working on the firing line in seminary formation; 2) because of his experience as an auxiliary bishop in Boston; and 3) because as bishop of Fort Wayne-South Bend during these past 17 years he has had a most successful and accomplished tenure, which we local church members have witnessed and benefited from greatly; that because of these experiences he is in a unique position to bring healing to the church. Bishop D'Arcy could successfully lead a coalition, appointed by Bishop Wilton D. Gregory, Bishop of the Diocese of Belleville, Ill., who is the president of the Council of Catholic Bishops of the United States, to draft and implement a plan and course of studies that would bring men into the seminary system who would either be married or would reserve the option to marry in the future.
These men, studying for the diocesan priesthood at the same institutions, would bring strength, stability and maturity to both concepts. Further, the laity and our presently serving clergy, both heavily burdened and disillusioned by recent disclosures, would see the establishment of these parallel routes to the priesthood as fitting and meaningful. This procedure would establish a credible remedy to present ills through a traditional solution compatible with the current well recognized inclusion of married priests in our church here in the United States.
Recognized both through those former Protestant ministers and priests who (with wives and families) have converted to the Catholic Church and been accepted for ordination and who simultaneously serve many of our parishes; and also through those married priests of the Eastern Rite who simultaneously serve many of our parishes. Approval to expand this existing practice and tradition should, would and could be obtained from Rome by the Council of Catholic Bishops of the United States.
Will Rome and the American hierarchy hear us? Hopefully so. Let us broaden that existing tradition, right ourselves and move forward taking Christ, the Mass, the Sacraments, biblical teachings, our Marian devotions and the tenets of our wonderful Catholic faith as exemplified in the Apostles Creed, to all.
Thomas Murray of Granger (IN) practiced law in South Bend for 32 years following graduation from Notre Dame Law School in 1951. He was a member of the Penn-Harris-Madison School Board for its first six years and was on the School Board of the Fort Wayne-South Bend Diocese for two years. He is a member of St. Pius X Parish, Granger, and for the past 18 years has been engaged in residential and commercial subdivision development.
---
Lightening up a little bit, Dick Rawe 48 is back. Thanks, Dick

ne of the things about student life at Campion Jesuit High School in the 1940's was you couldn't get away with doing nothing. Besides spending three-quarters of the waking hours of your day in the chapel, classroom, dining room and study hall or marching on the football field, every able-bodied student played every in-season intramural sport every day. Then there were spare time projects, practices, productions, performances, plannings and competions: choir and glee club, varsity (football, basketball, baseball, track), debate and apologetics, concert band, Masquers, junior sodality and student conclave, school newspaper, yearbook, ballroom dances, pep rallies and bon fires, tournaments (pool, ping pong, bowling, basketball), musical concerts, camera club, Latin contests, ROTC band and rifle team, and others my aging memory can't recall). In short, there was little humdrum in the life of a teenager at Campion.
To help as many other students as possible fill up their empty spare-time slots, Charlie Mudd '48, Bob Bransley '48 and I drafted many for Campionette work. They included such as Joe Yott '48, Lee Bachle '48, Pete Carey '48, Miller Bransfield '48, George Schmidt '48, Ed Carruthers '48, Dave Florence '48, Jim Morris '48, Jim Rogge '48, John Mattimoe '48, Tony Ryan '48, Joe Sweeney '49, Jim Sweeney '49, Pat Heck '48, Bob Merkle '48, Ray O'Brien '48 and others.
In the middle of it all, something new came up. The quality of the varsity basketball team that year warranted visions of the State Tournament and a gleaming trophy. So after Christmas vacation, Father R. J. Conroy, S.J., teacher of physics and geometry and moderator of the radio club, developed a process for student play-by-play broadcasts of several Campion Varsity Basketball away games, including the State Tournament in Green Bay.
Six candidate students, Charlie Mudd, Jack Walsh, Tony Ryan and Don Parker '48, John Toomey '50, and myself, were selected for try-out. The candidates were screened by means of broadcasts of four home games on a line set up between the Senior Gym and the Infirmary. The candidates first took turns calling the play during a game with Lansing High School on January 23, 1948 (Campion won, 64-31). Before the month was out, additional try-out broadcasts were made during three more home games with Aquinas (43-38), Cotter (30-27) and St. Mary's, (35-41) and the crew were culled to two finalists, Don Parker and myself.
I developed a practice of giving fake commercials to take up time during halftime intermission. For example, I touted Krolfinfoz Candy Bars, the candy sold without wrappers. "They are handled by dealers all over the nation," I said. Then I reminded listeners that "Krolfinfoz" spelled backwards is "Zof-ni-flork."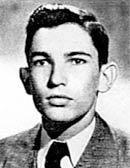 Saunier
Don got the first chance at away-game broadcasting over a dedicated telephone line to speakers in the auditorium on February 8 when Campion played Cotter at Winona. Campion lost that game, 40 to 49, capping a three-game losing streak. My opportunity at stardom came five days later with the game at Aquinas in La Crosse.
The rest of my story involves one of the varsity basketball players, the captain of the team, Steven Saunier '48, a young man with thirteen letters in his name and a healthy sense of superstition. Steve, already jittery over the recent loses, looked at the game date, Friday the thirteenth, took into account that it was the thirteenth game of the season, counted the thirteen Campion students who were on the bus to La Crosse, and freaked out.
Coach Mel Nicks brought with him to La Crosse that day team manager Jim Morris, me, and eleven players, including guards Steve Saunier, Charley Pechous '48, Ed Fitzgerald '49 and Jack Kiley '48; forwards John Leonard '48, Jim Rose '48, Bob Snyders '48, Mike Bestler '48 and Bill Sullivan '48; and centers Tom Kalb '49 and Vic Rosenberger '48.
It was a slow, rumbly, hundred-mile drive to La Crosse in the old bus so there was plenty of time to consider things. Steve had said the play-by-play announcers were a "jinx on the team" and the cause of a recent spate of loses. Steve said we couldn't afford a "triple zinger." I didn't know what that meant until Steve explained that when three magical signs occur at once, something bad could happen. Then he told me that if I had stayed at school there wouldn't be thirteen students on the bus to La Crosse.
That rattled me a bit at first, then I decided not to buy it. Sure, it was Friday the thirteenth, but, after all, there were fifteen people on the bus when you counted the bus driver and the faculty sponsor. And, if you counted the practice game with St. Columbkille back in November, this was the fourteenth game of the season. Nah, it was hooey, superstition, I didn't buy it. Yet for the rest of the trip numbers kept rattling around in the far reaches of my brain.
I knew Steve felt he could say those things to me because he and I were old friends, both born and raised in Lexington, Kentucky. We had gone to grade school together and had played softball for several years at Woodland Park. He was a standout ball player with an intense ability to concentrate on his goal, going for the catch like Dimag, diving for the base like Rose, and he had an underhand pitch like Lemon threw overhand.
I don't believe Steve played much basketball before he came to Campion. Oh, sure, there were Andy Anderson's Saturday morning warm ups at Morton Junior High gym, but they hardly counted. It was in the Campion junior division gym that Steve began to realize that basketball was his game. And he went on to captain the Campion varsity and lead in points scored by virtue of a deadly hand lay-up shot.
I had two tasks to complete before the Aquinas game started. First, I had to establish communication and make sure I was hooked up properly to the telephone line and was getting through to the auditorium back at Campion. Next I had to familiarize myself with the Aquinas Blue and Gold players; that meant I had to memorize about twelve names and numbers and connect them with twelve faces while the players were warming up on the court.
Campion fell behind early and I could see a frown darkening Steve Saunier's face as he dribbled up the court and passed to Charlie Pechous. The team was not itself all through the first half so I tried to cheer up my listeners during halftime with a commercial about a despised cereal the school was serving at least once a week. It was a Kellogg product that came in one of those little white boxes with big red letters. Most guys would rather eat the box than the contents. So in my commercial I told how then Secretary of State, George C. Marshall, had tried to feed the starving children of Europe with excess Corn Soya sent over as part of the Marshall Plan, but the children rebelled and sent the cereal back to the USA. I reminded my listeners that "Corn Soya" spelled backwards is: "Ayos Nroc."
Then I made my great radio blooper. I described how people were moving back to their seats for the second half and players and officials were congregating on the basketball court. My words came over the loud speakers to the listening Campion students and faculty: "Here come the refs wiping off their balls."
Early in the third quarter, with Campion trailing Aquinas by fifteen points, disaster struck. In my mind I still see Steve Saunier taking the pass from Bill Sullivan and driving through the defense for the basket.
Then I looked up at the clock and my jaw dropped. There were thirteen minutes left in the thirteenth game of the season and we were down by thirteen points. A triple zinger!
The Campion Knights lost to Aquinas that day, 57 to 40. Still, after one more loss and five wins, they made it to the State tournament in Green Bay, losing in the first round to Messmer High, 50 to 30. I went along to broadcast the game, but the phone company screwed up some way and the line back to the school was dead. A zinger? The team's only consolation for that tournament loss was that Tom Kalb had broken the Campion all-time scoring record.
The game at La Crosse was Steve's last. He spent much of the remaining days of his last year at Campion on a pair of crutches, getting away with doing nothing and always willing to call my attention to the curse of play-by-play announcers. Steve Saunier died some years ago.
Long live Campion.
Long live her gallant sons
Most men would respect a woman's mind more if it bounced gently as she walked.
If you have a computer and are not getting periodic messages from us it means that we do not have an e-mail address for you. If this is the case please let us know what your e-mail address is. We periodically send out general news bits and also send out items of interest to individual classes
---
This list is of some grads whose e-mail has been returned for whatever reason…different server, error on our part, error on someone else's part…who knows? The names are in graduating class sequence. A zero indicates we do not know the grad year. Please help us, if you can, to correct our files. Thank you.
45 Fitzgerald, Bill; 48 Bestler, Jim; 48 Lauer, John; 48 Molidor, Jack; 48 Strum, Frank; 49 Fuller, Joe; 50 Kieswetter, Bob; 50 Kraman, Paul; 50 McKenna, John; 50 Richards, James; 50 Ryan, Martin; 50 Thull, John; 51 Vandenbroek, James; 52 Jesse, Roger; 54 Baker, Alan; 54 Hogan, Tom; 54 Killoren, Robert; 55 Bichle, Jerry; 55 Bussan, Dick; 55 Nolan, Bill; 55 Schmidt, Peter; 56 Arneson, Richard; 56 Baldwin, Nick; 56 Bingham, William; 56 Johnson, Jim; 56 Maloney, Jim; 56 Polodna, Paul; 57 Bayley, Jim; 57 Bell, Bob; 57 Berger, Jim; 57 Burbach, George; 57 Duffy, Dennis; 57 Hinko, Paul; 57 Morrow, Jim; 57 Tate, Michael; 59 Phillipp, James; 59 Zant, Jim; 60 Ganther, Thomas; 60 Lewis, Mark; 60 Lopez, Alfred; 60 Strozok, David; 62 Skemp, Peter; 63 Riley, Walter; 64 Lochner, Mark; 64 MacDonald, Dan; 64Shandorf, Bob; 66 LaFleur, Tim; 68 Dudek, Paul; 68 Jordan, John; 68 Mannat, Brad; 68 McCormick, John; 68 Shaugnessy, Tom; 69 Miller, Greg; 71 Beaton, Bill; 0 Daniel, Rev. Stephan; 0 Hughes, David.
This list is of those whose USPS mail has been returned as undeliverable. Same drill…if you can help us find these guys we would appreciate it.
0 Bilder, Jerome; 0 Malone, Jim; 0 Peterson, Donald; 33 Amann, Paul; 35 Boevingloh, Paul; 35 Brooks, Sidney; 35 Burger, S.J., Raymond; 35 Houlihan, Robert; 35 McGrath, James; 35 Read, Lee; 35 Tyler, Francis; 37 Carey, Richard E.; 38 Casey, Thomas; 38 Scherer, Dale; 40 Murray, Hugh; 41 Barnett, John; 41 Brundage, Thomas; 41 Foman, M.D., Samuel; 41 George, John; 41 Gleeson, Edward; 41 Madden, Thomas; 41 O'Brien, Robert; 41 Quinn, Thomas; 41 Rowley, John; 41 Zdrojewski, William; 44 Egan, Raymond; 44 Gallagher, John; 44 Gallagher, Jack; 44 McGowen, Edward; 44 Means, Robert; 44 Schumacher, Philip; 45 Balk, Joseph; 45 Deppen, William; 45 George, Richard; 45 Giunda, Francis; 45 Hartnett, John; 45 Jordan, Henry; 45 Musgrove, Ralph; 45 Rickey, Felix; 45 Roberts, Robert; 45 Ryan, Francis; 45 Sullivan, John; 46 Deale, Philip; 46 Erhart, Charles; 46 Gladson, Guy; 46 Kempel, David; 46 McCoy, William; 46 O'Connor, Raymond; 46 Scheurich, Leo; 46 Schultheis, Frank; 47 Dineen, Emmit; 47 Dungar, Charles; 47 Ferren, William; 47 Fishback, William; 47 Grady, Thomas; 47 Jost, John; 47 Leyland, Don; 47 McKeown, Daniel; 47 Molo, Robert; 47 Shea, Daniel; 47 Tank, Richard; 47 Westropp, John; 48 Barden, John; 48 Donnellan, Richard; 48 Hardin, Daniel; 48 Kelley, James; 48 Ladner, Charles D.; 48 McManus, John; 48 Morris, James; 48 Murphy, John; 48 Murray, Frank; 48 O'Brian, Raymond; 48 O'Leary, Gerald; 48 Rally, Pierre; 48 Riccardi, Robert; 48 Ryan, Anthony; 48 Smith, Thomas; 48 Underriner, Richard; 48 Varley, John; 49 Kalb, Thomas; 49 Laughlin, Lawrence; 50 Feldhake, Robert; 50 Mooney, Edward; 50 Stoeckinger, John; 51 Clifford, Rev. Michael; 51 Tank, Thomas; 52 McClure, David; 54 D'Asaro, Ned; 54 Harrigan, Michael; 54 Horrigan, Michael; 54 Kloman, Richard; 54 Maloney, John; 55 Harris, Ray; 55 Valleau, Dick; 56 Day, William; 56 Nelson, Gordon; 57 Broghammer, Neil; 57 Domville, Alfred; 57 Frain, Michael; 57 Maguire, Robert; 58 Sinkule, Joel; 59 Justman, Joel; 59 Sullivan, Patrick; 60 Bourke, Andrew; 60 Krauser, Frank; 60 Lagura, Robert; 63 Bachuber, William; 63 Grange, Stephen; 63 Keating, Thomas; 63 Lynch, Phillip; 64 Bergstrom, John; 64 DeFeo, Don; 67 Faler, David; 67 Guild, Robert; 67 Hamblet, Steven; 67 High, John; 67 McGrath, Ed; 67 Seaver, Thomas; 67 Tracy, Terrance; 68 Betterman, Pat; 68 Cunningham, Sean; 69 Farrell, Dennis; 70 Wood, Mark; 72 Casey, Patrick; 73 Zebre, Michael; 75 Artis, David; 75 Casey, Tom; 75 Geoghegan, Barry; 75 Stoner, Bill.
We have added a few pictures of the '52 guys taken at the recent Pensacola reunion to the website.
Last year I replaced several windows in my house. They were the expensive double-insulated energy efficient windows. This week I got a call from the contractor complaining that the work has been done for a year and I had failed to pay for them. Boy, oh boy, did we go round and round. I told him no one pulls a fast one on this old lady. Even though I am a senior citizen and used to be a blonde, doesn't mean that I am automatically stupid!
I proceeded to tell him just what his salesman told me last year; that "in one year they would pay for themselves!"
---
Dear Aaron,
Just a short note to relate a coincidental meeting in February of some Campion Alumni. Bill Lederer '51 and I were having dinner at the Spinnaker Restaurant on the water front in Sausalito, CA. Bill heard Campion mentioned at a nearby table. So we interrupted and identified ourselves as 'Knights of old' and met Joe Eagan (SJ) '40 and Lester Sentz '40. Handshakes and smiles all around.
Father Eagan is associate pastor at St. Patrick's in Larkspur, CA. Lester Sentz is retired and living in Milwaukee. Bill Lederer is semi-retired in Glenview, IL. I'm retired and in San Rafael, CA.
Regards,
(signed)
Dave Hauer '51
---
Don't know how you found me, but I am glad you did. Attended Campion from 1928 to 1931 Long enough to eat some of Martin Betzle's "HORSE NECK".
My only claim to fame was Manager of 1931 football team. If there had been a JUG TEAM I WOULD HAVE BEEN CAPTAIN. I did have a special seat in jug for two years.
In the year 2000 I was discharged from the hospital and turned over to Hope Hospice where I was supposed to die with dignity.. who ever heard of a guy from Campion having dignity.
So here am in Cape Coral hoping to receive your news letter. Please keep me on your list.
James F. (Goldy) Miller, 1931
1307 SE l4th Terrace
Cape Coral, FL 33990
---
NOSTRA DUMBASS sez: The word vegetarian derives from the language of the Seminole Indian Tribe. The literal translation is "lousy hunter".
Two elderly women were eating breakfast in a restaurant one morning. Ethel noticed something funny about Mabel's ear and she said, "Mabel, did you know you've got a suppository in your left ear?" Mabel answered, "I have? A suppository?" She pulled it out & stared at it. Then she said, "Ethel, I'm glad you saw this thing. Now I think I know where my hearing aid is."
---
This was excerpted from a note I recently received
from our old '47 classmate, Jim Radke:
I was in Fennimore, WI., this past week making a presentation on Economic Development to a SW Economic Development Group, and had mentioned my links to the area at Campion. I still am working full time as the Executive Director of the Bayfield County Economic Development Corporation up here in far northern, but beautiful northern Wisconsin. Afterward, Mike Lochner '60 came up and introduced himself and invited me to the golf outing that they have in Prairie. I certainly intend to make that event in early June, since I can't make the Florida reunion. Later a young man came up and said that his Grandfather by the name of McGinley had graduated from Campion but wasn't sure of the year.
I had intended to drive over to Prairie and see the property, but Ruth dissuaded me, saying that maybe it was best to remember it as it was with all the fond memories. I guess I will bite the bullet in June and drive by. Someone in one of the past newsletters mentioned that Ma's is still there in some form.
I may have mentioned that while I was a student at UW-Madison, my wife was teaching at Boscobel. I used to drive over in a beat up old Pontiac that used more oil than gas on the round trip. But while I was waiting for her to get out of school, I would drop in at John D'Orazio's father's liquor store and share a libation with him in the back room. John's father, I think his name was Gus, was very gracious and hospitable, finding that I had graduated with his son.
Say hi to any of the class of' '47. My thoughts are with you all.
(Signed)
Jim Radtke, 47
---
This note is from Doctor Jim West, '32
Hello! I am so sorry I missed the reunion in Florida. I was looking through some old papers and came upon my year book of 1932. I also have the year book of 1931. I graduated in '32. I'm wondering if there is any one out there from my wonderful time at Campion. I entered in 1928. I lived in Chicago where I went to Loyola medical school and practiced surgery until I retired in 1982. I moved to Palm Desert, California where I started looking for something to do beyond just playing golf and quietly rotting away. At that time the Betty Ford Center was being built so I signed on and became the medical director. I am still there. During my working years in Chicago, I became interested in the field of psychiatry as it pertained to substance use disorders. I was on the faculty of Loyola in surgery and on the faculty of psychiatry at the University of Chicago. I have six kids, all well and lots of grandchildren. This is not a bragging thing, it's just what I've been doing since I left that great place - Campion. I have these year books and a few other things. I would be glad to send them to you for the pictures of the teams , the Jesuit faculty, all the different clubs.
There some things you may want to put in your newsletter. I would send them to you insured and request that you send them back to me if you are interested. Closing Campion was a sad day for me when I learned about it. I have read all your news letters, and know a few Campion graduates - mostly young guys who graduated in the 60s and early 70. I've kept in touch for a while with Paul Finsterer, SJ, who was in the Phillipines. I haven't heard from him lately. I don't have a scanner or I'd send pictures.
AMDG and best regards,
Jim West, 32
---
We had a little negative response concerning our article about the problems at the University of San Francisco and Father Joseph Fessio's St. Ignatius Institute and Campion College.
Two letters were from Jesuits that were upset with our publishing it. Claiming that the article was a lie, and ergo CAMPION FOREVER was less than true blue. For anyone interested in seeing the source of this short article in the National Review, I suggest you click here. I further suggest that you follow all of the links in the story. I sought a Jesuit source on this matter, and here is what I received from Father Richard McGarrity, President of the Jesuit Partnership:
The article by Stanley Kurtz states the facts about the St. Ignatius Institute and
Campion College quite accurately, to the best of my knowledge. I do question, however, his (Kurtz) characterization of USF as run by "liberal" Jesuits. This, I think is somewhat gratuitous. The whole matter is far more complicated.
Presently Fr. Joseph Fessio, with the blessing of his Jesuit superiors, is Chancellor of Ave Maria University in Naples, Florida. Actually it is just being formed and it's generating a lot of excitement for those interested in the founding of a traditional Catholic University. Regards,
Dick McGarrity, SJ
---
Several grads have asked us to publish obituary information so that they will know how happy to be in getting both feet on the floor each morning. We have been accumulating such information for a few months and we offer the following list of our brothers who have passed along. It is far from complete, so, as usual, please help us to make it more current. Thanks.
0 Reinert, S.J., Carl; 0 Hanousek, John; 0 Maynard, SJ, George; 0 Meara, S.J., James; 0 Meara, S.J., Thomas; 0 Cummings, Corby; 0 Clark, Alex; 0 Cherrier, Donald; 0 Carey, S.J., Francis; 0 Scallon, SJ, Joseph D.; 0 Schutte, S.J., Theodore; 0 Bruch, John; 0 Bernert, SJ, Roman; 0 Bernert, S.J., Roman; 0 Stemper, S.J., T.J.; 0 Sweeney, SJ, Leo; 0 Stevenson, C. Frank; 0 Weitzel, Father Owen; 0 Stockley, SJ, Bro. Harold; 0 Stokes, S.J., Thomas; 0 Baltes, Joseph; 35 Hillenmayer, Herbert; 36 Tuke, Robert; 39 Wade, Jerome; 40 Dineen, Jim; 41 McKerr, John; 41 Baumann, John; 41 Zummach, S.J., Jerome; 41 Van Ackeren, S.J., Maurice; 41 Baumann, Jim; 42 Toale, Owen; 43 Barnard, James E.; 44 Barr, Larry; 44 Gillings, Daniel; 44 Madden, SJ, Bill; 44 Springate, Roger; 44 Sheehan, Bill; 44 Burrell, Alexander; 44 Riordan, Dick; 44 Kieswetter, Joseph; 44 Grogan, Pat; 44 Jeffers, Andy; 45 Casey, John; 45 Deppen, Robert; 45 Hoeflinger, Michael; 45 Mooney, John; 45 Conmay, Thomas; 45 Stemper, Daniel; 45 Santschi, Frank; 46 Healy, Paul; 46 Kearney, Robert; 46 Andrich, Richard; 46 Mattimoe, T.E.; 46 Meganck, John; 46 Delaplane, Allan; 46 Belanger, Joseph; 46 Demuth, Raymond; 47 Doyle, Dave; 47 D'Orazio, John; 47 Hessburg, Jim; 47 McGrath, Richard; 47 Sedlack, John; 47 Rufflo, Bob; 47 Peterson, Dave; 47 Adler, Tom; 47 Kerwin, John; 47 Lafond, Bob; 47 Offenbacher, John; 47 LeFevour, Ed; 47 Sheehan, Tom; 47 Walker, Fintan; 48 Stanek, Mark; 48 Moore, Maurice; 48 Barrett, Jack; 48 Saunier, Steve; 49 Nasser, Ronald; 51 Sweeney, George; 53 Nordberg, Carl, Jr.; 54 O'Donnell, Hugh; 55 Stallings, Bill; 55 Anderson, Mike; 55 Bulleri, Ray; 55 Whiting, Bob; 55 Cannon, John; 55 Soldwedel, Terry; 55 Kelly, Alan; 55 Guemez, Jose; 55 Korbach, Ed; 55 Doyle, Pat; 55 Grzesk, Ron; 55 Bacciocco, Chuck; 55 Gill, Tom; 55 Gill, Thomas; 55 Culver, Daniel; 55 Thudium, John; 55 Vala, Chuck; 55 Collins, Tom; 56 Oberg, Bruce; 56 Johnson, James; 57 Madda, James; 59 Kearns, Thomas; 60 Reedy, James; 60 Montanus, Stephan; 60 McLaughlin, George; 60 Mallon, Michael; 60 Feighan, Francis; 60 Culicchia, Anthony; 62 Doud, Steve; 72 Janik, Mike.
---
George Dorsey '55 sends his perspective of All-Class Reunion II in Pensacola last March:
Dear Classmates,

want to thank Bill Hunter for making this reunion very special and enjoyable. Bill steered us to some great restaurants, memorable "watering holes", and to the Naval Air Museum. Thanks so very much, Bill.
Comparing this reunion with last year's Melbourne reunion, it was a smaller group (about 1/3 the size of the Melbourne crowd) but cozier. To me, Pensacola is a more interesting place than Melbourne, because of Fort Pickens, Naval Air Museum, historic homes. Pensacola also has breathtaking beaches, like Melbourne. The reunion was held at a brand new Hilton Garden Inn, directly on Pensacola Beach. Gorgeous. I estimate that about 70 people - alums of all class years, wives and companions attended. From `55, five guys and wives attended: Bill and Carolyn Hunter, Bob & Ellen Sedlack, John David Farrell and Nancy Osborne, Bob & Anita Kirschling, and George & Lorraine Dorsey.
Lorraine and I arrived late Wednesday evening, March 26. On Thursday March 27 late morning, Lorraine and I toured Fort Pickens, a Civil war era fort. Very interesting. Once housed Geronimo and his comrades. The fort changed hands during the Civil war. The fort reminded us of the fort at George's Island in Boston harbor.
By late afternoon, we met up with Bill and Carolyn Hunter and John David Farrell and his wife Nancy Osborne at the bar on the main floor of the hotel. Later, the Sedlack's arrived. Around 7:30 PM, we went out on the town under the leadership of Bill Hunter. Bill took us to Franco's, a very nice Italian restaurant, followed by Trader Jon's, a watering hole that is famous among Naval Air alums. The walls were covered with autographed pictures of old Navy heroes and memorabilia. Bill introduced us to the proprietor, Matt Heckemeyer, who is a family friend. Bill said that on past visits, he has seen everyone from Alan Shepard to the Chief of Naval Operations, Admiral Arleigh Burke, in there. Trader Jon's includes a room devoted to the history of the Blue Angels, the world famous Naval aerial flight show team.
On Friday, March 28, Lorraine and I toured the historic homes section of Pensacola. The tour guide explained how the colonists used various quaint household implements. At one time or another, Pensacola was under the flags of France, England, Spain, Union, and Confederacy.
Treaties signed at Pensacola influenced the disposition of vast areas of the inland, perhaps much of the Louisiana Purchase. After the tour the elderly lady tour guide, who spoke with a refined Southern accent, asked Lorraine and me if we were from England (going by our accent). I assured her that I have a very ordinary Philadelphia twang, of which I am not proud.
We returned to the hotel and greeted Bob Kirschling and Anita. Friday evening was the first reunion event: Cocktail hour in the ballroom at the hotel. Father Walter Halloran, a Campion teacher from 1957 through the 1960's was a special guest. After the festivities, Bill Hunter led a bunch of us to dinner at "Boy on a Dolphin", a Greek restaurant near the water. Very nice.
Saturday, March 29. Most of us joined a group of some 25 folks for a tour of the Naval Air Museum, organized by Bill Hunter. Bill was a carrier pilot for a few years after college, as was Pat Broderick `55. At the museum, Capt Jim Keithly, USN (Ret.). led us through the museum. He was in the same squadron with Pat Broderick back then. He pointed out the evolution of Naval aircraft from the Wright Brother's era up to the present, telling fascinating stories about each aircraft. Aircraft Included a Sopwith Camel (manned by "Snoopy" - a stuffed animal), Japanese Zero, Chinese MIG, the `Spad" aircraft that Pat Broderick flew, the Crusader aircraft that Bill hunter flew, the A2(?) "Scooter", the F104 Phantom - a Navy plane that the US Airforce adopted in a big way.
After the tour, we had lunch in the Cubi Bar, filled with Navy memorabilia. The Cubi Bar was moved, piece by piece, from NAS Cubi Point, Phillipines, and reassembled at the Museum. It is a Naval Aviation landmark.
My cousin, Joe Dorsey and his wife Joanne stopped to visit us at the hotel (they live in the Southeast). We chatted with them in the Campion hospitality suite. About 5:00 PM, about 60 people gathered for Mass in a large conference room. Father Halloran said the Mass, assisted by two other Jesuits. It was all very casual. The priests' vestments consisted of the "scarf" (stole ?) around the neck over the Jesuits' dark street clothes. The chalice was an ordinary-looking wine glass from the hotel. The communion hosts were pieces of pita bread. Father Halloran's homily was a very friendly talk about our shared Campion heritage and urging us to get to know God. Special intentions: Dick English `54 asked prayers for Moose Adler `54 who is seriously ill with a ruptured appendix (or some such) in Stuart FL, if I recall correctly.
After Mass, we all went to the banquet at the hotel. We had our own `55 table, since tables were assigned according to class year. Someone from the `57 - 1960's era told me that Father Halloran was coping with a serious illness. One alum suggested that in the old days, Father Halloran could be a tough disciplinarian. He is a "pussycat" now. I said hi to some classmates of my brother Dave `50.
After the meal, a very good band began to play. Many of us enjoyed their music, but preferred to chat and not dance. Gradually, the crowd melted away to end the evening.
During the banquet, Rev. Richard A. McGarrity, S.J. spoke of the elderly and infirm Jesuits and their needs for financial support. I am sorry that I have not contributed to that as yet, but I am determined to do so. That would be more meaningful to me than the many other charities that telemarket me from time to time. If you are interested, here is the contact info:
Sunday, March 30. The final reunion event was breakfast in the ballroom at the hotel. My cousin Joe and his wife joined us for the meal. We took a bunch of pictures. A person from the 1970 era described his class to me this way: "We smoked more dope than other classes before us. We were spiritual but not religious. We did what we were supposed to do, becoming members of various professions, just like other classes before us. Twenty of our class of 105 died in Vietnam?" After breakfast, Bob Kirschling and Anita said goodbye, as did my cousin Joe and his wife. A few of us had plans to stay for another day or more. Lorraine and I drove 15 miles east on the barrier island to visit the Gulf Islands National Seashore. Beautiful, sunny, windy. I rolled up my pant legs, took off my shoes, and sloshed through the edge of the surf for a while. Cold water, but very enjoyable. Four of us had dinner at Peg Leg Petes, a local hangout (lots of young adults and seaside atmosphere).
Monday, March 31. Lorraine and I had breakfast with the Sedlack's and the Farrell's. Afterwards the Sedlack's bid us goodbye. We chatted with Chuck Lambeck `60, the organizer of the reunion. Given this year's smaller turnout, does it make sense to hold such a reunion every year? Why not every 5 years? Chuck said "How many more 5 years do we have left? (Aaron Huguenard said the same thing earlier). Chuck said that there are a couple of alums (Dick Crenshaw '60 and Mark Crique '70) who will organize the next all-class reunion in the Orlando area. John David, Nancy, Lorraine and I hung out by the pool (sunny, but a little too cold to swim). About 2 PM, Lorraine and I checked out of the hotel and bid goodbye to John David and Nancy. We headed home. It was a wonderful time! We greatly appreciate the wonderful job Chuck Lambeck did in putting this party together. We hope to do it all again, such as next year!
As I was trying to pack for vacation, my 3-year-old daughter was having a wonderful time playing on the bed. At one point, she said, "Dad, look at this," and stuck out two of her fingers. Trying to keep her entertained, I reached out and stuck her fingers in my mouth and said, "Daddy's gonna eat your fingers!" pretending to eat them before I rushed out of the room again. When I returned, my daughter was standing on the bed staring at her fingers with a devastated look on her face. I said, "What's wrong honey?"
She replied, "What happened to my booger?"

Be the good Lord willin' and the crik don't rise, we will see you all again in October.
The barefoot boy from Barefoot Bay -
Aaron Huguenard '47