VOLUME 7 • CHAPTER 3 • July 2007

Click here for a printable version (PDF format)
---
NEWS OF NOTE: In January, '08 we will once again publishour biennial directory of grads. We will have added a list of cell, office and fax telephone numbers, as well as the numbers of our friends who, as snowbirds, migrate to the warmer climes in the winter. Please send us these numbers if you wish to be thus listed. Sorry to say that we will have to put a $12.00 price tag on this year's list to help defray the cost of printing and mailing. Please send your orders in as early as possible so that we might more easily prepare for the printing and mailing. Your help in this area will be appreciated. We cannot say if this will be the last directory that will be available. Two major surgeries in the last nine months have brought mortality to my attention.
Ol' Bubba stopped by the other day to say " Hey, Hugie, ya know that my grandma was walking five miles a day when she was sixty. Now she's ninety three and we have no idea where she is.
Some time ago, we published the diary kept by Bob '50 and Carolyn Kieswetter while on their idyllic sailboat journey in the Caribbean. Here is a bit of poetry provided by their children on the occasion of the boat ride:
Here's to a salty ol' sailor named Bob
Who makes his pipe from an old corn cob
He sails the seas without a care
He does most things other men wouldn't dare


He came from way up north one day
Somewhere up around Toledo way
On towards Florida he did ride
With his canine companion at his side
They ate up the miles day by day
Headed for the sun to have a stay
He searched for a vessel that needed a mate
And so on the seastar he was to find his fate
He's a kind old sort, or so it seems
You can tell it most by the way he beams
In a crowded café, pub or bar
Or just having a nip on the old seastar
He's our Doctor, Engineer and expert on booze
So with this in mind it should be a safe cruise.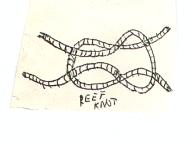 ---
Follows: Another example of what we think is a further deterioration in the Jesuit order. (If not Catholicism in general)
Jesuits to close Boston urban center
SOUTH END CHURCH FACES FINANCIAL WOES.
The Jesuit Urban Center, a predominantly gay Catholic congregation in Boston's South End, will close at the end of July, and the landmark church in which services are held will be put up for sale, the Jesuit religious order announced yesterday.
The Rev. Thomas J. Regan , the superior of the New England Jesuits, said in an interview that the rationale for the closing is purely financial. He said that the order, long associated with education, has become financially reliant on the salaries paid to priests who teach at Boston College, the College of the Holy Cross, and Fairfield University -- all Jesuit schools -- but that as many of those priests retire or die, the order is being forced to cut back on its activities.
Regan said that he had received no pressure from the Vatican, the Jesuit headquarters in Rome, or the Archdiocese of Boston, to close the church, and that the sexual orientation of the worshipers played no role in his decision.
He said that the Jesuits would continue to welcome gays and lesbians to worship at St. Ignatius of Loyola, the parish they oversee in Chestnut Hill, and that there are two other downtown congregations that have been reaching out to gay Catholics, the Paulist Center on Beacon Hill and St. Anthony Shrine, operated by the Franciscans, near Downtown Crossing.
Regan also said members of the congregation may choose to worship at the nearby Cathedral of the Holy Cross, also in the South End, but many gay Catholics are likely to balk at that option because the cathedral is the seat of Cardinal Sean P. O'Malley, who has been an outspoken opponent of same-sex marriage.
Regan described himself as "incredibly disappointed" but said he had no choice.
"A lot of people are still in the church because of the Jesuits," he said. "We do not want to abandon these people. But there's a spirit among this group, and I think that's going to be lost, and that's very sad."
Worshipers were informed of the planned closing after Mass yesterday. Some reacted with disappointment and others with anger.
"I, and my friends, while not surprised, were saddened," said Dr. Juan Jaime de Zengotita , who has worshiped at the Jesuit Urban Center for four years. "This comes after a few years of rough times for gay Catholics, with Vatican and local episcopal declarations that have not been so friendly. I don't know what will be the future of gay ministry."
The decision to close the Jesuit Urban Center comes nearly seven years after the Jesuits fired a nun and a priest from the Urban Center because the nun, Sister Jeannette T. Normandin, was allowed to help perform two baptismal rites for adopted sons of gay male couples.
The Jesuits at the time said that the violation had nothing to do with the sexuality of the children's parents, but that baptismal rites, except in emergencies, are to be performed by priests.
Two years ago, the Jesuit order, under pressure from the Vatican official who is now Pope Benedict XVI, forced the resignation of the Rev. Thomas J. Reese , the editor of America magazine, after Reese was criticized for publishing articles that questioned the Vatican's writings on issues including same-sex marriage.
Regan said that the Urban Center now costs the order $350,000 a year to support, and that its only significant remaining activity is one weekly Mass attended by 150 to 200 people.
Furthermore, he said the building in which congregants at the Urban Center worship , the Church of the Immaculate Conception, needs $4 million to $8 million in work. The congregation that worships at the Jesuit Urban Center generates about $2,400 a week in collections.
The Italian Renaissance Revival-style church, dedicated in 1861, was designed by Patrick Charles Keely, the same architect who designed the cathedral. Both Boston College and Boston College High School were founded on the site, which also served as a regional Jesuit seminary in the 19th century.
In 1991, after a lengthy and bitter battle with preservationists, the Jesuits won a precedent-setting ruling on religious freedom from the state Supreme Judicial Court allowing the order to gut the church's interior despite the city's attempt to protect the design by declaring it a historic landmark.
The New England Jesuits continue to operate a number of ministries. In addition to the three Jesuit universities, the Jesuits operate two Nativity middle schools, in Boston and Worcester, and are affiliated with five high schools, including Boston College High School. The Jesuits also run a retreat center in Gloucester.
Of the 342 Jesuit priests in New England today, about 110 are retired; at Boston College, 44 percent of the Jesuits in residence are age 70 and older. The Jesuits spend $10 million a year on the Campion Center, a home for retired priests in Weston. We have yet to see any amelioration in this regard—ed
Michael S. Rose's book, (2002) GOODBYE, GOOD MEN, Subtitled "How Liberals Brought Corruption to the Catholic Church" is an interesting insight to the situation.
---
Submitted by Jim Glenn, '48 and Brendan Miles, '56:

Subject: Evolution of Society
A Little History of How Humans Evolved...

Humans existed as members of small bands of nomadic hunter/gatherers. They lived on deer in the mountains during the Summer and would go to the coast and live on fish and lobster in winter.
The two most important events in all of history were the invention of beer and the invention of the wheel.
The wheel was invented to get man to the beer. These were the foundation of modern civilization and together were the catalyst for the splitting of humanity into 2 distinct subgroups: Liberals and Conservatives...
Once beer was discovered it required grain and that was the beginning of agriculture. Neither the glass bottle nor aluminum can were invented yet, so while our early human ancestors were sitting around waiting for them to be invented, they just stayed close to the brewery. That's how villages were formed.
Some men spent their days tracking and killing animals to B-B-Q at night while they were drinking beer.
This was the beginning of what is known as "the Conservative movement."
Other men who were weaker and less skilled at hunting learned to live off the conservatives by showing up for the nightly B-B-Q's and doing the sewing, fetching and hair dressing. This was the beginning of the The Liberal movement. Some of these liberal men eventually evolved into women. The rest became known as girliemen.
Some noteworthy liberal achievements include the domestication of cats, the invention of group therapy and group hugs and the concept of Democratic voting to decide how to divide the meat and beer that conservatives provided.
Over the years conservatives came to be symbolized by the largest, most powerful land animal on earth, the elephant. Liberals are symbolized by the jackass.
Modern liberals like imported beer (with lime added), but most prefer white wine or imported bottled water. They eat raw fish but like their beef well done. Sushi, tofu, and French food are standard liberal fare.
Another interesting revolutionary side note:
Most of their women have higher testosterone levels than their men.
Most social workers, personal injury attorneys, journalists, dreamers in Hollywood and group therapists are liberals. Liberals invented the designated hitter rule because it wasn't "fair" to make the pitcher also bat.
Conservatives drink domestic beer. They eat red meat and still provide for their women.
Conservatives are big-game hunters, rodeo cowboys, lumberjacks, construction workers, firemen, medical doctors, police officers, corporate executives, Marines, athletes and generally anyone who works productively.
Conservatives who own companies hire other conservatives who want to work for a living. Liberals produce little or nothing. They like to "govern" the producers and decide what to do with the production.
Liberals believe Europeans are more enlightened than Americans. That is why most of the Liberals remained in Europe when conservatives were coming to America. They crept in after the Wild West was tame and created a business of trying to get MORE for nothing.
Here ends today's lesson in world history: It should be noted that a liberal may have a momentary urge to respond to the above before simply laughing and forwarding it. A Conservative will be so convinced of the absolute truth of this history that it will be forwarded immediately.
There will only be 49 contestants in the Miss Black
America contest this year because no one wants to wear
the banner that says, IDAHO
Now, a couple of excerpts taken from the new feature on our website, the tale of Scotty Macbeth, our 1947 classmate, world traveler, mountain climber and bon vivant. All of you should enjoy this feature. Please visit www.campionforever.org/scot/. For you non-nerds you might again visit your local library or once again, get help from the grand kids.
---
The following is a letter that our late, great and wonderful classmate, Danny Gellerup wrote a couple of years ago re: Scot (The CAHOOTIE graphic was an afterthought)
Aaron, Scot's house isn't bed-less. He has one in the master bedroom which he calls his own; but it is broken! When we arrived we found new bedding in a bag ( just purchased ) in the guest bedroom which doesn't get visited frequently 'cuz his guests from the trekking bunch pitch a tent in his backyard. Scot chooses to sleep on the floor in the "all purpose" room in a sleeping bag with his head next to the open sliding glass doors thru which he can view the sunset nightly.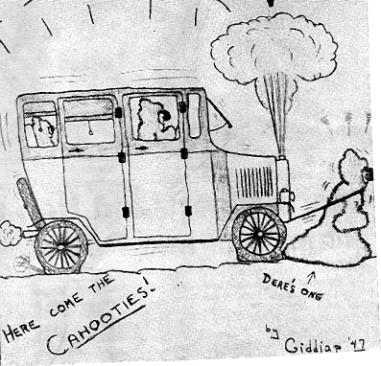 It may be Quixotic but suits him fine. He demands that guests remove their shoes on entering from the garage 'cuz he has a pea gravel drive & he doesn't
want to bring any into the house onto his VERY expensive oriental rugs accumulated during his sojourn in the Far East--he has many rugs,--- all on top of the carpeting. He also doesn't believe in heating the house above 65 deg F & goes barefoot inside claiming that the oriental rugs keep his trek-worn, beat-up old feet warm (mine never were 'cuz I never acclimated to climbing about 10000 ft in sandals without sox which he seldom wears. (Sox were just another bother to wash in the frigid mountain streams.) Other than those things I can't understand why you think his story is unusual.
We accompanied Scot to a Shoppe in the mountains east of Carmel which deals in things Oriental where he purchased some replacement "Tibetan Prayer Flags" which I found hanging across our room in Orlando. I must admit that I did purchase a set of Prayer Flags myself & these are now flying gaily in my backyard. They are not too weather resistant 'cuz they're becoming faded & shredded which happens to all Prayer Flags so that more can be sold. This is probably truer in the Himalayas where the wind blows fiercely all the time & the sun beats down unmercifully. Other than that I can tell you of no Macbeth idiosyncrasies.

Regards, Danny
---
This picture of Scot and his friend is one of many you will see in color upon visiting our website.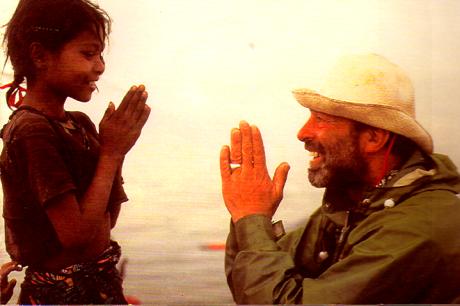 1988 Macbeth / Pal in Asia
---
3-24-07
Dear Aaron,

I seem to be only a bearer of bad news, but I thought that the Campion grads might be interested in knowing that Rev. Donald Driscoll, S.J. '52, long time teacher at Marquette High and Creighton University died of a heart attack. He will be waked and buried at Saint Cecilia Cathedral, Omaha, NE., at 10:00 AM on March 26. 2007.
Fr. Bill Kelly.
Rev. William J. Kelly, S.J.
Jesuit Community--Marquette University
1404 West Wisconsin Avenue
Milwaukee, WI 53233-2248
Email: kellysj@mu.edu
Fr. Donald David Driscoll was born in Evergreen Park, IL on June 17, 1933. After attending parochial schools in Chicago, he went to Campion High School (1952) in Prairie du Chien, WI. He entered the novitiate at Florissant, MO on August 8, 1952. His normal course of studies were in St. Louis, MO and St. Marys, KS. From 1967 until 1986, he taught theology at Marquette University High School in Milwaukee and served as its rector as well. In 1987, he began his twenty years of service at Creighton University as a theology teacher as well as Chaplain. Don was probably best known throughout his years in the Society as the man who always found humor in every situation.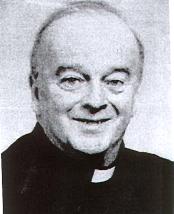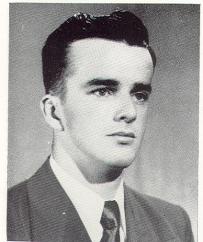 1952
Footnote to History
For many Chicago-area Knights, the alternative would have been Fenwick High School, the now-coed school that white-robed Dominican priests operate in west suburban Oak Park, Ill. I have two sons there - a senior and a freshman - and am pleased to report that JUG survives and thrives there as an acronym for Justice Under God.

JUGgable offenses include arriving late for school, talking inappropriately in class, having a shirttail out or not having a collar button buttoned (Fenwick boys must wear dress shirts and ties).

JUGs are served after the day's classes conclude. Penalties include such suitably pointless activities as copying rules from the student handbook, writing one sentence many dozens of times, or performing manual labor (moving equipment for swim meets, erecting holiday decorations, etc.) The fundamental rule of JUG penalties at Fenwick is just as we knew them: they cannot include any activity that's even remotely enjoyable. So if anyone in the Campion Forever readership has Campion JUGS still to be served ....

John McCormick '68
A bit of history for y'all:

Resolved —That whosoever directly or indirectly abets or in any way, form or manner, countenances the invasion of our rights, as attempted by the Parliament of Great Britain, is an enemy to this country, to America, and the rights of man.
Resolved — That we, the citizens of Mecklenburg county do hereby dissolve the political bands which have connected us with the mother country, and absolve ourselves from all allegiance to the British crown, abjuring all political connection with a nation that has wantonly trampled on our rights and liberties and inhumanely shed the innocent blood of Americans at Lexington.
Resolved — That we do hereby declare ourselves a free and independent people, that we are and of right ought to be, a sovereign and self-governing people under the power of God and the general congress; to the maintenance of which independence we solemnly pledge to each other our mutual co-operation, our lives, our fortunes and our most sacred honor.
Resolved — That we do hereby ordain and adopt as rules of conduct, all and each of our former laws and the crown of Great Britain cannot be considered hereafter as holding any rights, privileges, or immunities amongst us.
Resolved — that all officers, both civil and military in this county, be entitled to exercise the same powers and authorities as heretofore; that every member of this delegation shall henceforth be a civil officer, and exercise the powers of a justice of the peace, issue process, hear and determine controversies according to law, preserve peace, union and harmony in the county, and use every exertion to spread the love of liberty and of country, until a more general and better organized system of government be established.
Resolved — That a copy of these resolutions be transmitted by express to the President of the Continental Congress assembled in Philadelphia, to be laid before that body.
---
Aaron,
Here is an old email I had from Fr. Brian Paulson, from the 1970's era at Campion. He reports on African Americans at Campion. I consider that an interesting topic, but don't know if you have already reported on it on your newsletters. I would like to think that the African American students benefited a lot from their years at Campion.
Thanks,
George Dorsey '55
Yes, I can report that many of the African American alumni from Campion in my era (the 1970s) have gone on to successful careers. I would say that there is the normal spread that you would find in the general population of those who have achieved success in their careers and happiness in family life, and those who struggle in one or the other areas. We had about 10 African Americans or so out of the some 90 alumni who showed up in June at the reunion (including spouses and teachers, we had about 140-150 total!) A good time was had by all.
Best wishes,
Brian Paulson, S.J.
REMEMBER
If you think of Wor1d War II as ''The War'', then you remember Burma-Shave, Jack Armstrong, Lend-Lease, the Green Hornet, and Packards. And you remember Pearl Harbor, and exactly where you were. You were here before nylons, radar, penicillin, Frank Sinatra, Mairzy Doats, White Christmas, and zoot suits. You also remember Bataan, and how you celebrated VE-Day and VJ-Day. You remember when drugs weren't problems, they were sold in drug stores. When grass was just for mowing, when coke was just a soft drink. When people got married, and then lived together. You were here before television, jet planes, the United Nations, vitamin pills, the Iron Curtain, and the Cold War. Before the G.I. Bill, the New Look, and pizza parlors. Even before Sputnik.
You remember when cigarettes were stylish, when closets were for clothes, not for coming out of. When nobody had ever heard of Viet Nam, or even Korea. When the Japanese were still Japs. You saw the arrival of home freezers, polio shots, power steering, DDT, ballpoint pens, dishwashers, electric blankets, freeways, the minimum wage, and the Beatles. You remember when time-sharing meant togetherness, not computers. When a chip was a piece of wood, hardware was a store to buy nails, and software wasn't even a word. When words were spoken or written, not processed. You even remember inkwells and spats and Sen-Sen.
You remember when Alaska and Hawaii were territories, not States. And you welcomed antibiotics, latex paint, FM radios, hula hoops, Dr. Spock, tailfins, microwaves, and VCR's.
But you have survived it all - Congratulations! Best regards to all,
Carl Bachle '48
Those of us who spend much time in a doctor's office should appreciate this! Doesn't it seem that more and more that physicians are running their practices like an assembly line? Here's what happened to Bubba:
Bubba walked into a doctor's office and the receptionist asked him what he had. Bubba said, Shingles. So she wrote down his name, address, medical insurance number and told him to have a seat.
Fifteen minutes later a nurse's aide came out and asked Bubba what he had.
Bubba said, Shingles. So she wrote down his height, weight, a complete medical history and told Bubba to wait in the examining room.
A half hour later a nurse came in and asked Bubba what he had. Bubba said, Shingles. So the nurse gave Bubba a blood test, a blood pressure test, an electrocardiogram, and told Bubba to take off all his clothes and wait for the doctor.
An hour later the doctor came in and asked Bubba what he had. Bubba said, shingles. The doctor asked,
Where ?
Bubba said, "Outside on the truck. Where do you want them??"
---
Sorry to report these
OBITS
Benno Kornelly, SJ
William F. Kelly '45
John C. Voosen '60
Henry Kemp '46
---
……from Lauretta
I recently had a little time to spare and decided to see what the internet had to say about my husband, Aaron. There it was, Campion Newsletter, Volume 3, Chapter 2, and in this newsletter, a very nice article submitted by Henry Kemp, class of '46. How timely that I should come upon this piece since our thoughts had been saturated with the sad and abrupt passing of Henry, a gentleman and a gentle man that I was happy to know over a few recent years.
In that same newsletter is a dissertation from Andy Rooney who writes…… "The most unfair thing about life is the way it ends. Life is tough. It takes up a lot of your time. And then you die." My friend of just a few years died on April 2, 2007. I re-read the words that Henry had written about himself. It reinforces what Andy wrote…life was tough for Henry but he sure picked himself up and went on to a very satisfying and complete life.
I will miss listening to Henry and Paul Fox reminiscing and having fun just being together. It was only a short time ago……who would think that the reunion of February, 2007 would be the last for Henry…..but then, it might be the last reunion.

Sad.
See you all next time - - - - - Aaron Huguenard '47