VOLUME 10 • CHAPTER 3 • July 2010

---
Happy Birthday !!!
Aaron Huguenard

Aaron founded Campion Forever Newsletter back in December of 2000. It was published on line at the Campion Knights Nostalgia Page until around October 2001 when Aaron registered the domain name Campion Forever dot ORG. Aaron has been the man behind the scenes in establishing the Florida All Class Reunions since that time. Recently, due to Aaron's health he has had to turn over the reigns to other volunteers to keep the Campion Forever concept going. For the last year no newletters have been published either on line or via snail mail for lack of volunteers coming forward. The domain itself is in good hands and will not expire until 2014. The on-line newsletter can continue as long as alumni are willing to compose, coordinate, and submit articles. The availability of a snail mail version is highly questionable. It is thought that going forward it will be up to the alumni to print out and pass along hard copies to their classmates and schoolmates. Or, perhaps the old Campion Alumni Association can fund mailed versions.
This is the first newsletter since April 2009 and it is in honor of Aaron's hard work that we even get this one published, at least on-line.
From Bill Fitzgerald, '45:
I went [to Campion from] 1943 till 1945. I didn's know Aaron until I met him at Dave Petersen's '47 memorial service. From there grew the Campion newsletter. We did attend the first few events at Melbourne and Altamonte Springs,Fl.
Bill Fitzgerald
From Carl Bachle, '48:
Aaron is a member the Class of 1947, but we in the next class certainly knew him, both at Campion and through his creation of his Campion Forever Newsletter. (Also, his sister (who died c. 1990) was a high school friend and neighbor of my wife.)
Carl Bachle
From Bill Powers, '50:
Thanks for the update on Aaron. Since I was a freshman when he was a senior, I have no recollection of him at school. I was however very impressed with his reinvigoration of the Campion Spirit with his news letter and the all class reunions . He is a genuine good guy and I am proud to have known him . I will try to compose a suitable birthday card/tribute to him for August 6 . I am honored to know him if only in passing !!
Bill Powers "50"
From Ed Daly, S.J., '45:
Peace & Joy!
What a lovely surprise to receive your e-mail! I am class of '45 and in touch with Jack Fatum, Dick Peterson and Tom Kuhlman also of my batch. Aaron I do not remember but because of your communication I have put his name in my Eucharistic Calendar to remember him with thanks on August 6. I wish him and you all God's best.
Affectionately, ed daly sj (Campion '45)
From Brenden Miles, 56:
I attended 6 of Aaron's Florida Alumni reunions - He is to be commended.
Brendan
From Jack Downes, '49:
Hi Tom,
Thanks for keeping the former Knights in contact. I will send a card to Aaron thanking him for all his work providing us a contact with our distant past. I do not recall him at Campion although I might recognize his face (at age 17-18 yr) if such is available. Was he in David (Duggie) Doyle's class (the actor) ?
I ran into Chuck Roemer '49 at the Chautauqua Institution in upstate NY last summer (2009). My wife and I have been going there for two weeks in the summer for about 20 years. Chuck and I chatted for a while about the old days. Through his wife he is related to Tom Becker '67, the current President of Chautauqua Institution. I think Tom was a very successful businessman before taking on this position.
Chautauqua is a fantastic place where for 9 weeks in the summer you can attend the university of your dreams with excellent lectures, discussions and workshops on everything from philosophy and religion (all the major faiths) to politics to the history of jazz to playing the harmonica to sailing. At night there is fabulous classical (and some popular) music. This occurs in a lovely, peaceful Victorian era town on beautiful Lake Chautauqua. Folks of all ages, including kids and old geezers like us, attend and live there for one week to all summer. The place has been going for about 130 years. Tom is doing a great job as President, raising money in tough times and providing outstanding leadership.
Feel free to pass this on to whomever might be interested.
Jack Downes '49

Those were the days, my friends..
From Jim Haupt, '47:
I remember most of you guys, Dick Hogan, Dave Keeny, Tom Doyle, Boy, I sure wish I could expand the picture you sent to read all the names. Takes me back to 1944, the last I saw of Campion. (I raised the class average by involuntary withdrawal.)
Football was my thing then. Came to school weighing 122 lb. Was assigned to the Campion Midgets. Regular hours led to an immediate weight gain up to the limit of 135 lb.. Thought I would be drafted by the C-j"s. No Luck. Finished the season with the likes of a guy from Kentucky, Ken Dowd, Frank Kramen, and Frank Finn, I was best friends with Dick Spence and my cousin, Danny Gellerup. While in Jr Div I fought the Golden Gloves preliminaries with Danny Gellerup as a Manager. He was also mgr. for his buddy Dick Spence, We drew the same fight card and faced each other as "Hercules Haupt" vs "Superman Spence." It was a tough fight. I found new respect for Superman;'s dukes but his nose was red too. We had such fighters on the card as "I'm So Tired, Papania," against "Piano Legs Murphy." The next week it was for real. I drew Chuck Murphy. I think he wanted to preserve his chiseled looks and immediately withdrew. The next available opponent was Dave Peterson. He played guard on the CJ's. I thought he was pretty tough. The judges thought so too and gave him the decision although I heard that Mr Raaby (?) took Mr Kosta to task for his misappropriated assessment.
Working in the refectory was not as lucrative as cracked up to be (25 cents/hr.) After a few months I went to the bursar to see Mr Barrett, a town-man. He reported my balance to be a whopping $4.
Fr MacEvoy was scream! He had our freshman religion class. Found out he could out-swear the blackest of sailors. We made so much noise, we were asked to hold it down. And then there was Fr Schneider. Remember we called him Rigor-Mortis? My next year at Marquette High School in Milwaukee, one of the Jebs asked me if I had Fr Schneider at Campion and what his nickname was!
How about the annual Halloween party in the Jr Div gym? The game prizes included packs of Spuds and Kools that Bro Daley had a hard time pedaling in the Canteen.
Speaking of Bro Daley, remember how he'd take a break the same time we did and get into a handball game with the guys, pulling his cassock tails up through his pockets? I liked Bro Daley.
That ROTC stuff remains in my brain. Some fellow classmate, name of Murphy used to swing his arms like he was a farmhand working a pump, so, some of the "officers" tied his arms down with his belt and then had him march to commands. One, "To the rear , March!" and he fell flat on his face, no arms! Suddenly it wasn't funny anymore.
We had a gang in Sr Div. Called ourselves, "The Knocker Gang." There were eight of us, one for each letter. Can only remember Henry Kemp, Dave Peterson, Chuck Murphy, Len Scully, and there must have been three other roustabouts. After a St Paddy's day fight we were called into the clubroom for a little "lets get with it," talking to. I recall that an orange-man, Blackie Schwartz was said to have wiped his derriere with a green shamrock in full view, infuriating the Irish crowd. A mass donny-brook followed.
As a sophomore, mid-season, the football team needed some more cannon fodder and Hank Kemp and I were asked to join, we did. By the way, remember Satn Grigsby,"The Claw."? Mr Hoffman, "the box" had to design special plays for the left handed Quarterback. He wasn't the only guy with a disabilty what was the right end's name who was blind in one eye? He was from Detroit. Anyway Henry Kemp and I at least suited up for a Thanksgiving Day game. After the game we were late getting out of the locker room. Getting in line at the refectory only the Wheel was there to fill our trays. He must have thought we were trying to get seconds so he gives Hank a scrawny piece of turkey. Just as quick Hank flips it back into the hopper and says something derogatory. The Wheel came out from behind the counter. Quick as a flash Hank grabs him by the throat. I was shocked, but ready to help Hank if needed. Luckily Mr. Kosta interviewed, explaining that we were just late football players and were entitled to the full meal. Thank God for Mr. Kosta. Hank was flaming mad and the wheel was bigger and a well put together guy. Would have been a nasty fight had it come to blows.
Finally, on Dec. 1, 1944, Campion's Day, our day off, we took a little unauthorized sojourn across the river to MacGregor, Iowa. Stopped in a local gin-mill to have a Potosi beer - terrible stuff. Then we hopped a freight, and as it built up speed, we were stuck. Slowing down near Guttenberg, Iowa, we jumped. Hitchiked back, 30 mi., arriving in the dark, after chow. We went directly to the Sr div locker room to change clothes. We thought we were getting away with it until we were informed that Peterson's older bro, Dick, a senior, had reported us missing, to the Jebs! Curtains!
Of course we were assigned to 'Short-bounds." During as ensuing interview by Fr. Pietz, (I suppose, to see if I were worth saving) asked me how Latin was going among other things and, if I was into buggering!
I recall another penalty for the offense was to lose the first day of Christmas Vacation. I made the train trip home alone. It was on the day that Italy surrendered in WWII. My last look at Campion was from the rear platform of the train's last car.
Those were the days, my friends.., Jim Haupt
From William J. Kelly, S.J., '41:
John Patrick Donnelly is still here, a Professor of History and Bill Kurz is still teaching theology. Bill Sullivan is back from Hawaii and is at Saint Camillus. Bob Lambeck [a former AP] just died. Some former teachers at Campion are here: J.J. O'Leary, Roland Teske, and I may find a few more. Peace. Fr. K.
Rev. William J. Kelly, S.J.
---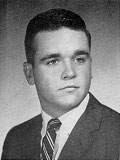 TOM ABBOT
KNIGHT OF THE YEAR AWARD
In the last published issue of this newsletter was an article about Tom Abbot. It was stated that.. We have no record of Tom Abbot. If anyone could supply any info (class, home address etc), great!!
According to the 1978 Jebbies Directory, Tom Abbot graduated with the class of 1962 and was from Flint, MI. That is all we have for now.
[Postscript 2011-02-28] We just learned that Tom had passed away on February 16, 2009
---
Book Reports
---
Around the turn of the century Casey C. Beaumier, S.J. was going to present, at a symposium, a white paper called A Change of Vision in Rural Wisconsin Campion Jesuit High School, 1965-1975. The article apparently wasn't presented and was never found in publication that we could find.
In 2009 an article with similiar title was finally published as chapter 11 in a book called.. Inequity in Education: A Historical Perspective published by Lexington Books and available through Amazon.
Chapter 11. Changing Visions for Jesuit High Schools in America: The Case of Campion Jesuit High School, 1965-1975 by Casey C. Beaumier.
I have bought a couple of these books and have sent one of them on in the style of a chain letter. If you receive the book, please read, and pass it on to another alumni who has not read it. When you pass it on, you are asked to fill in the "library card" section in the back of the book so we know who already has seen it. The first pit stop is our schoolmates in NYC. Hopefully, in a couple years we will have a few hundred signatures.
If you have read the book, perhaps you can send in a short paragraph in the form of a book review. Of course, we are really only interested in the Chapter 11 about our Alma Mater. But, some of the content in the rest of the book might help with overall perspective.
My opinion.. No Comment at this time! Other than, you need to read this!
---
The Prairie du Chien Historical Society has a proposal on the table to build a Campion Museum Wing. The architect might even be able to integrate into the design the actual facade from the demolition of the Student Chapel and Marquette Hall. To see a drawing and cover letter explaining the project go to...
Campion PdC Historical Society

Post Script - From Aaron
From Aaron Huguenard '47:
To all of my fellow Campion High School Graduates who sent cards, letters and an anonymous Mass request, I want to thank you again and again for making my 80th birthday a wonderful memory, and to Tom Olson and George Braasch, I offer my grateful appreciation for getting the word out to make this special event possible.
Unfortunately, I am unable to thank all of you individually, however, I want you to know your response shows me what I always knew, that CAMPION grads are indeed, FOREVER.

Obituaries:
Alumni who have passed in 2009 and 2010: [an error occurred while processing this directive]
Faculty who have passed:

Coach Nick Campbell 2010-01-12
Biology Professor Jerry McCarthy 2010-04-01
Bro Philip Charles Zepp, S.J. 2010-07-15