Obituary - Last Jesuit in Prairie
Fr. John W. Wambach, S.J.
Fr. Jack Wambach was called to eternal life on September 15, 2016. He was eighty-two years old, a Jesuit for sixty-five years, and a priest for fifty-two years. He was born in Milwaukee, WI on September 21, 1933. He graduated from Marquette High in 1951, and entered the Society on August 8 of that year.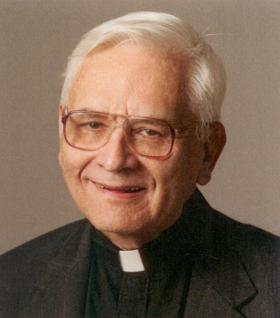 Having received an M.A. in Latin at St. Louis University, he was sent to Campion to serve his years of regency as a Latin and Greek teacher (1958 to 1961). He was a prefect in junior division, and, in 1960-61, was a prefect on the fourth floor of Lucey Hall. Jack was ordained on June 16, 1964, and spent most of his life as a Jesuit in pastoral work at Mankato, MN, St. Francis, SD, Milwaukee, WI, and, for 22 years, at St. Gabriel and St. John parishes in Prairie du Chien. When he moved to the St. Camillus retirement community in Wauwatosa, WI, in 2008, it marked the end of 125 years of Jesuit presence in Prairie du Chien.
He is predeceased by two sisters: Leone Clark and Patricia Gramling. He is survived by a sister, Jane (James) Strenski of Clear Water, FL.
His funeral Mass was said on September 20 at the San Camillo Chapel in Wauwatosa, Wisconsin. The presider was Fr. Doug Leonhardt, S.J. and several other Jesuits were concelebrants. The homily was given by Fr. Jeff Loebl, and Music was provided by Matt Luther and Carol Werner.
Jack was a wise and much beloved Jesuit priest who helped thousands of his parishioners experience God's love for them. After so many years of service in Prairie du Chien, he probably knew almost every family in town. An outstanding athlete as a young man, he struggled with health issues at various times during his life. He had intended to go to a baseball game in July with a class of '63 reunion group, but his health declined in June and he was unable to join us.
---------John Duskey '63