VOLUME 13 • CHAPTER 1 • January 2013

---
Real time additions do occur. Check back regularly.
Campion Artists
The Campion-Knights.ORG site has a new feature for archiving images of student artwork. Do you still have any or your creative works in the attic or basement or even on prominent display in your house or garage? Are you still dabling in the art? Send us an image of it or tell us your story.
William Dagnon, art professor from the late 60's/70's has found some student artwork while renovating his home. He is scanning in and taking pictures of them to display on the site. It will be interesting to see who can recognize their work or own up to it perhaps as some of it isn't signed. But there are pieces by Joe Miessen, Chris Smith, Kai Kaasa, Mark Leonhart, F. Novak, Bob Gerth, Leon Fuller, Charles Sweeney, Jim Mainor, David Berry, T. Garvey, Jack Gallagher and T. Meenahan. We are looking forward to seeing some those pieces.
There are few Campion Alumni who have become prominant artists.
Andrew Shea '65 Hand blown glass. After 27 years of working with glass, I still walk into the studio with eagerness and anticipation. Knowing that I will use my skills and lungs to breath life into the glass to create works of art, is incredibly stimulating. Glass is the best material for... Read More
---
Artists of Another Kind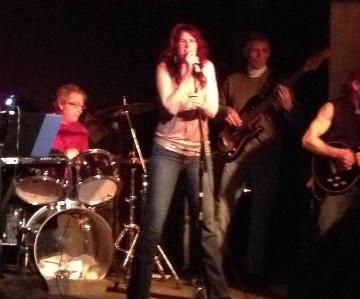 Upper East Side Manhattan - November 2012
Are we talking about the bass player? Of course! But check out that bass guitar he is playing! He is still playing the old same piece of art he was playing back in 1970.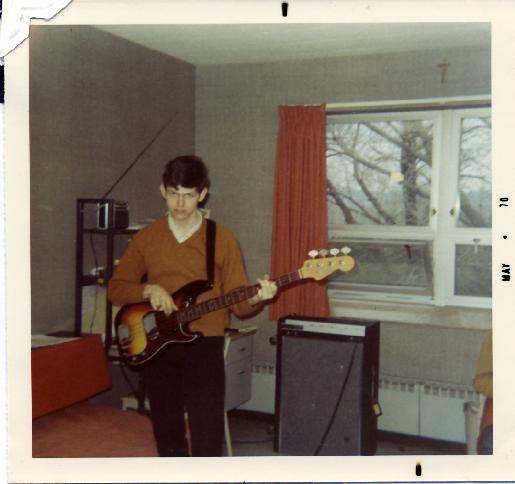 Xavier Hall CJHS - April 1970
Yep, it's the 1966 Fender Precision Bass. Here is what Paul McCullough '70 says...
Up to that time (1966), the Fender Precision was heard and best known for its use in most of the Motown songs, (My Girl - The Temptations, I Can't Help Myself (Sugar Pie, Honey Bunch) - The Four Tops, as examples). A true work horse for RnR.
The electric bass, as we know it today, was created by Leo Fender, founder of Fender Musical Instruments, in 1951....Yeah, all those electric guitars! The concept being 1) allow guitarists access to an easily playable bass instrument without investing in/learning to play the upright (string) bass and 2) to expand, i.e., amplify the bass sound. By the late 1950s, the electric bass was pretty much main stream......and by the mid-1960s, McCartney and Motown (James Jamerson) solidified it as a major musical instrument. (I recall prior to Campion being poohpoohed by my 7-8 grade band director that it wouldn't amount to much....boy, was he wrong.)
I have always enjoyed playing it, chiefly because it makes the band sound "big", sets the groove along with the drums, and when allowed to do so, is a wonderfully melodic instrument.
---
Yet Another Artist of Another Kind
Our infamous Organist Tom Sheen '57 playing Sleigh Ride
on the Plummer Auditorium Wurlitzer - 1997
More links to Tom Sheens perfomances here
---
OCER update November 2012
From Dave Zamierowski '60
It has been four years now since I have been to Gulu, Uganda, but all the images came flooding back last month as I talked with Fr. Tony Wach, SJ, Campion Class of 1960 and President of the "New Campion" (ocercampion.org) in East Africa. I thought Fr. Tony looked good and that he was recovering well from his quadruple bypass done earlier this summer. He is headed back to Ocer Campion this week. News of the school was also carried to us just this past month by Dr. Jim Murtaugh, DDS, (Campion '60) and others after their return from a Medical Mission Foundation (mmfworld.org) trip to Gulu last month.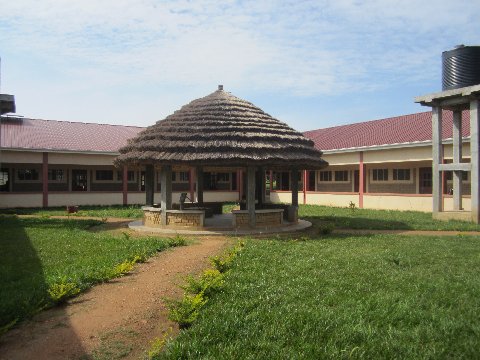 The most amazing change at Ocer Campion, this school project which we are supporting, is the growth in enrollment from 30 in 2010 when the school opened, to 400 this coming January. So much has been accomplished in such an incredibly short time. Two large dormitories have been constructed on either side of the campus, housing girls in the first, and boys in the... Read More
---
Liquid Sunshine Revival
In the last newsletter we had a video of Campion's own Premier Band "The Liquid Sunshine"; the longest running student band in Campion History. Recently we stumbled up another band calling themselves "The Liquid Sunshine". Hmm. They formed sometime around 2002 in Los Angeles. We don't know if they know whose shoes they are following in. But, we do like their sound. Let's digress and check it out...
We apologize for the commercial in the beginning, but what can you do these days.
---
Campion Valentine's Dinner
Jim Behrendt '72 wrote:
Hello Knights,
As you may or may not know- I escaped Marquette with a Journalism degree in 1977 which turned out to be totally useless in my path towards a life in freight transportation... but I digress. Ok, fine, so it took five years of heavy partying... now that's true digression!
Anyway, I bring up this digression as I've always held onto the credo concerning the guts and facts of a story - WHO WHAT WHY WHEN AND WHERE.
ARF, fellow MU Journalism grad and Powerhouse Editor in Indiana, and Ratermann, Big TV producer in Louisiana... did I get this credo right?... never mind, I digress.
So Knights here's the guts and facts of the story:
| | |
| --- | --- |
| WHO: | You and/or Main Squeeze. |
| WHAT: | Campion Valentines Dinner. |
| WHY: | Because our last reunion stories need to be finished, embellished or made up. And gosh darn it- who wouldn't want to throw the dice to see just what kind of a blizzard will hit exactly at that time around Cheese land and how we can be caught in it! |
| WHEN: | Saturday 2/16/13 NOTE: Valentine's Day is the 14th, A Thursday. |
| WHERE: | depending upon head count -this is up to the quasi-human LIPKE... but will be in or around Milwaukee. Currently Saz's Restaurant. |
In recent years - some of us met at a great Milwaukee restaurant... think Butch's Steak House... as well as the Brewers Miller Park Stadium for dinner.
Miller Park - This, I remember because Marina and I took a cab from our motel 1/2 mile away and the cabbie got lost. But I digress... or did he digress? Van Zelst was kind enough to drive us back so I didn't have to spend $9000.00 touring Milwaukee again.
Both times were just exceptional in terms of turnout, food, service and Knight camaraderie! The country known as Lipke set up both get-togethers. Kudos to Moby Lipke.
Please let me know your availability and interest as I am secretary and will keep tabs and report to Mt. Saint Lipke.
I will update all with head count as we get closer to February. Depending on turnout, the dining location will be determined by Orca Lipke and I'm certain it will help with lodging options.
Jim B.
contact info is in the InPrivatum Campianum


UPDATE: February 1:
Here's the final list of inmates attendees for our
VD Knight get-together.
Guys please send me the name of your main squeeze...
try to spell correctly.

Briedenbach Haschka Lipke Mueller O'Malley
Paunicka Peine Roseliep Schubring Schultheis
Van Zelst Williamson Behrendt

See you all at Saz's!

Jimmy
 
In the spirit of Valentine's Day...

My wife, being the romantic sort, just sent me a text...
If you are sleeping, send me your dreams
If you are laughing, send me your smile
If you are eating, send me a bite
If you are drinking, send me a sip
If you are crying, send me your tears
I love you!

I texted back.........................
I'm taking a dump.
What should I do?


---
In Memory of Kevin Trehey '73 RIP
Tim Trausch '73 reports,
Anything I write I take from his obituary & a few notes from classmates. His obituary is attached with his picture, which would be nice to include. I will summarize.
Its with great sadness the Campion class of 1973 has lost another member. Captain Kevin William Trehey died on November 27th , 2012 at John Hopkins University Hospital. Kevin was born June 19th in Seneca WI. He enrolled at Campion in the Fall of 1969. He played football & was a member of the pep & orchestra bands playing trumpet. Classmates remember his determination & his sense of humor as stories were told of his helmet being knocked sideways in a scrimmage sophomore year when making a tackle & an incident when to aggregate his roommate, guys took his door off the hinges & hid it. Kevin just smiled.
Governor Patrick Lucey, Campion class of 1935, gave Kevin appointments to all three U.S. Service Academies & Kevin chose West Point. He graduated in 1977 and served mainly in Germany. He also earned his Master degree from George Washington. Captain Trehey received the following awards: Meritorious Service Medal (1st Oak Leaf Cluster), Army Commendation Medal National Defense Service Medal, Army Servvice Ribbon, Overseas Service Ribbon, Parachutist Badge and the Army Recruiter Badge. His Army career was cut short due in illness & as classmate Jeff Turner of Washington, DC stated after meeting with him a few years ago, Kevin fought his degenerative muscle disease with that Trehey determination, humor & spirit that he was known for even as the disease tore through him with a vengeance.
Kevin is survived by his wife of 22 years, Beth, his son Michael, father Harold, brother Greg & sister Lisa.
We believe Kevin to be the last Campion alumnus of a long line of duty bound Campion grads to graduate from one of the Academies. We salute & thank him for his service to our country and for making all of us proud. Rest in Peace Brother.
The Class of '73
---
From The Guest Book
Tue Dec 18 16:54:06 2012 [Tom Lochner 1972]: FYI - Passing of Kevin Trehey, class of 1973. Captain Kevin William Trehey, U. S. Army, 57, died on Nov. 27, at John Hopkins University Hospital. Kevin was born and raised in Seneca. He graduated from Campion High School, the class of 1973. He received his bachelors degree in engineering from the United States Military Academy at West Point, N.Y., the class of 1977. Kevin received his masters degree from George Washington University in Washington, D.C.. Captain Trehey served more than 10 years in the United States Army, beginning in 1977, and spent most of his time stationed overseas in Germany. After his retirement, Kevin held various engineering positions in the private sector. He was a member of Saint Andrew by the Bay Roman Catholic Church, Annapolis, Maryland. Kevin was a model train enthusiast. Interment was on Dec. 4, at West Point, N.Y.
Sun Dec 23 22:52:26 2012 [Mike A. Grosko 1977]: To Tom Lochner and all other interested Knights: Just a little bit of additional information about the late Kevin Trehey, class of 1973, that I can add. He played trumpet in the Campion pep bands and biennial orchestra concerts. The musical director, Prof. DeRanitz, often spoke highly of him. I was told by a certain Jesuit that Kevin wanted to attend one of the service academies, but didn't know which one as of the start of his senior year. At that time, Patrick Lucey, a Campion alumnus from the 1930s, was the Governor of Wisconsin, and he had the power to make appointments to any of the service academies. So Kevin got an appointment to not just one, but all three; West Point, Annapolis, and the Air Force Academy. In the end, he chose to attend West Point. I think he may have been the last Campion graduate to attend a service academy. So sad to hear that he went to his reward at just age 57.
---
Trip to North Pole
From: Louis Chiara '65
I wonder if it is of any interest that I plan to go to the North Pole in April via Norway. I am hungry for some adventure and this seemed like something that might satiate my yearning for an adventure. I will spend a few days in a tiny mining town, Longyearben, on an island owned by Norway, about 400 miles from the Pole. I noted that a village ordinance requires all leaving the village limits to carry a rifle because of polar bears and that the place I will stay has been known to serve fried minke whale for breakfast. From there I go to the Russian Arctic ice reseach station for a couple of days and nights where I will sleep in a tent, and finally by Russian helicopter to the Pole. Some of the group will travel the last hundred miles on Xcountry skis for about a week, dragging their gear behind them on sleds. And a few will go by dogsled. The big adventure for me is in the planning--like emergency evacuation insurance and clothes adequate for temps as low as minus 40 F.
---
Planning Group Trip to Gulu, Uganda
From: Dave Zamierowski '60
Happiest of New Years! I hope this Christmas Season joy extends throughout 2013 for you and yours and that this year proves to be blessed for you. I am writing this to send out an invitation and appeal to all who are able to join us on the Medical Missions Foundation (mmfworld.org) trip to Gulu, Uganda, planned for this coming... Read More
---
OCER Update
From: Tony Wach, S.J. '60
First, Congratulations on another year --nearly 53 since our graduation! After my surprise bypasses last June, I no longer take life quite so much for granted! Thank the Lord I had just gotten back to the USA where I could get good treatment. Thank you for your notes & prayers!
I'm now back in N. Uganda, in time late November to see our students as they celebrated the end of their school year, our third. Life continued just fine the five months I was absent! It was also the feast of St. Edmund Campion and the Mass included a number of... Read More
---
Top 15 Causes of Death
Doc Brendon Miles '56 sent in this interesting link that shows all kinds of health statistics by county on a USA map. You can hover over a county to get the numbers. It also has some links to world health rankings. I wish we had one to show us in real time the birth and death rates in each county.
---

Obituaries:
Alumni who have passed in 2013:
| name | class_of | deceaseddate | city_grad |
| --- | --- | --- | --- |
| Thomas M. Rink | 1964 | 2013-02-05 | Prairie du Chien |
| Thomas G. Sheen | 1957 | 2013-02-05 | La Grange |
| Edward T. Cunneen | 1941 | 2013-03-00 | Cleveland Heights |
| Carleton D. Beh | 1945 | 2013-03-18 | Des Moines |
| Raymond Joseph Modjeski | 1960 | 2013-03-28 | Hammond |
| David S. Hauer | 1951 | 2013-04-12 | Calumet City |
| Frank W. Gruesen | 1948 | 2013-04-12 | Watertown |
| John P. Augustine | 1963 | 2013-04-20 | Sherwood |
| Micheal J. Kelley | 1965 | 2013-04-26 | Ames |
| Thomas Brodzeller | 1955 | 2013-05-14 | Lomira |
| Richard Beauchamp-Nobbs | 1963 | 2013-05-23 | Cicero |
| Robert B. Varco | 1962 | 2013-05-23 | St. Paul |
| James P. Mahoney | 1942 | 2013-05-27 | Prairie du Chien |
| Victor Mudra | 1960 | 2013-07-00 | La Grange |
| Greg P. Knapp | 1968 | 2013-07-31 | Prairie du Chien |
| Robert Tordella | 1960 | 2013-08-13 | Jamestown |
| Steven J. Boichot | 1963 | 2013-08-17 | Lansing |
| John R. Doyle | 1942 | 2013-08-28 | Lincoln |
| Mike Roll | 1973 | 2013-09-10 | Dayton |
| Bob Valeri | 1956 | 2013-09-18 | Hibbing |
| Robert J. Gase | 1951 | 2013-10-04 | Mount Pleasant |
| John N. Metzger | 1951 | 2013-10-12 | Shelby |
| John A. Barden | 1948 | 2013-10-13 | Kenosha |
| Mark E. Lukaszewski | 1963 | 2013-11-06 | Chicago |
| Michael J. Von Holtum | 1970 | 2013-11-14 | Worthington |
| Keith Leighty | 1970 | 2013-11-17 | Peoria |
| Michael J. Munding | 1957 | 2013-11-26 | Tulsa |
| David L. Hoffmann | 1954 | 2013-11-29 | Perrysburg |
| Thomas J. Bolton | 1965 | 2013-12-05 | Chicago |

Alumni who have passed in 2012.
Faculty who have passed:

Rev. Howard E. Kalb '41, S.J. 2012-04-04, CJHS Class of 1941; Scholastic 1948-1951, Taught Algebra; Priest 1957-1960, Algebra, Dean of Kostka Hall, Dean of Lucey Hall; President and Rector 1960-1966, Erected Hoffman Rec Center, Xavier Hall, and Superintendent Maintenance Building.
Frank Goetz 2012-07-10, Scholastic 1962-1963, Taught Latin
Don Sebastian '41 2012-07-20, CJHS class of 1941;Campus Barber 1952-1978
Rev. Aloysius Schmitz, S.J., 2012-01-27, Scholastic 1952-1954, Taught Math
Rev. Robert Hoene, S.J., 2012-05-19, Assistant Principal, 1955-1956