VOLUME 15 • CHAPTER 1 • January 2015
********** Early Christmas Release **********

---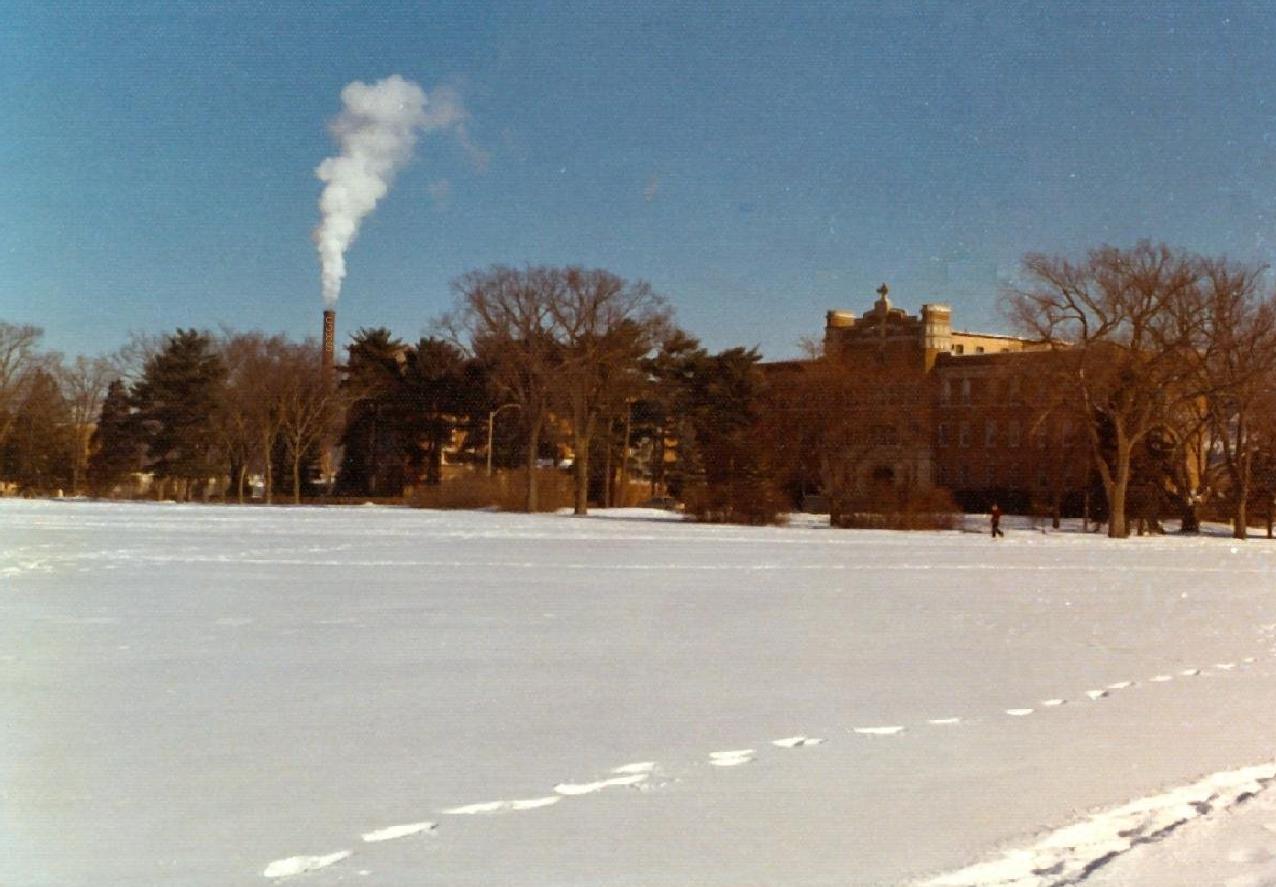 ---
Memoirs
We've been trying to get memoirs from retired and not-so-retired Campion jebbies for our newsletter for quite some time. We don't care if the memoirs are about when they went to Campion, taught at Campion, or just what they've done since leaving Campion. We just want to hear something from our mentors in the first person. Perhaps words of wisdom learned while IHS. Typically we only get 3rd person post mortem. Not to lay all the blame on the jebbies... why can't we get more memoirs from alumni. Where are all those authors and editors of the old 'ette.
Fr. DiUlio, S.J. jumped in last issue.
Fr. Bill Snyder, S.J. '50 ...
Very kind of you! Chuck Meehan encouraged me to enter the Jebs in 1954, four years after graduating from Campion, having gone to St. Louis U. from August, 1950 to May, 1954. NO WAY could I have entered out of High School.
Sure, I'll send you a little thumb-nail sketch of the roller-coaster formation of a young Jesuit, the influence and good fortune of having God-sent individuals sent into my life. At 82, I still have a busy schedule of activities (some folks call them "apostolates" ) After we finish next week's KAIROS Retreat here in Belize, I'll get around to writing up something for you.
Many thanks, Bill
[EDITOR:] We look forward to hearing more from Fr. Bill.
Keith Szarabajka '70 ... I blame it on my mother!
I blame it on my mother, a dear sweet Irish girl who was a speech and drama major but became an elementary school teacher. She put me in tap shoes at four and made me tap dance to, and sing, "I've Been Working On The Railroad" with my cousin Joyce in the Bedford Park, Illinois Community Center's variety show. We were very cute, but I knew even then that the musical theater wasn't really for me. Being up in front of an audience on the other hand, while terrifying in the extreme, was powerful stuff, especially when they laughed and clapped in the right places. I didn't know it then, but I was hooked.
I went to an all boys military academy run by nuns in grade school (Hi! Ralph, Roy and Paul!). I eventually became a cadet officer and ran the drill team, so performing in front of large crowds grew to be natural for me. I also played every sport that they offered there, including football, even though I weighed 84 pounds with my football uniform and cleats on in seventh grade. I was bigger in eighth grade. I weighed 88 pounds with my football uniform and cleats on. I was the quarterback, but was so short I could hardly see over the linemen in front of me. I did score a touchdown once, which only fed my 'audience appreciation' craving.
I was also an altar boy, starting in fourth grade, learning the Mass in both Latin and then English, which I think had a great deal of influence on my career path. When we served Mass for the girls' school across a big field from our military school's campus, the breakfast of real bacon and real eggs, to say nothing of the sight of all the girls my age at Mass there, made rising at 5:30AM to walk over there very attractive.
One summer, a year or two before high school, my brothers and sisters were all cast in the musical, "The King And I", at our local high school, Argo Community H.S. I wasn't, and remember sitting in the balcony watching while they sang "Dites-moi, Pourquoi" and "Doe, a deer, etc.", and wondering why I wasn't in it. (Remember "I've Been Working On the Railroad"?)
When I came to Campion, expecting to continue my sports career, I was a much bigger 102 lbs. and five feet tall. The powers-that-be informed me though, when I inquired about football, that I had to weigh at least 115 lbs. to even try out for the football team. I was devastated. Even though I had a very successful tackle intramural team, Loyola, (Thank you, Doug Wiley and Dick McCoy!), it just wasn't enough, I guess. In sophomore year, I was cast by Mr. Rice, in Edward Albee's "The Sandbox", as Grandma, this being an all boys school. (I remember Tom Viehman lifting weights in it behind me while I carried on and threw sand.) And it was a blast. I also spoke German in Mr. Blumberg's production of "Stalag 17". We also tried to mount a very psychedelic production of "Alice In Wonderland" ... I think it was junior year ... in which I was the Cheshire Cat, but between Medie Lochner's stage fright and the Kostka Hall fire, it just never made it off the ground. (Medie was Alice. I guess there are some parts that boys just can't, or shouldn't, play!) And don't forget the Campion ROTC drill team under I believe it was Sgts. Patnode and Coonce, which traveled all over Wisconsin and Iowa, winning practically every competition it entered. Those Wisconsin and Iowa farm town girls did love a boy in a uniform for some reason... I was also still an altar boy. The 5 minute masses that I did with J. V'OC, came in handy for line speed runs later in life on and off Broadway.
When I left Campion, I was adrift for a time. I didn't want to play sports anymore. I fell in with a pretty rough, but extremely fun crowd who threw the best parties in town, be that as it may. The theater wasn't even a consideration. In November of the year after I left Campion, the public high school I attended, John Hersey H.S. in Arlington Heights, Illinois, suspended me for cutting my extraordinarily boring French class third period and going out to eat breakfast with all my friends. (I impersonated my father when the Dean of Students called my home to inform my parents of said suspension, which may have some bearing on my becoming an actor as well.)
When I returned to school after the suspension, the counselors gave me a choice of either returning to my boring French class, or picking another class. I just happened to notice that a Drama class was available, so I said, "Oh, that looks like fun!", and the rest is history, at least my own personal history.
First of all, let me say right here that going to school with girls, lots of them and pretty, had a major affect on my psyche and point of view. The sight of them with their mini skirts and lovely legs actually made me want to go to school each day, if not to class itself. I wanted them to notice and like me, what adolescent boy doesn't, even the gay ones?
The theater was a perfect place in which to have them do so.
I had fun in the Drama class, but was too shy to try out for any of the plays. Then one day after I missed tryouts for the school spring musical, "Mame", I just happened to walk through the hall of the drama/music department and saw my name on a cast list of dancers for "Mame". (Remember "I've Been Working On the Railroad", again?) The assistant student choreographer, one of the aforementioned girls, decided that I had to be in her chorus of dancers and put my name on the list, without asking me. Since then, I have either been in a play or movie or TV show or video game, rehearsing for one or doing an audio book or auditioning for acting work. She changed my life. Hersey, like Campion, had quite an extensive theater program, first under Doctor Harold Peterson and then under Jerry Lowe and John Marquette.
I went on to win Best Actor for my portrayal of Murray Burns in "A Thousand Clowns" that year. And even though I only needed one more credit to graduate at the end of that year, I was having so much fun that I stayed at Hersey for another year, playing Grandpa Martin Vanderhof in "You Can't Take It With You", Sir Thomas More in "A Man For All Seasons" (for which I won Best Actor that year as well) and Finian in "Finian's Rainbow". At graduation, I was given the Senior Dramatics award.
I received a scholarship to Trinity University in San Antonio, Texas.
I was only at Trinity for a semester. It had a very well-funded and well-thought out theater curriculum, under the aegis of Paul Baker of the Dallas Theater Center. He required every freshman to take a class called, Integration of Abilities, in which we had to write a short story, write a one act play, compose a piece of music, do a sculpture, do a movement piece, draw... well!... you get the picture. It was the greatest class that I ever took. It made me understand the Creative Process, or at least recognize the creative impulse when it was astir in me.
However, my tenure at Trinity was a short one. While there, Terrence Malick (Badlands, The Thin Red Line, etc.) came through Trinity and Texas auditioning people for the lead role in Badlands. He called me back, auditioning me for six hours, and while he ended up not casting me in the part played by Martin Sheen, it gave me a taste for something more than doing Richard Sheridan's "The Rivals" on a college stage. When I returned to Chicago for the summer, I also returned to my job as a materials testing lab and field technician for a construction consulting firm run by a friend of mine's father. I liked the work, but I had a hunger for being on the stage again. At Trinity, freshmen were not allowed to act on stage, so there was a gaping maw where my audience appreciation hunger dwelt.
One night while watching "Death of A Salesman", with Jack Warden at Arlington Park Theater at the racetrack in Arlington Heights, I suddenly became overwhelmed with terror at becoming Biff. Or Willy Loman. After the play ended, I dropped off my friend and my sister, and drove my company car down to Lincoln Avenue on Chicago's North Side, where during the previous year I made several jaunts with friends from Hersey theater to see such things as the original production of "Grease" at the Kingston Mines and "Poe" by the Organic Theater Company at the Body Politic.
They both blew my mind.
In Grease, the actors actually drove a real 55 Chevy ONTO the stage, through the audience! In "Poe", they re-created the last three days of Edgar Allan Poe's life as a fever dream composed of all his stories and poems. It was hilarious and terrifying at the same time. They put me into a state of shock and awe. I had never seen anything like it, anywhere. I vowed that when I could, I would do theater just like that.
And so I stood under a street lamp on Lincoln Avenue at 9:30PM on a Sunday night, in front of the Body Politic where I knew absolutely no one, and woke up as if from a dream, as if some force brought me to that streetlamp and then just dropped me off, leaving the rest up to me. I looked around at the people exiting the theater, and thought I'd lost my mind, which I guess I had. I leaned against the pole and began to softly bang my head against it. I was in despair.
Then I felt a hand on my shoulder. I turned around and saw this small, dwarfish man, who asked me, "Can I help you?"
I said, "Probably not." I was in the process of vowing to myself never to take any drugs ever again.
"Are you looking for anyone from the theater?"
I hesitated.
"Stuart Gordon?" he asked. Stuart directed the play that the audience just saw.
I looked at him blankly.
"Lenny Kleinfeld?" Lenny wrote it.
Blank again.
"Zasu Pitts?"
"That's the one," I said. "Take me in to see her."
"Okay, bubaleh. Follow me."
He led me through a side door in the front of the theater into a room that was carpeted top, side, and bottom with strips of colored rug. It was 1972, after all, and psychedelia was still in bloom. He stopped once we were inside and faced me.
"You know Zasu Pitts isn't here."
"I kinda guessed that."
"My name's Bill Norris."
"Keith.. Keith Szarabajka."
"I'll just call, you Keith, if you don't mind. Keith, why are you here?"
I launched into a torrent of words that explained how I was home for the summer from college and that I was involved in theater both in high school and college and just wanted to do something in the theater this summer; and that I had seen Poe here last year and wanted to be a part of something like that.
"Really?" He looked me over carefully, like I was a specimen in a dissecting pan. I was in terrific shape, having taken up running four miles and swimming two thousand yards a day at Trinity. I had a nice tan from my field work and had long blond hair.
"You ever acted?"
"In high school, college, and community theater; yes."
"I have someone I want you to meet."
We walked across the rug room and he knocked on a rug'd door. The door opened and a cloud of marijuana smoke bellowed out. A stocky bearded man with a jewfro and wire-rimmed glasses poked his head through the smoke. He looked a lot like Jerry Garcia. He also looked me up and down and then gave a look to Norris that asked why are you bringing your tricks in to meet me?
"Stuart Gordon, this is Keith I can't pronounce his last name. Keith, wants to audition for the role of Lord Cumulus in WARP!"
Stuart looked me up and down again, and then smiled and said. "Far out! Come back Tuesday night and bring me a prepared Shakespearean reading." He turned back into the cloud of pot smoke, then turned back. "Oh, and make it something militant."
He turned again and walked away, shutting the door behind him.
I stood there stunned. I turned to Bill Norris, who just smiled and said, "It's all yours, bubaleh." And walked away.
. . .
Thomas Olson '72 flashback... me quoque
Way back in 1985 I was hooked on a TV show about a character, Robert McCall, a retired mysterious ex-"Company" spy, now do-gooder, called "The Equalizer". About episode two they introduced a unique para-military character, Mickey Kostmeyer. I said to my lovely wife, "Who is that actor? He looks very familiar!". Neither of us could place him. This Mickey character shows up again around episode ten and occasionally over a few more episodes. "Who is this guy? He really looks familiar!" Somewhere around the end of season two he becomes a regular main character. "Who is this guy? Oh well, I give up."
...Skip ahead a decade or so... My yearbooks had been destroyed in an Iowa Flood back in the 80's. My mother sent them out to me to see if I could recover them. Most all of the pages were stuck together. Trying to separate them just tore them apart. So I set out to see if I could borrow a set to scan into my computer to replace the pages that were irrecoverable.
CERN invented the concept of the WWW to link documentation together from multiple disconnected sources. Lynx was a nice text based browser for accessng the WWW protocol. Then a graphical user interface called Mosaic (later Netscape) came onto the scene and the old text based search tools called "archie", "gopher", "veronica", and "waas" were being replaced by new WWW based search tools like the "Yahoo!". The new search tools made it easier to find stuff. Of course, to find stuff someone has to make stuff available to be found. So I set out to create a web page for my vitae at CERFnet. I created some links for information about our high school. The hallways of Kostka Hall were lined with large framed pictures of each senior class going way, way, way back. They were all destroyed in the Kostka Hall fire of 1968, except, I think, for the class of 1970 that was hanging in the new Lawler Hall for some reason. Or perhaps it survived and was moved to Lawler afterward. I don't know that story.
Soon, some alumni (Gov. Pat Lucey '35, James Williamson '47, Mark Gomez '74, etal) discovered my work and encouraged me to keep it up. Well the snowball was becoming the avalance later known as Campion Knights Nostalgia Page. I started yahooing around for anything about Campion Alumni. I came across an interview of the guy that played Kostmeyer. [I know, we took a side track, but it will come together.] In the interview he said he had grown up going to military schools, one being a military high school in Wisconsin. WHAT! The only one I know was Campion Jesuit High School ROTC program. What's the odds!
...Flash Back... I was a Freshman starting the high school year 1968-69. I worked in the Art department in the basement of Kostka Hall learning to paint scenes, making headsets and crowns, and costumes for the Masquers drama department that performed in our Kostka Hall Theater. The theater burned down that year by Christmas (December 14, 1968) putting an end to Plays for the most part.
I obtained some more yearbooks and finally found pictures of Kostmeyer, uh, I mean Keith, as a Freshman, Sophomore, and Junior. Bingo! Ipse est eum!. As it turns out Keith was a Junior when I was a Freshman and he didn't come back for his Senior year. If our paths crossed it would have been those few short months working on the Masquers.
Freshman were generally on a strict schedule; Up in the morning. To mass. To Flag ceremony. To Breakfast. To study hall, classes, study hall ,classes, lunch, short break, study hall, classes, dinner, short break, study hall, back to dorm. 15 minutes.. lights out. REPEAT. Except on Wednesday and Saturday when classes were in the morning and ROTC and/or more study hall was in the afternoons. Then, if we were lucky we got a pass to cross the railroad tracks to go to the Piggly Wiggly. Rarely did we get to interact with the upper classmen except for sports, rallys, and hazing. I think that freshman year was about the last year to have it that strict. But, then again maybe it wasn't as strict as I remember.
But now I'm digressing way off topic again. Perhaps some other day.
I hope you enjoy the article by Keith in this issue. He's been in boocoo stuff.
[EDITOR:] Dr. Paul McCullough '70, "memory bank extraordinaire", wrote a great article about the Kostka Hall Fire for Campion Forever issue April 2004. It is worth reading again.
The Campion-Knights.org site has boocoo info on the Kostka Hall Fire.
Semper Ubi, Sub Ubi!
Fr. Carl Zachman,S.J., '12 and Campion College Class '16 who also taught at Campion from 1930-34 and again from 1945-71, who taught Latin, Math, Latin, Algebra, Latin, and Religion and Latin...
... has been referenced in articles in the Chicago Tribune a few times.
Unfortunately, we couldn't get permission to re-print the articles so they could be read in plain text without boocoo commercials.
---
John McCormick '68 aka Editorial Board Chicago Tribune
On Tuesday, as the Archdiocese of Chicago changed leaders, we revived a spirited (not spiritual) debate over Latin usage... Read More
From an old Tribune article... Father Zachman's Revenge
We mused once before on this page about Father Carl Zachman. He was a collegiate baseball star -- a muscular little catcher. But he rejected a pro contract to join the Jesuits and teach Latin into old age at a high school in Wisconsin. He strolled the aisles of his classroom back to front, cassock dusting the floor, textbook held prayerfully. Answer his question correctly -- "Mr. Moran, the plural?" -- and he'd move on approvingly. Get it wrong and he'd crack the book on your skull... Read More
---
Ghost of Joe Campion Mischief... Hmmm! What is he up to now.
---
REUNION REPORTS
Richard 'Moose' Adler '54 reunion report...
The class of '54 had our 60th reunion, held 8/22, 23 and 24th; at Lake Geneva, WI. Co-chairmen, Dick English, Dick Carey, George Braasch, and myself, organized the weekend events for our class.
The weekend started Friday the 22nd, at Moose Adler's lake house at Lauderdale Lakes (about 15 minutes NW of Lake Geneva) for a barbecue blast. Nineteen classmates, and a total of 28, attended this event. Saturday night, 22 classmates and guests, attended dinner at the Hunt Club in Lake Geneva. This was our main event, with photos and speeches.
On Sunday, there was an outdoor mass held near Lake Geneva.
Everyone is looking forward to our next reunion in 2019 (our 65th).
Sincerely, Moose
Pat Mower '64 reunion reports...
Part II... Chicago reunion and Florida mini-reunion.
Ok Knights!
Triplog - Part Deux...(or maybe Dva if you are Russian, or Doh if you are Persian....or Zwei if you happen to be German!)
So, you know that I ended up in Milwaukee. Thanks to my brother.....and because I called him, I had to find someplace to spend the week before part 2 of the Reunion in Lincolnshire.
The drive from Prairie to Milwaukee was largely uneventful. I did get acquainted with the great people in the southern part of the state of Wisconsin. Wonderful small towns, and wonderful people. Even Fennimore, one of our rivals that long time ago when we were young and kick butt of every time we played......
The Motel 6 I stayed in, right across from the airport was crappy to put it mildly. But I didn't care, I had plans. After stopping at Wauwatosa (actually my old home town....not one I was ever in, but my family's), I stopped and saw a couple of jebbies, including Kalamaja and Fr. Joe Eagan. What a cool bunch of guys. Who actually remember our class very well.
The reason I stayed near the airport, I have something in mind, and it worked perfectly! I collect ACARS (Aircraft Communication and Reporting System) data. I have the largest, most prolific server possibly in the world. Six scanner scan the freqs from my area, which is near LAX, which helps(!), and puts it on the web for anyone with a web browser to see and look at and play with! I have made friends from all over the world who come to LA and want to me the "acars man" from Baldwin Park!
While in Milwaukee, met with a grammar school alumni brother, one who graduated in 1971 from SJA (St. Joe's in La Grange Park) and had many of the same nuns - though by then they weren't looking muck like penguins. They had legs....who knew! We had lunch and spent a lot of time bsing. Casey is one of us in heart. I think most "boarding school" people are fundamentally the same.
I proceeded down to the Marriott and was amazed at the accomodations. I have to give a BIG shout out and thank you to our class cheerleader, Frank Foley. Frank, I want to personally thank you for making this possible for me - thanks.
I had a ball, and the class of 1964 was on its high point trek to make this a great reunion. Guys like Eddy Lyons (excuse me Col, but you know me, besides, watcha gonna do? I'm a MSgt!), really did duty. Judge Joe, Frank, Mike Hardy, Kisting, and many others who made the trek to BOTH places. You guys are beyond a class. You once gave me the "Knight of the Century" award - and the plaque hangs proudly above my office desk. But YOU, the class of 64 are trully the "Knights of the Milennium" All of youse.
With a heavy heart I left on Sunday morning, headed for Memphis and points south. I was glad to finally get out of Chicago. Left it when I was 19, and know I made the correct decision. Don't need to spend any more time there.
Met another Knight Alumni Brother, Doc. Brendan Miles. Doc lives in Amory, MS. He was a radiologist and is now retired. He is a member of the "Sons of the Confederacy" and one of my BEST friends outside of our class. We spent the night in Memphis, where on August 21, 1864, my relative, Augustus Blodgett Mower was killed by a relative of Nathan Bedford Forrest! He was a Sgt in the 17th Light Flying Arty Bde from Racine Wisconsin. He lived on Mower Court in Wauwatosa prior to being enlisted and dieing. I have copies of many of his letters, and his enlistment papers!
Brendan and I travelled to Pensecola once we had spent the night in Pass Christian MS, Brendan's summer home. We visited with yet another alumni brother, and someone you may know the name of - Chuck Lambeck. Yep, the nephew of our own AP, Fr. Lambeck. You will be happy to know, Chuck was no happier with his uncle than we were! Chuck is a retired Navy E-8 - senior CPO. Brendan was kind of out of his element with us there!
After returning to Pass Christian, I spent the night and left early the next morning for San Antonio TX, and the Freedom Through Vigilance Assoc. annual reunion.
What a great OTHER bunch of guys! Not only that, but I am not an "assoc. editor" of the FTVA newsletter - photographer! Hey Guys? Please, no more JOBS! I'm supposed to be retired!
The 2-3 days there were beautiful. I had my picture taken with General Hayden. Now, to most of you, you may say, so what. Well, I was for 20 years closely associated with NSA. Hayden was, at one time after I retired, the Director, NSA. Now, again, this means nothing to you. But to me, someone who had to write reports to NSA, it does. You see, EVERY message had only one, ONE, addressee: DIRNSA - Director, NSA. When I asked if he would allow it, he beamed. I told him, "Now I can say that I have actually MET DIRNSA!" He said, "You Bet!". I can tell you from the rest of my conversation with him that he is one sharp cookie and a great person.
The very next day I was headed 2-1/2 hours away to San Angelo Texas and Goodfellow AFB, Tx.
I spent not actually time at Goodbuddy (Goodfellow), but 3 time I was there "tdy", ok for you squids and jarheads among us, "TAD"! I met with one of my basic Russian classmates, Corky Binghand and his wife. He was most gracious and insisted on buying dinner. We ate at a nice German Restaurant. Turns out he followed me to Crete about a year after I left, he replaced me! Again, we had a ball.
I left there the next morning and drove straight through to Mesa Arizona. I met with Joe O'Neill and Rosemary, and we spent a bunch of nice hours at the Organ Stop Pizza, where I introducted them to Charlie Balogh - I think one of the very best organists in the world. Charlie was beaming. He joked, he was glad I didn't live here, because I introduced more people to Theatre Organ than he did! Joe and Rosemary loved it and couldn't believe the music. We sat right upfront and could see everything.
I left right after I walked out and ended up driving right home. My Daughter in law, who stayed with mom, was leaving that morning, so I wanted to check in with her.
All in all, the trip was expensive, but fully worth the price. Nothing is worth the price of missing connections with friends and classmates I have grown up with.
---

Obituaries:
Alumni who have passed in 2015:
| name | class_of | deceaseddate | city_grad |
| --- | --- | --- | --- |
| Mike J. Mullin | 1953 | 2015-01-23 | Minneapolis |
| Rev. Robert E. Murray | 1944 | 2015-01-30 | Hammond |
| Robert J. Clark | 1943 | 2015-02-01 | Highland Park |
| William K. Hawkinson | 1968 | 2015-02-02 | Chicago |
| Donald DuBrul | 1962 | 2015-02-03 | Columbus |
| Paul T. Witt | 1968 | 2015-03-02 | Belvidere |
| Fred T. Schmid | 1972 | 2015-03-09 | Dubuque |
| David Krieg | 1949 | 2015-03-31 | Prairie du Chien |
| Richard J. Kalb, Sr. | 1943 | 2015-04-02 | Dubuque |
| Peter C. Percival | 1971 | 2015-04-03 | Des Moines |
| John F. Gillepsie | 1945 | 2015-04-20 | St. Louis |
| Martyn F. Callary | 1959 | 2015-04-23 | Chicago |
| Rev. Michael J. Clifford | 1951 | 2015-04-23 | Neenah |
| J. Patrick Gaffney | 1957 | 2015-04-25 | Rockford |
| Leary Peterson | 1940 | 2015-05-01 | Prairie du Chien |
| Richard D. Kazwell | 1965 | 2015-05-07 | Cedar Lake |
| John J. Turnis | 1944 | 2015-06-02 | Hopkinton |
| Charles A. Rubey, Jr. | 1945 | 2015-06-05 | Chicago |
| Frederick Miller Bransfield | 1948 | 2015-06-08 | Chicago |
| Fr. William Sullivan, S.J. | 1948 | 2015-06-16 | Prairie du Chien |
| James L. Letherman | 1964 | 2015-06-19 | Elkhart |
| Rev. John Peter Carey, S.J. | 1948 | 2015-06-29 | Chicago |
| Charles E. Pechous | 1948 | 2015-06-29 | Kenosha |
| Roy L. Haasis | 1963 | 2015-07-02 | Superior |
| James D. Chambers | 1965 | 2015-07-05 | Prairie du Chien |
| Kenneth W. Otteson | 1948 | 2015-07-09 | Prairie du Chien |
| Robert G. Tully | 1947 | 2015-07-16 | Chicago |
| John F. Lawler | 1955 | 2015-08-00 | Chicago |
| Rev. Jim Gladstone, S.J. | 1953 | 2015-08-04 | Oak Park |
| Robert F. Shandorf | 1964 | 2015-08-05 | Minneapolis |
| Joseph L. Tillman, III | 1944 | 2015-08-09 | Toledo |
| Donald R. Walsh | 1954 | 2015-08-15 | Sioux City |
| Richard J. Vorwerk | 1952 | 2015-08-26 | Akron |
| John H. Lloyd, III | 1954 | 2015-09-17 | South Bend |
| Peter Fox. Jr. | 1950 | 2015-09-20 | Chicago |
| Andrew R. Zinkl | 1960 | 2015-09-28 | Milwuakee |
| John B. George | 1941 | 2015-10-01 | Beloit |
| Benjamin J. Zintak, Jr. | 1939 | 2015-10-01 | Chicago |
| William A. Kestell | 1963 | 2015-12-06 | New Holstein |
| William G. Reiter | 1966 | 2015-12-09 | Chippewa Falls |
| John R. Murray | 1940 | 2015-12-09 | Chicago |
| Pat Wehner | 1973 | 2015-12-22 | Shorewood |
| William A. Pieckenbrock | 1951 | 2015-12-25 | Dubuque |

Alumni who have passed in 2014, 2013, 2012.
Faculty who have passed:
James Ole Peterson 2014-03-27, 1953-71 Teacher of History, Economics, Sociology Atheletic Director and Coach of Football, Basketball, Baseball, and Track.
Fr. Robert Hilbert, S.J. 2014-05-19, 1966-73 Teacher of Math. Rector.
Fr. K.T. Walleman, S.J. 2014-09-15, 1954-1955 Teacher of Chemistry and Geometry