VOLUME 14 • CHAPTER 2 • April 2014

---
One of our Famous Coaches passes....
Coach James Ole Peterson, age 92, passed away peacefully on March 27, 2014, at the Waunakee Manor. He attended Soldiers Grove High School and played in the State Basketball Tournament in 1940. He also attended Loras College in Dubuque, Iowa. He enlisted in the Army in 1942 and was selected for Officer Training School.
He served as an M.P. Commander in General Patton's 3rd Army and at the Nuremburg War Crime Trials. After the war, he finished B.A. degrees in history and economics at Loras, and an M.A. in political science from UW-LaCrosse.
Joining Campion from 1953-1971 Coach Peterson taught history, economics, and sociology. He was the athelitic director and coached football, basketball, baseball, and track. His teams won numerous conference championships.
When Coach Peterson was appointed administrator of the Motor Vehicle Dept. by Gov. Patrick Lucey in 1971, the family moved to Middleton.
From: Frank Greider '72:
What a wonderful history teacher. I could just picture him on Patton's staff.
From: Tom Lochner '72:
Sad to hear of James O's passing. He was a great coach and father. I remember as a history teacher and neighbor having grown up with his children in PdC. He lived a long life and contributed to the character of his community and the students who came in contact with him at Campion.
We will miss him leading us in prayer prior to the start of the Campion Golf outing each June.
Rest in Peace.
From: Joe Williamson '72:
James Peterson was a walking history book as he was a guard at the famous Nuremburg Trials. Whenever I came to the Campion Golf Outings I always tried to find Mr. Peterson and visit with him as I knew he was getting up there in years and I would always ask him about those trials.
Who could forget about his history class and going down to the 16MM room to watch movies on Saturday mornings? He had some of the best sayings of anyone I knew! One time, as I talking in the back of the room, he said, "Mr. Williamson, you should go into radio. You are always broadcasting when you should be tuning in"!! My brother told me he came into Mr. Peterson's class, after the bell rang, and Mr. Peterson said, "Mr. Williamson, you're late"!! My brother thought he was smart and said, "well, Mr. Peterson, better late than never" to which Mr. Peterson retorted, "no Mr. Williamson, better never late"!!
He was a great man and Campion was a much better place because of him and those of us who had him as a coach, teacher or friend was much the better for it as well!!
From: John Lag '71:
Loved his 16 mm movies. Now appreciate his service at Nuremberg trials. He would point out himself standing in white hat at back of room. Also coached.baseball, gave me a hard time for missing bunt sign. Great man, and part of our collective history.
From: Paul McCullough '70:
Memories from Mr. Peterson's history class - 2D, 1967-1968: 1) walks briskly into room like 5-10 seconds before bell - always - usually wore brown wing tips with immensely thick soles, carrying what looked like a small cosmetic sample case from which he takes out his textbook, half frame glasses out of his pocket, placed on his desk (used the glass to gesture while speaking and to refer to text), perfect posture always, 2) opens all classes with a prayer, 3) film days: always started with "We have a film for you today, gentlemen." - would then give the title/subject, frequently with the disclaimer: "I know the material in the film isn't currently what we are reviewing today but I want you to project yourselves into the film so that when we come to the subject, it will add to the review. 4) test days: immediately after the opening prayer, he would say "Take out a piece of paper, gentlemen and number 1 - 20, skipping every other line:" After that was done, in a loud voice he would list twenty words (names. things, places, dates) which we would write down, beginning by saying "Identify!"....... and then we would have to define/answer in the space provided. He would either stay at the desk or leave the room.
Exchanges between students and him were always pleasant ...... I don't recall any episodes of suspect, bad behavior, etc, etc.
From: Tom Olson '72:
We have a dedicated memorial page for Coach Peterson on C-K site if you would like to leave a message. We'd also appreciate excerpts, scanned pictures honoring the Coach Peterson Years at Campion.
From: Paul McCullough '70: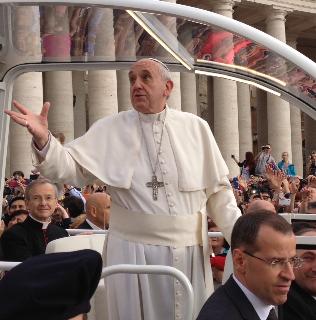 Spending time in Italy with Kathy. Had the opportunity to attend a papal audience on Wednesday, April 9 and we found ourselves alongside the path used for the Pope's drive through the crowds. Papa Francesco was shaking hands, kissing babies, getting out of his pope mobile.......also notable because we were in the area of St. Peter's Square where Pope John Paul II was shot in 1981.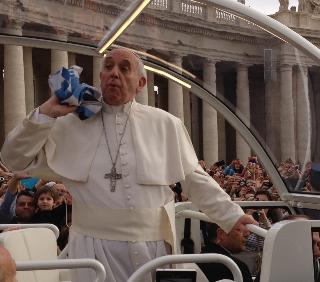 Included are pictures showing him holding an Argentinian soccer shirt just tossed to him by a boy about 14-15 years old. He speaks to the boy, blesses the shirt and tosses it back. The Pope then makes his way to the dias in front of St. Peter's where he gave a homily. He ended by giving an Apostalic Blessing that extends to audience members' entire family, especially those who are sick, and carries with it a plenary indulgence.
While the square appears quite full, it is nothing compared to the size present on Easter

Sunday for the Papal Blessing and the anticipated crowd on April 27 when Pope Francis I elevates Pope John XXIII and Pope John Paul II to sainthood. The population of Rome is expected to swell from 3 million to over 8 million on that day.
Book Reviews - Campion Authors
From: William Meis '63:

I am excited to share the news with my classmates from Campion '63 that my latest book, a novel, The Innocents, is now available on Amazon in both paperback and e-book editions:
The Innocents, the first book in the Peter Paderewski S. J. Mystery Series, tells the story of what happens when Paderewski discovers an abandoned, apparently dead, baby on his doorstep. When it turns out that the baby is, in fact, miraculously alive, Paderewski attempts to do the right thing and find the baby's parents, but his investigation takes him down a twisted, winding trail of murder, terror and betrayal haunted by Satanic threats, his Church's past scandals, and Paderewski's own personal demons.
The Innocents is definitely mainstream fiction, and I believe the novel will be a particularly enjoyable read for men who attended Campion since there are many references to the name Campion and characters who resemble some of the Jesuits we knew.
Jonathan Haschka S.J. has been reading the book and is interested in corresponding with others who are reading it.

From: William Kurz, S.J. '57:
You requested updating on books we've written. My long overdue commentary is finally out and available in both paperback and kindle form at Amazon and the usual places: The Acts of the Apostles (Catholic Commentary on Sacred Scripture) Grand Rapids, MI: Baker Academic, 2013 [appeared Feb. 2014], 397 pp. I'm very happy with the book - it's based on the latest scholarship but in a readable form with a lot of helpful references to the Catechism, Fathers of the Church, popes, etc.
From: James Ryan '69:

Dan Bellm '69 is an accomplished writer. While I can't personnaly vouch for Dan's B's work -- the last poem I read was probably a Shakespeare sonnet in Fr. Burke's English class -- those who are qualified apparently can. He's published three books of poetry, including Practice (Sixteen Rivers Press), which won a 2009 California Book Award and was named one of the Top Ten Poetry Books of 2008 by the Virginia Quarterly Review. He's also co-editor of an anthology from Sixteen Rivers Press, The Place That Inhabits Us: Poems of the San Francisco Bay Watershed (2010). He's been awarded poetry residencies at Yaddo and Dorset Colony House, as well as an Artist's Fellowship in Literature from the California Arts Council. In addition, he was awarded a 2013 Literature Fellowship for Translation from the National Endowment for the Arts. (See www.danbellm.com.)
Dan was one of the very brightest guys in our class ('69), one that produced, like most Campion classes I suspect, mostly businessmen, doctors, and lawyers. It's nice to see someone devote his considerable gifts to a purely cultural pursuit despite the obvious economic limitations. (Nothing wrong with business, medicine, or law -- just nice to see grads like Dan Bellm and Don McCoy take a different path.)
From: Tom Olson '72:

Some other notable authors either from Campion or writing about Campion are mentioned below. Let us know of others.
Patrick Finneran '53 wrote some awesome mystery novels as well. The First Kingdom File featured a world famous master sleuth, Fr. Francis Aspenleiter. Some of his other books were Murder in Two Parts and Retribution. I don't normally read books anymore, but all three of those were one knighters for me.
William Kurt '57 has written boocoo books.
Going way back in time, there was a book called Cupid of Campion by Fr. Finn, S.J., circa 1916. I've been looking for it for years. Recently it surfaced on-line, in PDF format, thanks to the University of Notre Dame.

William S. Hoffman, Jr. '54, son of Coach William S. Hoffman,Sr. spent the last decade of his life working with his wife Judith editing manuscripts and assisting publication of aspiring authors. He wrote and ghostwrote 34 non-fiction books over his lifetime, including: David, Report on a Rockefeller, a Time Magazine bestseller.

Tom Walla, '64 ... writer for several TV series

Bob Anson '63 has written several books. Here's a short list.. <Gone Crazy and Back Again: The Rise and Fall of The Rolling Stone Generation(1981), Exile: The Unquite Oblivion of Richard M. Nixon(1985), They've Killed the President: The Search for the Murderers of John F. Kennedy(1975), Best Intentions: The Education and Killing of Edmund Perry(1988), McGovern: A Biography(1972), War News(1990)

John P. Donnelly, S.J., '52 has authored numerous books.

Walter McKeown, PhD, '60 is an accomplished scientific writer.

David Kruglinski '65 authored some technical books for Microsoft Visual C++ programming language.

Garry Wills, '51, ...bio

Don McCoy '69, using pen name Morgan McFinn...

Casey C. Beaumier, S.J. has chapter 11 A Change of Vision in Rural Wisconsin Campion Jesuit High School in the book Inequity in Education: A Historical Perspective. Speaking of which, who has my copy of this book. We haven't received book reviews since 2010. Please let us know who has it.
---

Obituaries:
Alumni who have passed in 2014:
| name | class_of | deceaseddate | city_grad |
| --- | --- | --- | --- |
| Rev. Eugene Smith | 1938 | 2014-02-08 | Prairie du Chien |
| D. Mark Lochner | 1964 | 2014-02-10 | Prairie du Chien |
| John P. Hubbard | 1960 | 2014-02-13 | Grand Rapids |
| Daniel B. Garrity | 1964 | 2014-02-13 | Prairie du Chien |
| Einar C. Olsen | 1951 | 2014-03-03 | Wisconsin Rapids |
| James E. Regan | 1963 | 2014-05-00 | Oak Park |
| Joseph F. Dobbes | 1953 | 2014-05-03 | LaGrange |
| Thomas L. Murray | 1943 | 2014-05-08 | Granger |
| Patrick Lucey | 1935 | 2014-05-10 | Bloomington |
| Joseph A. Merz | 1957 | 2014-05-18 | Chicago |
| Fr. John V. Daly, S.J. | 1953 | 2014-06-02 | Philo |
| John H. Rhomberg | 1947 | 2014-06-06 | Dubuque |
| John C. Ballard | 1968 | 2014-06-13 | Lexington |
| James L. O'Kane | 1957 | 2014-07-02 | Prairie du Chien |
| Roger C. Bennett | 1953 | 2014-07-21 | Niles |
| Daniel J. Lauer | 1948 | 2014-08-03 | Toledo |
| Dan M. McGinley | 1961 | 2014-08-09 | Prairie du Chien |
| Salvador Habet | 1954 | 2014-08-26 | British Honduras |
| Mike Chatel | 1959 | 2014-09-01 | Flossmoor |
| Patrick M. Crahan | 1966 | 2014-09-12 | Dubuque |
| Richard P. Wojak | 1975 | 2014-09-17 | Des Plaines |
| Dennis W. Hickey | 1958 | 2014-09-29 | Janesville |
| Terrance R. Cejka | 1966 | 2014-10-22 | Prairie du Chien |
| Thomas A. Emmet | 1948 | 2014-11-05 | Grosse Pointe Park |
| Geary T. Becker | 1949 | 2014-11-19 | Park Ridge |
| Dr. Robert A. Gruesen | 1950 | 2014-12-06 | Watertown |

Alumni who have passed in 2013, 2012.
Faculty who have passed:
James Ole Peterson 2014-03-27, 1953-71 Teacher of History, Economics, Sociology Atheletic Director and Coach of Football, Basketball, Baseball, and Track.
Fr. Robert Hilbert, S.J. 2014-05-19, 1966-73 Teacher of Math. Rector.