VOLUME 19 • CHAPTER 1 • January 2019
---
Memoirs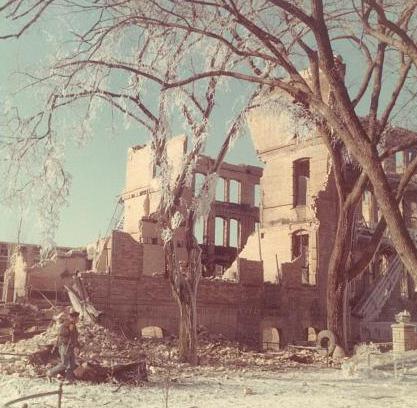 The first Campionette, the student newsletter, was published 101 years ago, on November 11, 1917. The first Editor of the Campionette was Tom O'Connor, class of 1920. The last official issue was the one announcing the closing of the school in May 1975. Over the years various classes have published special editions for their class reunions, of which some have been pretty extravagant.
The Campion Forever Newsletter was first published by Aaron Huguenard, class of 1947 in 2000 as a means for alumni and faculty to keep in touch and share in life experiences.
We've been trying to get memoirs from retired and not-so-retired Campion Jebbies for our newsletter for quite some time. We don't care if the memoirs are about when they went to Campion, taught at Campion, or just what they've done since leaving Campion. We just want to hear something from our mentors in the first person; perhaps words of wisdom learned while
IHS
; typically we only get 3rd person post mortem. Not to lay all the blame on the Jebbies... why can't we get memoirs from more alumni. Where are all those other authors and editors of the old 'ette.
While it has been a task getting people to submit articles, there are a few dedicated alumni and Jebbies who do regularly provide ideas for articles. This is a good thing, else I would have to conjure the
'Ghost of Joe Campion'
for ideas more than I care to.
In this New Years edition we want to try something different. We want to highlight the lives of Notable Alumni
1
you may know nothing about. Let us know what you think of this format.
---
Merry Christmas from Utah
My favorite Christmas video this year! Enjoy!
---
Ocer News
Tony Wach, S.J. '60, tells the story of Ocer-Campion in Northern Uganda along the Sudan Border.
---
2018 Anniversaries
This year, 2018, marked the 100th anniversary of our Joyce Kilmer Library's namesake. There are links to Joyce Kilmer and his importance to our Alma Mater at the Campion-Knights (C-K) Nostalgia site.
2018 also marked the 40th anniverary of the Jonestown Massacre where we lost our alumni friend Congressman Leo Ryan '43 while he was investigating the Jim Jones Cult in Guyana.
And of course you know 50 years ago, on Saturday, December 14, 1968, Kostka Hall burned to the ground. It was covered in the last issue.
A recent 50 year old conspiracy was recently discovered by the Ghost of Joe Campion involving the Dirty Dozen Oath of 1968.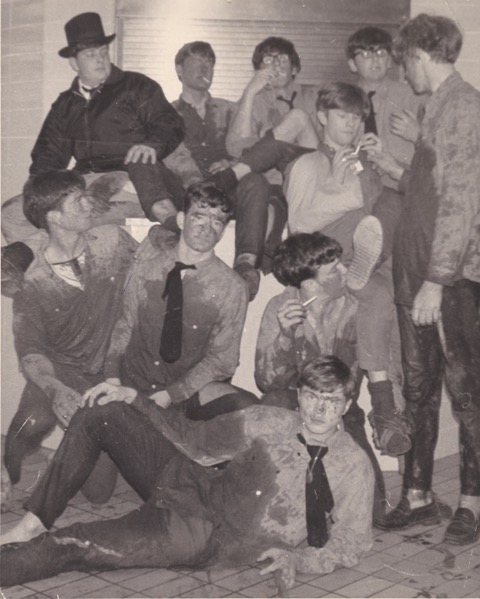 Click the Pic for the Oath
---
Notable Alumni
Michael Horrigan '54
My dad Michael J. Horrigan, passed away yesterday. He stayed up with all the Campion News. He wanted us to be sure to let you know if anything ever happens.. He had heart surgery on Monday.. He had too many complications. Born March 9, 1936; Died Oct.18, 2018. May he rest with the angels. God Bless.
[EDITOR: Mike was one of the guys that came to many of my SoCAL BBQ reunions. Mike was my friend and use to tease me that I was born the year he graduated from Campion. Mike was one of the few guys who provided occational financial support (perhaps in the guise of a Fifth of Scotch), but more importantly he religously monitored the C-K Guestbooks and kept up on the latest additions to the vast materials as they were added to the Campion-Knights Nosalgia Archives.]
Richard Rawe '48
Hi there! I'm Richard Rawe's daughter. I wanted to let you know that my dad passed away in May. I went to California to care for him the last 3 months of his life. What a wonderful 3 months it was. Surrounded by family, eating ice cream for breakfast, reading him stories from his book...nothing was left unsaid or undone. He spoke of his years at Campion and the men he knew there as the best years of his life! I miss him every day...but what a wonderful life he had...and you all were a part of that. If you can pass this along to the other Campion guys I would appreciate it. Merry Christmas!
[EDITOR: Richard was one of the few guys who not only sent occasional financial support, but more importantly also wrote several of the most outstanding and fun to read stories about his childhood and adulthood experiences with Campion Alumni Friends. His writing skills will sorely be missed by the readers of the Campion Forever Newsletter!]
Fr. Robert Brodzeller, S.J. '48
After two years at Marquette University, he entered the Society at St. Stanislaus Seminary, Florissant, Missouri on August 17, 1950.
He completed the usual Jesuit course of studies at St. Stanislaus, Saint Louis University, and Saint Mary's College. He did regency at Red Cloud Indian School in Pine Ridge, SD.
He was ordained at Gesu Church in Milwaukee on June 11, 1963. A good linguist, Fr. Brodzeller made tertianship in Austria. He pronounced his final vows on September 13, 1980, at Ss. Peter and Paul Church in Mankato, Minn.
He taught French at Campion High School from 1965 to 1972. Apart from one year as a retreat director at Emmaus in Des Moines, Iowa, for the next thirty-five years he ministered as a hospital chaplain and a parish priest in either Omaha or Mankato.
In 2006, declining health, especially impaired hearing, led to his assignment to the St. Camillus Jesuit Community, where he functioned as an unusually active member of the community.
Robert Meehan '50
Bob earned a Second Lieutenant Commission in the 40th Tank Battalion of the U.S. Army and spent two years in Germany with the occupational forces. Upon return to the U.S. he became a marketing trainee for Texaco, Inc. in Denver in September 1956. He served Texaco as sales and credit representative in Grand Island, Lincoln, Omaha and Chicago. When Texaco vacated the Midwest in 1978, Bob resigned to remain in Omaha where his five children were well established in their schools and lives. He went to work as a loan officer for Commercial Federal Savings & Loan in 1978 and later to Union Bank of Lincoln in 1982, where he traveled Iowa and northwest Missouri marketing a student loan program.
For many years, Bob was a national officer in CSA/USA, a non-profit organization which supports people who suffer from celiac, a gluten-intolerance health condition which he suffered with. He traveled to many conventions to spread an awareness of this dietary problem.
David Anaple '50
Dave served in the Army during the Korean War as a Corporal and was Honorably Discharged.
He was baptized as one of Jehovah's Witnesses on July 15, 1963.
Dave worked for AT&T as an genius engineer for 40 years.
Dave played the clarinet since he was 9 years old. His favorite genre of music was big band, playing in many bands and orchestras, most recently the Maumee Community Band.
Patrick Crahan '51
Pat was a naval aviator. His first tour of duty was on the aircraft carrier USS Midway flying the F8-Crusader.
Pat left the Navy as a lieutenant commander and became a flight officer for United Airlines.
Following his retirement, Pat attended the University of San Diego School of Law, graduating with a Juris Doctor degree in 1988. He practiced estate and tax law in San Diego.
With his love of flying and using his legal experience, Pat was instrumental in establishing the USS Midway as a museum in San Diego, where he volunteered more than 2,400 hours.
Active in the San Diego community, Pat also was involved in numerous charitable organizations, including the San Diego Zoo and the Old Globe Theatre.
Pat was a founding member of Our Mother of Confidence Catholic Church, serving as one of the first extraordinary ministers.
He also was a supporter and advisor for the "Whatisit?" youth theater group at the church.
He was a Fourth Degree Knight of Columbus and a Knight Commander with Star in the Equestrian Order of the Holy Sepulchre of Jerusalem.
Tony Cline '66
Tony only went to Campion for his Freshman and Sophomore years. He graduated from Elston High School.
Tony played defensive end for the Oakland Raiders from 1970-1975.
He holds the 1970 unofficial record for 17.5 sacks; as they were not officially counted prior to 1982.
Dr. Michael Garrity '49
Dr. Mike served in the U.S. Air Force in Bangor, Maine during the Korean War.
He began his 58-year career in family medicine in Prairie du Chien, WI. at the Farrell Clinic, which later became Gundersen Clinic. He later served as Gundersen Health System's Chairman of Rural Clinics. Between 1973 and 1978, he worked with the University of Wisconsin Madison Medical School to create a residency program in Prairie du Chien to enhance patient care. In retirement, he volunteered with World Services to improve healthcare in the Ukraine and for 16 years at St. Clare's Health Mission until his passing.
A family physician, Dr. Mike made family wherever he went. Having delivered 1,695 babies in the area, he found joy in delivering the babies of babies he'd delivered years before. A local boy who had returned home to practice, Dr. Mike used to say, "My friends became my patients, and my patients became my friends."
February 11, 2017 was declared "Dr. Michael Garrity Day" in Prairie du Chien.
Howard Gillitzer '55
He entered the novitiate of the Order of the Holy Cross in Hastings Nebraska. Two years later he went to Our Lady of the Lake Seminary in Syracuse, Indiana and four years later to Crosier Seminary in Onamia, Minnesota.
He spent twenty years at Crosier in Administration, College Financial Aid, and Fund Raising. Then he worked in Production Development and Contracts for the Opportunity Center.
John Halloran '46
Jack practiced law with Leo G. Winzenburg. He spent his entire career practicing in Jackson County, eventually with offices in both Jackson and Heron Lake, Minnesota.
Jack devoted his energies to Legal Aid of Minnesota, the Dominican Center for Women in Milwaukee, Wisconsin.
Jack was a voracious reader, an ardent student of history, and an avid debater of the issues of the day.
He was was energized by company and intellectual activity, and especially loved to share humor and to laugh heartily, often to the point of tears.
Joseph Keenan '39
Joe was the owner of Edward Electric. He was a lifelong member of the Local 134 IBEW and a former president of the Electrical Contractors Association in Chicago.
He was a member of the seminal World War II Scouts and Raiders, the original Special Operations Personnel who provided the backbone of Naval Special Warfare and from which the current Naval SEAL Teams evolved.
He is recognized by the current SEAL Teams as one of the founding fathers upon whose brave shoulders those who followed learned and served proudly.
Prior to being deployed to China, Joe underwent training under the Navy's V-12 Program at the University of Wisconsin.
While at Wisconsin, he was Captain and Most Valuable Player for the 1943 football team. He was also honored on various All-Big Ten Teams that year for his play as a center/middle linebacker and was an Honorable Mention at center on the 1943 United Press All-American team. The University of Wisconsin celebrated him late in life by naming him Honorary Captain for the 2016 Wisconsin-Illinois football game in Madison, one of his proudest moments.
During retirement, Joe remained an active volunteer at Eagle River Hospital and member and generous supporter of Saint Peter the Fisherman Catholic Church in Eagle River. He was well known in the community for his exuberant presence, his ease at making friends wherever he went, and his love of frequenting the local restaurants.
A menu item named for him at Eagle River's Chanticleer Inn-"Joe's Mac and Cheese"-stands testimony to his favorite food. Bartenders in town were well-versed in preparing his "Windsor Perfect Manhattan" (on the rocks, with a twist, and heavy on the sweet vermouth) as soon as he came through the door.
William Geoffry Lyden, III '70 AKA Geoff
Geoff was the CEO of True North Energy, LLC ("truenorth") which was founded in 1999, through a 50/50 partnership between The Lyden Company, previously known as Lyden Oil Company (established in 1919) and Shell Oil US. The Lyden Family has been in business for 99 years with the third and fourth generations presently in management positions.
"Quality & Control" was his mantra and this has become a unified objective within the organization. His "Prescription for Happiness" was shared with one and all. "It's very simple", he would say. "Prioritize these "4" things in your life and your happiness is all but guaranteed"...
Health: stay fit, take care of yourself first.
Family: love and cherish the time you have together.
Work: give it all you got - work hard; be proud of your accomplishments.
Friends: embrace them and the memories you have together.
He pursued Board positions with educational institutions such as St. John's Jesuit High School (Trustee/Chairman) and Lourdes University (Trustee Emeritus).
Other affiliations included Toledo/Lucas County Port Authority (Chairman), Ohio Petroleum Marketers and Convenience Store Association (Chairman), Fifth Third Bank/NW Ohio (Director), Hospice of NW Ohio (Trustee), Seaway Food Town, Inc. (Director) and Capital Bank (Director).
Tim McCarthy '47
Tim was appointed to the position of Assistant Linn County(Iowa) Attorney. In 1965 he was appointed by Attorney General Larry Scalise to be the Solicitor General of the State of Iowa. He served a two year term, later working with the Des Moines law firm of Davis, Huebner, Johnson and Burt.
Tim was hired by the four Catholic Bishops of Iowa as the Executive Director of the Iowa Catholic Conference, representing them before the Iowa Legislature. The important legislation that passed during his tenure included; Private School Aid Bill (1970), Busing of Iowa Private School Children (1974), the Family Farm Bill (1975), Abolishment of the Death Penalty (1998), and Tuition Tax Credit (1998).
In 1994 he received a Papal Appointment as a Knight of the Order of St. Gregory the Great.
In November 2017, Tim received the Governor Harold E. Hughes award from Iowans Against the Death Penalty.
William McDonough '52
William had a career as a U.S. naval officer, diplomat, international banker and president of the Federal Reserve Bank of New York, the second most powerful job in the U.S. central bank.
That he held such diverse jobs proved "I'm very bad at plotting a career," he told the American Banker in 2003.
In his Federal Reserve role, he helped orchestrate a private-sector bailout of the hedge fund Long-Term Capital Management in 1998, dealt with a Russian debt crisis and kept money flowing through the banking system after the Sept. 11, 2001, terrorist attacks. In some ways, those incidents were rehearsals for the emergencies the Fed would face during the 2008 financial crisis.
During a five year career in the Navy, he spent time on a destroyer, was stationed in Pearl Harbor and taught at the U.S. Naval Academy. As a night student, he earned a master's degree in economics at Georgetown University.
After joining the State Department, he was sent to Uruguay and later worked in Washington on Latin American policy. When a Chicago-based bank, First Chicago Corp, needed young executives with international experience his 22-year career there began.
First Chicago sent him to Paris and London before bringing him back to the head office, where he rose to vice chairman. At age 55, he concluded he was unlikely to become CEO and retired early.
He worked as a consultant and did charity work for several years. In 1992, the New York Fed hired him as a senior official. A year later, he was promoted to president of the bank, which oversees the Fed's dealings with Wall Street. As head of the New York bank, he was automatically vice chairman of the Fed committee that sets interest rates. He worked from a palatial downtown Manhattan office featuring a glowing fireplace and leather sofa.
When Long-Term Capital was foundering, the Fed helped bring together private financial institutions to arrange a rescue, without government funds. Mr. McDonough rejected criticism that the Fed had no business helping save wealthy investors who made bad bets: "With the full brilliance of hindsight, we could not, I think, have done anything better," he said later.
On New Year's Eve in 1999, he turned down party invitations and stationed himself at the Fed to make sure computers didn't go berserk at the turn of a century.
After a decade at the New York Fed, he stepped down in 2003 and became chairman of the Public Company Accounting Oversight Board, a new agency that was trying to restore confidence in corporate accounts after a series of scandals. Some executives were grumbling about the tougher auditing standards imposed by the Sarbanes-Oxley Act. Mr. McDonough warned things would get worse if accounting practices weren't cleaned up: "You're going to get Sarbanes-Oxley No. 2, No. 3 and No. 4, and it will curl your hair."
He held the accounting oversight job for more than two years and then became a vice chairman at Merrill Lynch & Co.
In a speech on the first anniversary of the Sept. 11 attacks, he said "those of us who have lives of great comfort and success" should thank a "good set of genes, good health, being born to loving parents, the help of a loving friend, the support of a great teacher." Though "we deserve some credit," he added, the reasons for that success "have very little to do with our own virtue."
Dr. Ken Meyer '45
He graduated from Northwestern University School of Medicine in 1951. Following an internship at Wesley Memorial Hospital in Chicago, he was drafted into the Air Force and served as captain on the Medical Corps in Iceland and El Paso, Texas.
He was on the surgical staff of the Ochsner Clinic as associate to Dr. Alton Ochsner and Director of Medical Education for the Ochsner Foundation.
He was on the surgical teaching faculty of both Tulane University and Louisiana State University. He was certified by the American Board of Surgery in 1960.
As an Associate in Surgery at the Guthrie Clinic in Sayre, Pa., in 1967, he continued his interest in breast cancer treatment and research, and was the first to recognize that radiation therapy can decrease circulating immune cells.
Co-editor of the textbook "Current Concepts in Breast Cancer" and author of more than 50 published articles, he was a visiting professor at seven medical schools and presented his research in 14 countries and 36 states.
Dr. Meyer was president of the Wainwright Tumor Clinic Association (now Pennsylvania Oncologic Society), Bradford County Medical Society, and the Robert Packer Medical Staff.
He was a member of the Societe Internationale d' Chirurgie, Central Surgical Society, Society of Surgical Oncology, American Medical Association, American College of Surgeons, Society for Surgery of the Alimentary Tract and the Association for Advancement of Medical Instrumentation on whose Board he served, as well as many committees.
For 10 years, he was Chair for Pennsylvania of the Commission on Cancer of the American College of Surgeons and also served on its committee on the Operating Room Environment. He was a member of the Breast Cancer Task Force of the National Institutes of Health.
He was the first physician to introduce the groundbreaking breast cancer treatment tamoxifen at the Guthrie Clinic. Dr. Meyer was known to say, "You treat the whole person, not just their medical diagnosis."
Bill Mullin '52
Bill served in the United States Attorney General's Office and the Minnesota Attorney General's Office.
In 1964, he opened the law firm Mullin, Galinson, Swirnoff. He had his own practice until 1978, when he joined the Maslon firm as a partner and spent the remainder of his career there. During his 60-year career, he served as the President of the Minnesota Chapter of the American Academy of Matrimonial Lawyers, Chair of the Committee on Family Law of the Minnesota Trial Lawyers, and was an adjunct professor at the University of St. Thomas School of Law.
As a young man, he marched with the Freedom Fighters. As an attorney, he was on the board of the Legal Aid Society of Minneapolis and volunteered his time at the Children's Law Center. He was also heavily involved in Democratic politics.
In 1968, he took a break from law to work on Hubert Humphrey's presidential campaign and continued to support political candidates throughout his life.
Rev. Eugene Nevins, S.J. '50
Fr. Eugene attended Marquette University for one year before entering the Society of Jesus as a Jesuit brother. He requested priestly ordination and after theology studies, he was ordained in Chicago, IL on June 14, 1980.
He received an MA degree from the School of Applied Theology in Berkeley, CA and an M.Div. from Loyola University in Chicago, IL. The majority of Fr. Nevins' ministry as a priest was in pastoral work as an associate pastor in parish and several chaplaincies in hospitals. He was Director of Catholic Chaplains at Cook County Hospital and at John H. Stroger Hospital, both in Chicago, IL.
He was missioned to the St. Camillus Jesuit Community in 2012.
Allan Scholl '44
Allan was born in England. His family moved from London to Chicago in 1939, when events in Europe became too hostile to remain. After high school he was admitted to The Citadel military college in Charleston, South Carolina. He received an appointment to West Point in 1946 and graduated in 1950 with a Bachelor of Science degree.
Shortly after graduation from West Point, the Korean War began. Allan was commissioned into the Infantry and by good fortune was not assigned duty in Korea. He went to jump school at Fort Benning before reporting to the 82nd Airborne Division. Later, he was stationed at Fort Bragg. His last appointment was in Berlin, Germany before retiring in 1971.
Allan served for 20 years in the special forces; is a veteran of the Vietnam War, and retired as a Lieutenant Colonel.
Tim Barger '65
Tim was the seventh child to be delivered at the Aramco hospital in Dhahran, Saudi Arabia.
His father, Tom Barger, left a mining engineering professorship at the University of North Dakota, to search for oil in the vast and harsh Empty Quarter of Arabia in the years leading up to World War II, later becoming CEO of Aramco.
Tim led a childhood filled with mischief and discovery as he explored the back alleys and yards of Dhahran and the desert beyond its fences. He chronicled his adventures, from unwittingly locking himself in a mini-refrigerator to launching a flaming model ship as a Viking pyre in the Persian Gulf, in two books, "Arabian Son" and "Christmas in Khobar."
After graduating from Campion, Tim attended Santa Clara University, where he experimented with the newly emerging art of videography, which he later pursued as a career in Arabia, first at King Faisal Specialist Hospital in Riyadh and then in Jeddah, where he established an electronics equipment firm.
Later, in Vista, CA. Tim started a company that produced technical films.
Tim organized his father's many papers, photos, and films dating back to his explorations of the Arabian Peninsula in the 1930s. Out of this project, Tim published Out in the Blue: Letters from Arabia 1937-1940, a compilation of Tom Barger's letters to his young bride he had left behind in North Dakota that is frequently cited in academic works of mid-century Saudi history.
Out in the Blue was the first publication of Selwa Press, co-founded by Tim with his wife, Sydney Fate Barger, also of Dhahran.
---
From Fr. Tony Wach, S.J. '60...
OCER UPDATE
---
---
reprinted with permission
| | |
| --- | --- |
| | ISSUE 2 VOLUME 1 - 2018 |
---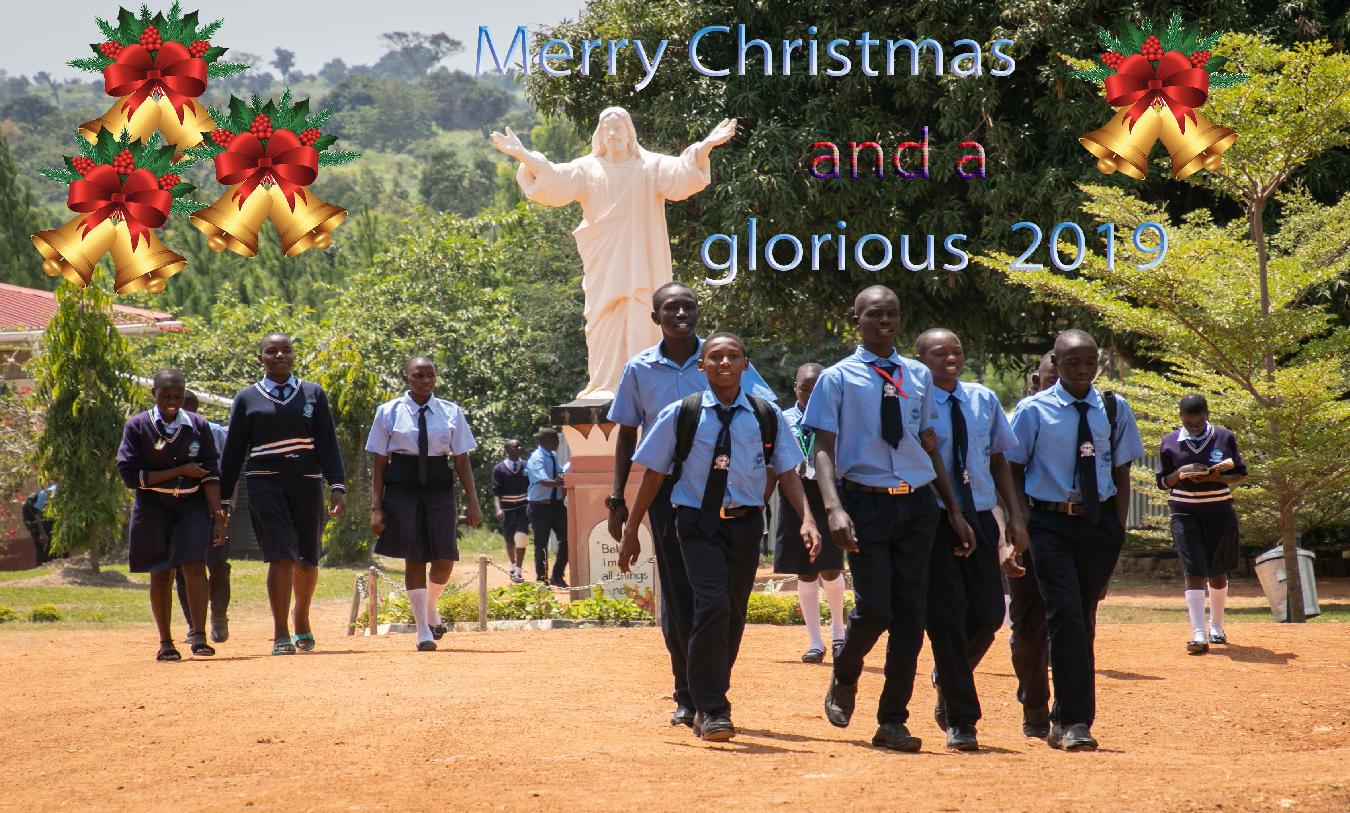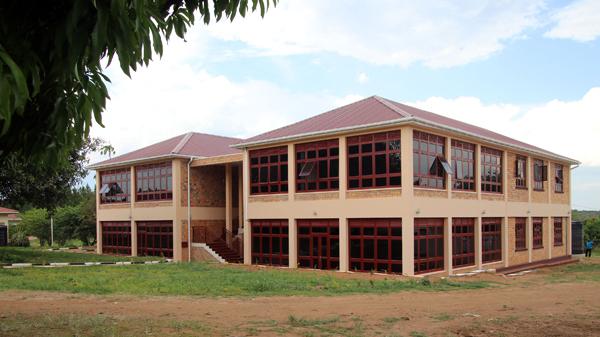 Ocer Campion gets a New Library
The importance of a well-equipped school library to quality education was recently underscored when Ocer acquired a state of the art library.
The school year has ended on a good note, Ocer has finally acquired a state of the art library. The new double storied building, houses both the library and administration units.
Previously, the school has had a small library which could not adequately serve the growing student population. With the new block, this is now history. The good news is now the library comes with two spacious sections, an Advanced Level section ( high school before university) for advanced students and the ordinary level section (8,9,10,11th grade) for ordinary students. The books and textbooks on display cut across different subjects from arts, commercial, religious and science subjects.
Addressing the gathering of students and teachers during the handover ceremony, the Project director, Fr. Tony Wach, S.J. said it is useful to inculcate the habit of reading as it helps students in their Scholarly pursuit.
The Head teacher, Fr. John Chachu was not left out in the gale of excitement. "Students and their teachers need library resources and the expertise of a librarian to succeed," he said. "That's why we are so delighted. We're indeed grateful to the friends of Ocer for this donation; it will certainly positively impact our work and the performances of the students," he stated.
Rescued from becoming a child bride
On 12th December, Priscilla Piath was named 10th best Speaker in the Uganda National Schools Debate Championships.
She is an honor student of her class, an eloquent and authoritative speaker. Next year, she'll be in senior 3.
Looking at her stature, she seems grown up but she's just a girl whose childhood and future was almost snatched away when her family had set to marry her off at the age of 15. With the help of some community members, Priscilla was rescued and her plight brought to the attention of Fr. Tony Wach, S.J. She was added to the sponsorship program and now she not only has an opportunity of being a child but also she's blessed to access quality education here at Ocer.
Child, Early and Forced marriages is a common practice world over but it is more prevalent in rural communities. It is a violation of children's human rights, it continues to rob millions of girls under 18 around the world of their childhood and forces them out of education and into a life of poverty and violence.
Thanks to the Sponsorship Program, Priscilla now goes to school, engages in activities such as debate which is increasing her confidence, poise, self-esteem and improving her critical thinking skills.
There are many girls like Priscilla whose future is at stake. You can contribute to our sponsorship program and your gift will bring hope and change not only to a sponsored child but also impact the entire community. Follow this link and learn more on how you can support our Sponsorship Program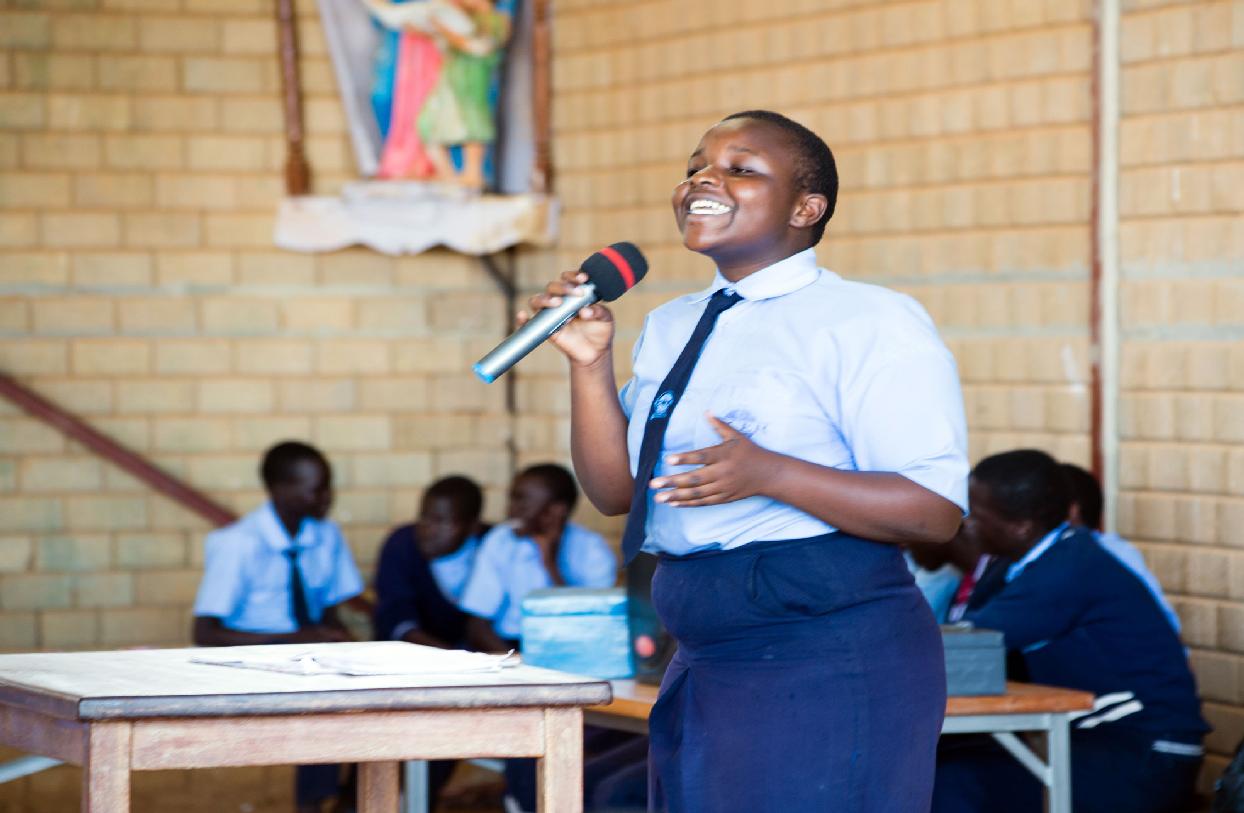 Priscilla speaking during one of the debate sessions at Ocer
Thank you for visiting with us...
This year, we were blessed to receive various visitors from different parts of the world. We are privileged to have such wonderful friends and supporters.
Special thanks go out to Fr. Don Doll, S.J., all the way from Creighton University, Omaha, USA. Thank you for coming and sharing your immense knowledge in Photojournalism with our team. We are grateful and be sure to look out for better images from Ocer!
Our very first visitors from Creighton Prep; Joyce-Whipp and Kathy O'keefe, thank you for visiting with us. Your visit means a lot to us, we look forward to your return next year and more future collaborations and exchanges.
The team from INIGO (French Jesuits); Fr. Nguyen Tuan, S.J. and Etienne Quinchon, the first French Volunteer to Ocer. Thank you INIGO for sending to us volunteers from time to time. Our students learn a lot from these interactions. Thank you Etienne Quinchon, for coming around and having Ocer at heart.
The teachers from Ireland, thank you for making the annual trips to Ocer. Thank you for sharing with our teachers the principles and practices of Ignatian Pedagogy as well as sharing your experiences of Jesuit teaching methods. We always look forward to such experiential learning.
The two groups of student Nurses from Kansas City, USA. Thank you for contributing to our sponsorship program, more of our students can now train to become nurses/midwives.
We can't mention each and every one here but we extend our sincere gratitude to all our friends who have visited us, we are blessed to have you and we always remember you in our prayers.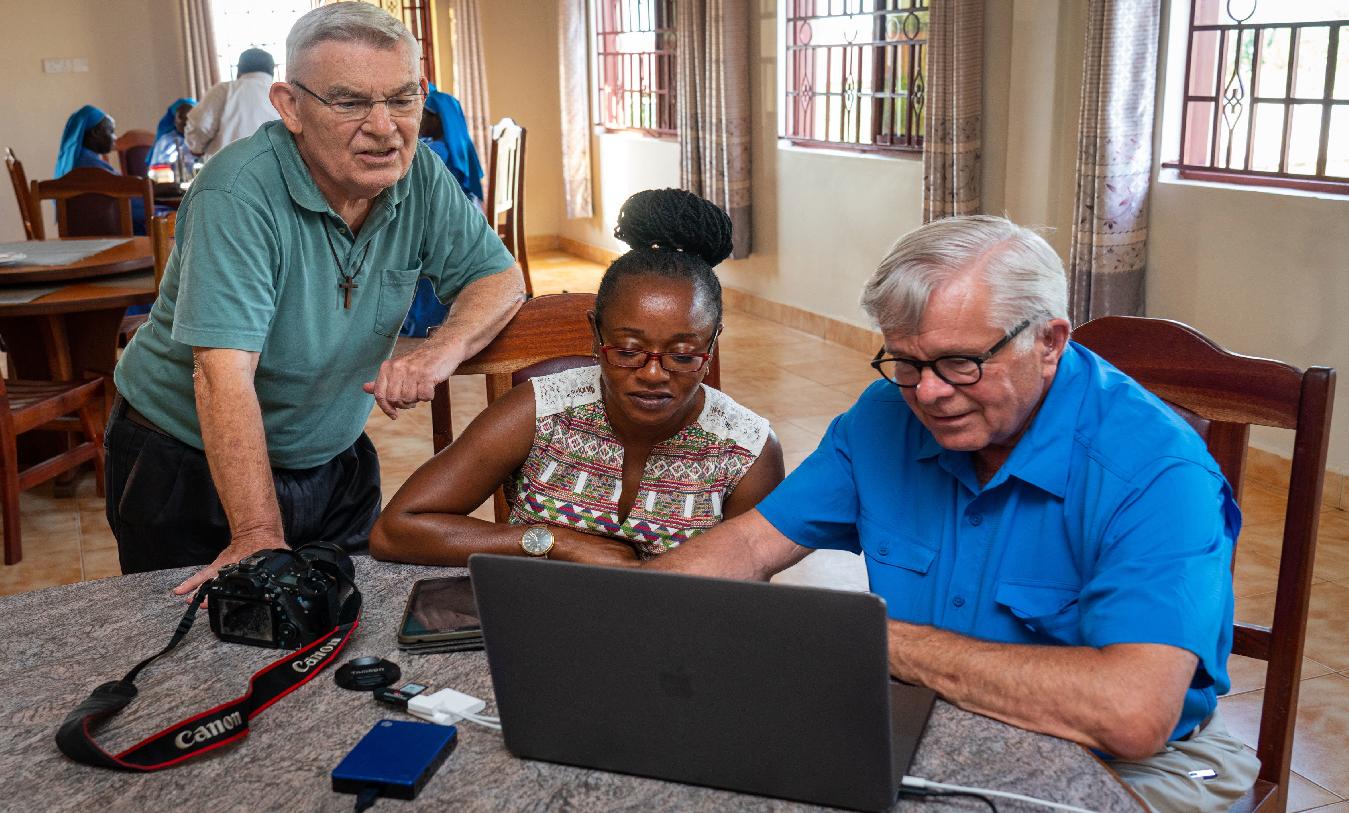 Fr. Don Doll, S.J. shows Ocer team how to edit pictures
Ocer receives a Grant from USAID-ASHA to build a girls dormitory
Ocer Campion Jesuit College is pleased to announce that it received a grant of $500,000 from USAID-ASHA. The grant is to be used to construct a new girls' dormitory.
The new dormitory will accommodate approximately 300 students. This award is timely; it comes when the school has just expanded to include advanced secondary education. The present girls' dormitory will be totally packed with the new intake in January 2019.The new dormitory will give girls a safe and conducive place to attain an inclusive and equitable quality education. This will not only help in bridging the gender gaps but will ultimately assist in breaking the vicious cycle of poverty which is synonymous with rural communities.
The school management was excited at the news of the grant award. "I am extremely happy, this is good news for us especially now that we have introduced advanced secondary education," said Fr. John Chachu, S.J., the school head teacher.
This is the second grant Ocer is receiving from USAID-ASHA. In 2015, USAID-ASHA funded the construction of a dining hall/kitchen which seats 1200 students.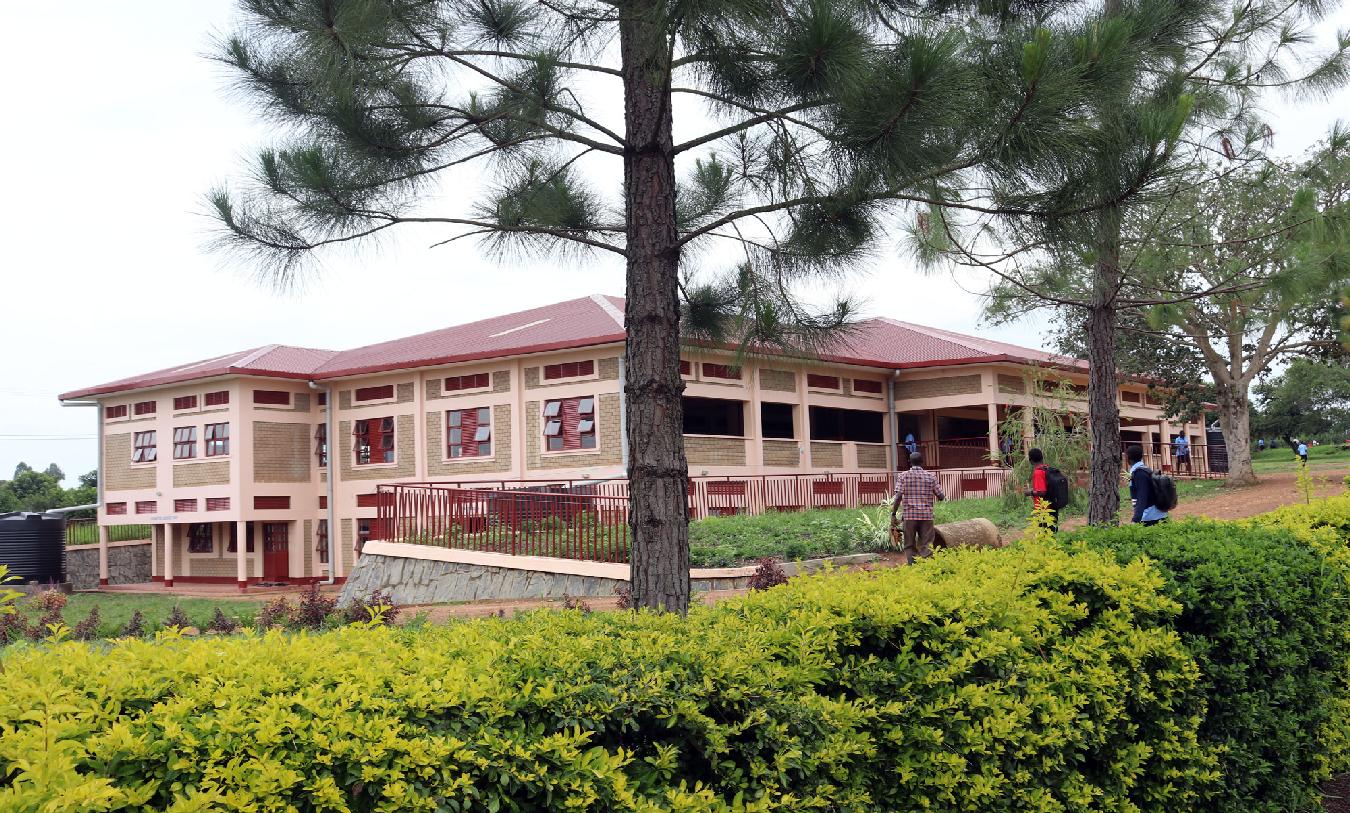 Dining hall built with funds from USAID-ASHA
What a glorious way to end the year...
On 1st December, Ocer celebrated Campion day as it marked nine years in existence. As is the custom here, every 1st December, Ocer commemorates the Feast of Saint Edmund Campion, the Patron Saint of the school.
On this day, students who have successfully undergone catechism lessons for a year receive the sacrament of confirmation. This year, 48 students were confirmed by Father Martin Agwee, the Chancellor of Gulu Archdiocese. Father Agwee called on the students to be strong and courageous just like St. Edmund Campion who went to his death rejoicing.
The confirmed students are now fully initiated into the Church and will begin a lifetime of developing a deeper understanding of the faith coupled with active involvement in the church. Falling on the eve of advert, this was the best Christmas present one can ever wish for!
It was a day for merry marking, students showcased different talents in music, dance and drama. The celebration climaxed with cutting of cake. What a beautiful and fun way to end a school year and usher in the Christmas Season!
Campion Day Celebrations in the Pictures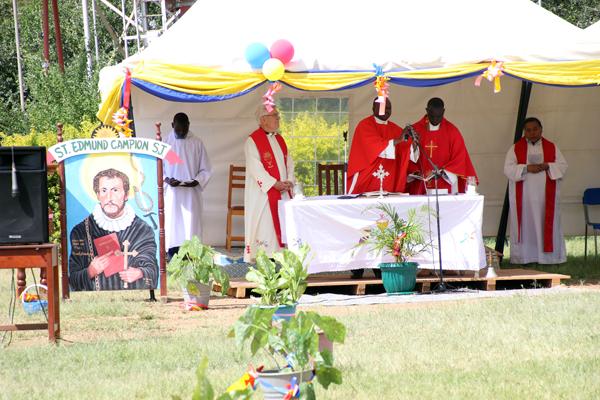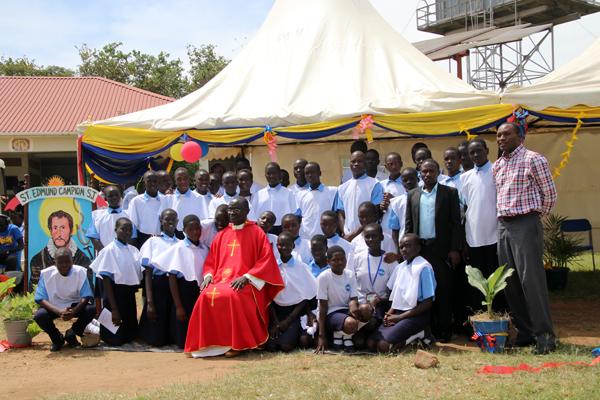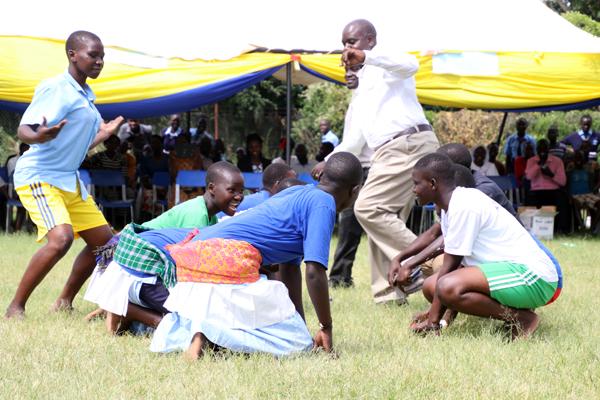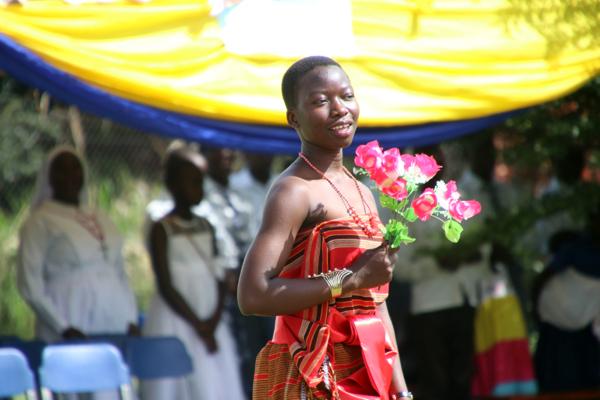 [EDITOR] Follow OCER Campion at ocercampion.org
YAFB from the Desk of John Duskey '63
Remembering the Spring Concert in 1962
From the Campionette, April 28, 1962:
A Festival of Music, the sixth of a 12-year series of biennial productions by Campion's department of music, will be presented May 4 and 5 at 8:15 p.m. in the Campion senior gymnasium.
The biennial productions of the past have been hailed by numerous musical dignitaries from high schools and colleges as outstanding in the realm of high school musicianship. The late Carl Eppert, composer of several symphonic works, once stated "The biennial concerts at Campion are truly outstanding in high school showmanship, talent, and musical imagination."
Highlights will include Bachr's Toccata and Fugue as performed by Campion's premier organist, Frank Rozum. Others are the Concerto in C Major by Bach, performed on three pianos; Mendelssohn's Rondo Capriccioso and Chopin's Scherzo, piano solos; excerpts from Gilbert and Sullivan's H.M.S. Pinafore and The Mikado by the Campion concert band, John Dunn vocal soloist. When Leroy Anderson's The Syncopated Clock is performed by the concert band along with six organs, the world's largest clock will be presented on stage in syncopated antics.
The Campion glee club, under the direction of Fr. D. W. Brehm, will appear in their new scarlet choir stoles, singing, among other selections, When You Wore a Tulip and a medley from the works of Rogers and Hammerstein. When Banana Boat Song is sung, Tom Abbott and Don DuBrul will play the bongo drums.
The colossal stage upon which the concert will be presented is the result of many months of planning by Prof. S.S. deRanitz, Campion's director of music, and Bro. S.J. Staber, Campion's master carpenter.
Believe it or not, I actually wrote that article. That was before I learned a lot more about rhetoric and composition. Even in transcribing the article as shown above, I had to correct some errors. I found two inverted letters, an error I should have caught when I (as an associate editor) was proofreading at Howe Printing, as we prepared that issue. Some of the material was dictated to me by Prof. deRanitz. As for being truly outstanding, one thing is certain: Prof. made sure that the production was outstanding in showmanship and imagination. John Dunn '64, a lead trumpet player, remarked to me that, in terms of musicianship, "Prof was also outstanding, always attentive to accuracy in detail. He did the most and the best that could be done, given what he had to work with." Dunn also stated that Prof was always easy to work with, "a kind and gentle man whose demeanor had a positive influence on students."
In the Campionette article, I neglected to mention that the concert band played Joseph Olivadoti's Carnival of Roses Overture. When you watch and listen to a recent presentation you will notice a larger band with a wide variety of instruments-flutes, oboes, bassoons and more-that we did not have at Campion.
When I listen to this overture, I always think of Jim Letherman '64 and Steve Green '63 when I hear the baritone horn part (at 5:42 in the referenced recording).
It is worth making note of the Joseph Olivadoti. He was born in Italy in 1893, and immigrated to the U.S. in 1911. He played oboe for some Italian community bands in New York, and for a band in Chicago from 1927 to 1937. He served in the U.S. Navy band during World War II, and later moved to California and played in the Long Beach Municipal Band. He composed and arranged a wide variety of music for band. Some works were designed for high school bands. He wrote several methods books, and taught private lessons throughout his career. It was in 1947 that he composed Carnival of Roses Overture. Prof. deRanitz clearly admired the work of Olivadoti, as he included the Avalon Nights overture (composed in 1952) in the Campion spring concert of 1960.
In some large high schools it is common to have as many as 100 band members. In 1962, Campion had an enrollment of 578 students. There were forty students in our concert band-a substantial portion of the student body, but not enough to ensure that all the parts were played. Prof added several organists, each playing one or more of the additional parts, so that the performance approached the ideal instrumentation. The 'organ ensemble' included Frank Rozum, Ken Hoffer, Pat Mower, John Montanus, and Julius Overbeck.
The 'three pianos,' who performed Bach's Concerto in C Major were Charlie Baumann '63, Ken Hoffer '62, and John Montanus '62. "Rondo Cappricioso" was performed by Ken Hoffer, and Chopin's "Scherzo" was performed by John Montanus. "Que Vive," by Ganz, was performed by a piano duo, sophomores Mike Barger and Patrick Holland. Other instrumental performers were sophomore Dennis Miller's sousaphone solo, "The Lancer" and a trumpet trio (John Dunn, Jim Holm '63, and Jerry Noel '63) "I Love You Truly" composed by Carrie Jacobs Bond. Also, Doug Rybarczyk '62 played "Dizzy Fingers," an accordion solo.
As for this 'world's largest clock' it should be told that the clock on the stage was only about 8 feet in diameter. That is not the world's largest: While at Marquette a few years later, I could look out from a first floor window of the Music building and see the clock tower on the Allen-Bradley building on the south side of Milwaukee. Forgive the exaggeration in this article. Prof was always looking for something to add to Campion's concerts, to make them visual as well as auditory experiences.
I have many recollections about singing in the Glee Club. For this concert, Fr. David W. Brehm, S.J., chose a classical American song from 1914, "When You Wore a Tulip" (music by Percy Wenrich and lyrics by Jack Mahoney). Also included in the concert were three songs written by Richard Rogers and Oscar Hammerstein: "No Other Love," "Hello, Young Lovers," and "Wonderful Guy." The Glee club also performed "O Mighty Land" by Sebelius, "I Dream of Jeannie" by Stephen Foster, and Cole Porter's classic "In the Still of the Night."
The Finale to this concert was "Battle Hymn of the Republic" performed by the concert band, glee club, and the entire cast.
Production assistance was provided by Brother S. J. Staber, S.J. and Mr. Oscar Benzinger, S.J., and a group of students that included Chris Chinn, Richard Dannhausen, Bob Miles (all of '62) and several other electrical and mechanical workers.
All together, the soloists, the small groups, the concert band and organ ensemble and the glee club, the student musicians at Campion put on an excellent concert, entertaining students, faculty, parents and some guests from Prairie du Chien. The concert was presented on both Friday and Saturday nights during the Mothers' weekend of 1962.
Fine Print1: Information about Notable Alumni may have been excerpted from individual obituaries and commentaries found on-the-line on the WWW. Any applicable copyrights belong to the original writers.
---

Obituaries:

| name | class_of | deceaseddate | city_grad |
| --- | --- | --- | --- |
| John J. Marek | 1974 | 2019-01-03 | Chicago |
| Edward M. Carstensen | 1969 | 2019-01-24 | Davenport |
| Gerald L. Sullivan | 1965 | 2019-02-03 | Shullsburg |
| Melvin A. Quinn | 1959 | 2019-02-13 | Prairie du Chien |
| Patrick T. Koester | 1973 | 2019-02-16 | Frankfort |
| Richard Bouschka | 1951 | 2019-02-19 | Springfield |
| Gary M. Riley | 1965 | 2019-02-19 | Waterloo |
| Frank C. Sturm | 1948 | 2019-02-20 | Alexandria |
| Charles Jack Remien, Jr. | 1960 | 2019-02-22 | Winetka |
| Thomas C. Birdsall | 1954 | 2019-03-08 | Clayton |
| James F. Parks | 1954 | 2019-03-14 | Chicago |
| Joseph K. Schroeder | 1950 | 2019-04-05 | Leipsic |
| John C. McNellis | 1943 | 2019-04-06 | Elmhurst |
| Edmund A. Mikalofsky | 1952 | 2019-04-12 | Sheboygan |
| Gary R. Harkensee | 1971 | 2019-04-19 | Park Ridge |
| John D. Kuhn | 1954 | 2019-04-20 | Chicago |
| Charles F. Phee | 1968 | 2019-04-20 | Centralia |
| Arthur M. McDonald | 1957 | 2019-05-24 | Minneapolis |
| Patrick D. Bowlen | 1962 | 2019-06-13 | Edmonton |
| Arthur H. Wagener | 1945 | 2019-06-13 | Waconia |
| John H. Fairbairn | 1969 | 2019-07-30 | Gary |
| Clayton E. Whiting, Jr. | 1954 | 2019-08-16 | River Forest |
| John F. Kelley | 1949 | 2019-09-09 | Leipsic |
| Emil J. Denemark II | 1944 | 2019-09-18 | Riverside |
| Richard M. Stroh | 1963 | 2019-09-19 | Chicago |
| Mark A. Pfeiffer | 1971 | 2019-09-22 | McGregor |
| Richard F. Bussan | 1955 | 2019-10-00 | Galena |
| Jonathan Haschka, S.J. | 1963 | 2019-10-03 | Minneapolis |
| John M. O'Connor | 1957 | 2019-10-07 | Dubuque |
| Edward J. Mattimoe, S.J. | 1952 | 2019-10-20 | Toledo |
| William J. Conlin | 1949 | 2019-10-27 | Ann Arbor |
| Gilbert D. Austin | 1960 | 2019-10-31 | Rockford |
| William J. Gitzke | 1961 | 2019-11-00 | Cary |
| Frederick J. Minchk | 1955 | 2019-11-04 | Prairie du Chien |
| Michael E. Frazier | 1972 | 2019-12-01 | Elk Grove Village |
| Tom R. Wild | 1977 | 2019-12-09 | Dyersville |
| Edward T. Schrader | 1955 | 2019-12-13 | Seymour |
| Lawrence A. Cuneo | 1952 | 2019-12-26 | Chicago |
| James M. Lardner | 1964 | 2019-12-27 | Detroit |

Alumni who have passed in 2018:

| name | class_of | deceaseddate | city_grad |
| --- | --- | --- | --- |
| Terence E. Scanlon | 1963 | 2018-01-02 | Akron |
| Kenneth K. Meyer | 1945 | 2018-01-08 | Chicago |
| James J. Hogan | 1962 | 2018-01-17 | Chicago |
| William Joseph McDonough | 1952 | 2018-01-24 | Chicago |
| Thomas L. Deback | 1964 | 2018-01-25 | Fort Leonard Wood |
| Rev. Eugene J. Nevins, S.J. | 1950 | 2018-02-02 | Chicago |
| Howard J. Gillitzer | 1955 | 2018-02-07 | Prairie du Chien |
| Timothy J. Barger | 1965 | 2018-02-15 | Dhahran |
| Laurence P. Myers | 1965 | 2018-02-22 | Oak Park |
| Craig N. Maher | 1956 | 2018-02-22 | Elmwood Park |
| Jack J. O'Connor | 1959 | 2018-02-22 | Chicago |
| Frank T. Quilty | 1964 | 2018-02-26 | Palo Alto |
| Robert F Zwaska | 1959 | 2018-03-08 | Milwaukee |
| Bill E. Mullin | 1952 | 2018-03-10 | Minneapolis |
| Frank J. Mohr | 1947 | 2018-03-12 | Massilon |
| Terry W. Burke | 1973 | 2018-03-21 | Reno |
| David E. Mangan | 1964 | 2018-04-01 | Sheboygan |
| Leo Bertucci | 1972 | 2018-04-04 | New Orleans |
| John I. Halloran | 1946 | 2018-04-05 | Jackson |
| Patrick James Crahan | 1951 | 2018-04-19 | Peoria |
| Richard L. Rawe | 1948 | 2018-05-00 | Lexington |
| Paul T. Grange | 1962 | 2018-05-06 | Evanston |
| Joseph Nobiling | 1970 | 2018-05-19 | Moline |
| Robert M. Meehan | 1950 | 2018-05-20 | Lincoln |
| Tim McCarthy | 1947 | 2018-05-22 | Cedar Rapids |
| David John Bankowski Anaple | 1950 | 2018-06-09 | Toledo |
| Salvatore Joe Gentle | 1943 | 2018-06-20 | Waterloo |
| James W. McGill Jr. | 1951 | 2018-07-04 | Superior |
| David Lee Cox | 1956 | 2018-07-05 | Rossford |
| Roger G. Sargent | 1949 | 2018-07-20 | Lakewood |
| Tony F. Cline | 1966 | 2018-07-20 | Michigan City |
| Paul J. Dudek | 1968 | 2018-07-28 | Chicago |
| Ernest J. DuMochelle | 1960 | 2018-08-01 | Grosse Point |
| John C. Hyland | 1946 | 2018-08-10 | Menasha |
| George D. Zebre | 1971 | 2018-08-28 | Kemmerer |
| Paul E. Sebastian | 1952 | 2018-09-04 | Prairie du Chien |
| Thomas E. Langenfeld | 1960 | 2018-09-25 | New Holstein |
| Steven E. Welter | 1958 | 2018-09-27 | Prairie du Chien |
| Paul E. Lawler | 1946 | 2018-10-01 | Chicago |
| Gene Sapper | 1947 | 2018-10-03 | Guatemala |
| Michael E. Fitzgerald | 1952 | 2018-10-13 | Grand Rapids |
| Ray A. Eckstein, III | 1971 | 2018-10-17 | Cassville |
| Michael J. Horrigan | 1954 | 2018-10-18 | Akron |
| Fr. Robert Brodzeller, S.J. | 1948 | 2018-10-24 | Lomira |
| Joseph D. Keenan, II | 1939 | 2018-10-27 | Chicago |
| William Geoffrey Lyden, III | 1970 | 2018-11-19 | Youngstown |
| Robert W. Berger | 1972 | 2018-11-28 | Moline |
| Allen P. Scholl | 1944 | 2018-11-28 | Chicago |
| Michael S. Garrity | 1949 | 2018-12-18 | Prairie du Chien |
| Robert H. Johnson | 1966 | 2018-12-26 | Chicago |

Alumni who have passed in 2018, 2017, 2016, 2015, 2014, 2013, 2012.
Faculty who have passed: