VOLUME 16 • CHAPTER 4 • October 2016
---
Memoirs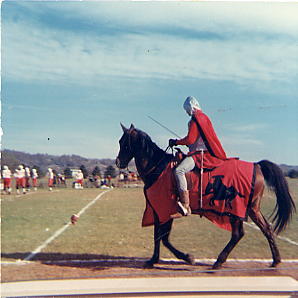 We've been trying to get memoirs from retired and not-so-retired Campion jebbies for our newsletter for quite some time. We don't care if the memoirs are about when they went to Campion, taught at Campion, or just what they've done since leaving Campion. We just want to hear something from our mentors in the first person. Perhaps words of wisdom learned while
IHS
. Typically we only get 3rd person post mortem. Not to lay all the blame on the jebbies... why can't we get memoirs from more alumni. Where are all those other authors and editors of the old 'ette.
From Tom Olson '72
100 years ago this year Francis J. Finn, S.J. wrote "Cupid of Campion". A novel about some exhuberant boys finding their way to the Mississippi River and Campion College. In which Clarence Esmond places himself in the hands of the Bright-eyed Goddess of Adventure, and is entrusted by that Deity to the care of a Butcher's Boy. It took years for me to find a copy of this book. A few years ago we obtained a scanned PDF copy of it from the Internet Archive that was funded by Notre Dame Hesburgh Library. Recently, many on-the-line sources have very good quality versions of that. I like this one because you can just tap on the pages to turn them, or select other options...
Cupid of Campion by Francis J. Finn, S.J.

From Bob Fitgerald '49
Robert Fitzgerald '49
No doubt every former graduate of Campion has his favorite memories so nicely refreshed with Tom Olson's wonderful "Campion Forever" communications. I'm no exception, especially because it brings back memories on the athletic venues of guys in my class (1949) and the class ahead of mine. The years following mine were, I believe, more successful in the W/L statistics, but my memories of the football, basketball, baseball games with the guys of '47/'48 and of '48/'49 are still at the top of my list of my most pleasant musings on life.
Highlights of '47 football saw the Knights, co-captained by Charlie Pechous and Miller Bransfield (I believe Miller was somehow related to the Milwaukee Brewing Company) start with a 0-0 outcome up in Chippewa Falls against McDonell in a driving rainstorm. On defense I watched the water ooze out of their shoes as they came up to the scrimmage line. Next came Logan up In LaCrosse with another L, 16-0...more rain and mistakes. St. Mary's of Menasha bowed to our Red and Black, 12-7...with Miller scoring our first TD of the season, and then my friend/classmate, Tom Kalb catching a pass from Charlie for the second score. Extra points were a lost cause for us then. Ugh marks our Homecoming loss vs a real power from Madison, Edgewood, 7-0. Aquinas from LaCrosse opened up our gates...Charlie Pechous to my great good friends Jim Rose (twice) and Jack Leonard for TDs, and a running TD; somehow we found extra point land, 28-7. We then traveled to Davenport to play in the Three I baseball park along the Mississippi River...very cold. Defensive end, I looked up to see the lights on the bridge across the River blinking and thinking "What the hell am I doing here...field is hard as concrete; it's cold as hell. Oh, oh, here comes Bush (he later played at ND) towards me." Bash! Well, I got him. But what are all these stars I'm seeing? We lost big time, 34-13. Coach Hoffman was devastated. Not a great season, but great memories of the guys graduating in '48...above with Paul Fatum, too.
Basketball in '47-'48 under new coach Mel Nicks was a wonderful antidote to the less than successful football season. We went 13-8 in the regular season with Steve Saunier our captain, surrounded by various combinations to Jim Rose, John Leonard, Bob Meganck, Charlie Pechous, Jack Kiley, and Vic Rosenberger, and myself. One high point of the season was when we scored 64 points against Lansing. Steve Saunier and Jim Rose were the initial high scorers. After the Christmas break John Leonard and Tom Kalb joined the higher scoring guys. I remember well on Friday, February 13, 1948 in LaCrosse playing Aquinas. We lost both the game and Steve Saunier when he severely injured his leg. This ended his season. But we rebounded the next game defeating Elkader Junior College, 51-21. Again, Tom Kalb was the high scorer with Jim Rose and myself a few points behind. The final game of the regular season saw us defeating McDonell for a second time; this score was 55-35. Kalb's performance was matched by Jack Kiley. Charlie Pechous was also doing some fine scoring. We accepted an invitation to the State Catholic Tournament at St. Norbert's in West DePere, WI where we were defeated in the first round by Messmer High School of Milwaukee, 50-30, though we were down only 24-21 at the half. Kalb had 169 points for the season; Rose, 140; Saunier, 113 even though he was absent for seven games. Coach Nicks was very pleased with our season, and was really looking forward to next year. And once more my memories of playing with Rose, Leonard, Saunier are some I will forever cherish.
The Football Season of 1948 was a story totally different from 1947. Our backfield had Tom Paonessa at QB, Capt. Ron Nasser, Jerry Adler, Don Froehlke and Geary Becker at running backs. All were seniors.The linemen were Jack F. Ryan, "Mundy"Dineen, Tom Kalb, Tom Heavey,Charlie ("Veni") Roemer, TP O'Donnell,and myself. These were seniors also. But many key positions were filled with really great underclassmen like Ratliff, Barr,Meyer, Fox, and J.J. Ryan. Another senior QB was Jimmie Glynn, kinda on the small size; he was fun to watch when the oppposition couldn't find him. Our first victory, 8-7, came versus Cretin of St. Paul, some kind of regional champion. Paonessa scored the TD, and the two Jack Ryans downed a Cretin guy in the end zone for a safety. When the score was called in to the St. Paul newspaper, they wouldn't believe that Cretin had lost. Next we went to LaCrosse to play Central in a brand new stadium under the lights...grass was really green. They kicked off to us...Don Froehlke on his eight yard line; he started up field to his right, then reversed over to his left and ran 92 yards for a TD...first play in this new stadium. The rest of the game was Nasser, Froelhke, and Paonessa with the Knights winning 34-25. Our October 9 third game saw us "Redmen" defeating McDonell of Chippewa Falls, 39-0. Again it was the Ron Nasser show ably supported by Froehlke and Tom Paonessa. We then traveled to Madison to play Edgewood. Coach Hoffman used to switch me around to different positions. So I was playing what would be today a corner back. Edgewood scored when I went to and tackled the pass-catching Schaefer, but he lateralled to Esser for the TD. In brief we got whomped, 39-14. Paonessa, Tom Kalb, Nasser did their best, but it just wasn't enough...even yours truly caught an extra point pass from Paonessa. The Loras Gubs came to Campion on October 23; and, as usual, with them they walked away with a narrow victory, 14-7, even though it was our Homecoming game. Again, Ron Nasser and Tom Paonessa did their best with long gains. But our defense just gave up too many big ones to the Dubuque guys. October 29 saw us going against the Aquinas Blugolds up in LaCrosse. Paonessa ran and passed beautifully, and Nasser did his usual thing; we won, 27-18. November 7 saw us in Winona, MN versus Cotter. Paonessa to Froehlke, and Nasser as usual. Phil Barr scored a TD. And yours truly was playing a half back position in a full house T. My name was called to carry the ball; I ran off left guard and passed by their linebackers thinking "What the hell am I doing way out here?" The goal was in sight...but I got tackled from behind. Coach Hoffman said to me as I came off the field, "Fitzgerald, if you were at all fast, you could have had a TD." We won, 42-0. Arch rival St. Mary's of Menasha came to Prairie on November 13 for our last game. They went home as losers, 41-13, thanks to the running of Nasser, the passing of Paonessa, the pass-catching of Froehlke, Kalb, JF Ryan, and an interception by Geary Becker. 'Twas a great 6-2 season, and we had a marvelous time fashioning it. So many of our guys didn't get mentioned, but we really did have a wonderful team to which all contributed a lot.
Basketball season was also a winner. And here we had much significant underclassmen input for coach Mel Nicks from Phil Barr and Dick Boushka. Dick went on to be an All-American, I believe, at St. Louis University and played on, I believe, the 1956 U.S. Olympic BB team. Our captain, Tom Kalb, tied with Bill Stoeckinger as point scoring leaders with 266 points each in 22 games. Regular season went 12-7...with key victories over Loras, Dubuque Senior and Cotter, twice. We also broke the school record for total points with 908 points in 22 games; so better than 40/game. In those days that was quite good. We went to the State Catholic Championship Tournament at St. Norberts in West De Pere, WI where we defeated McDonell for the third time that year; "Steck" (Bill Stoeckinger) led us with 21 points. Marquette High of Milwaukee then squeezed out a 35-33 victory over us. Our scoring was poor. Even yours truly had seven topped by Steck who had nine. We dropped into the consolation bracket where St. Norbert's drubbed us pretty soundly, 61-43; we had been down by one point at the half. Again our scoring was poor. Yeah, the W/L numbers were less than we wanted; but we did have one fun time playing with one another on a very competitive team. I shall never forget them.
Baseball in each of the two seasons, '48 and '49, was all too brief. We played Loras, Aquinas, Lourdes and some others. I can't put together our record for either year; but again we were, if not great, at least competitive. Gerry Molidor was our captain; Brian Kelly, Dick Strzok, Don Froehlke, James, Brewer were some of the others. As a lefthander, I pitched...remembering when we played down at Loras in an old stone quarry where the backstop behind the plate was the quarry's wall rising up sharply. There was a pretty good breeze in from center field. My fastball was never faster. We won, but again it was such a pleasure/privilege playing with the guys.
Our memories of Campion Jesuit High School will always be truly filled with pleasure. Our school has passed away. But I'm sure all my teammates in the three sports will wish that the new Ocer Campion Jesuit College in Gulu, Uganda will turn out graduates with their own wonderful memories.
Bob Fitzgerald '49
Professor, Depts. of Environmental Health Sciences, of Physiology, and of Medicine, The Johns Hopkins University Medical Institutions, Baltimore, MD
rfitzger@jhsph.edu
From Richard Rawe '48
The Harpo Sandwich
Richard Rawe
When I was a junior at Campion Jesuit High School dreaming of hamburgers and milk shakes I sneaked off campus alone into Prairie one Saturday afternoon. It was April 1947. I knew Mr. Boland (ex-Chicago-Cop-cum-Jesuit-Scholastic) would be watching with his binoculars for strays from the cupola high atop Campion Hall, so I walked down a street I was sure was not visible from Mr. Boland's aerie. I went right past St. Mary's girl's school. I really needed a hamburger and milk shake from Stark's Soda Shop and Restaurant.
On my way to the Soda Shop I happened to meet another Campion stray, Jim Harpring '47, senior from the state of Florida, and first-string fullback on the varsity football team. Harpo, as he was called, had a beautiful bass voice and sang in the choir and glee club. We sat together in the choir loft and sang second bass together. His story was that during the summer months while he was home in Florida, he had a morning DJ show on the radio. He was a handsome boy with bleached blond hair and a muscular body.
"What are you doing here," I asked.
"What are you doing here," Harpo returned.
"Hamburgers," I explained.
"Let's go," he said.
Well, the food was blissful but I'm not sure it was worth it. From his lofty perch Mr. Boland spotted us returning to campus about five o'clock so we were in for three long weeks of "short bounds." Never underestimate a Chicago cop. Or a Jebbie.
Short bounds was a process that involved a ticket with blank spaces to be signed every 30 minutes by a Jebbie between the hours of noon and six o'clock on Saturdays and Sundays. The accused also was forced to attend "Jug" every Wednesday afternoon. It took about 30 minutes to locate a Jebbie for signature so the afternoons were pretty busy chasing after priests and scholastics. The ticket had a ten-minute window when Jebbies would sign. Five minutes before the appointed time until five minutes after. So if you were six minutes early you had to follow him around for a full minute. If he dodged into the cloister you were screwed.
Harpo and I teamed up for the three weeks of purgatory and kept each other giggling over wild stories and lies in between obtaining signatures. Harpo especially missed going to Ma's place across the highway. There simply was not enough time to get across the highway, stand in line to order, eat, and get back and find a Jebbie for the necessary 30-minute signature, so for three weeks we were virtually deprived of the luxury of Ma's.
Ma's place was a rundown gas station that rarely sold gas at the intersection of the main highway with a farm road that led to the bluffs. It featured a two-room building with an old fashioned gas pump out front where Campion Knights could order sandwiches and cokes and play the juke box. Ma and Pa, who both spoke with German accents, operated in one room that was made up of a kitchen area and a counter. The second room had a few wooden booths and the juke box. I remember some of the songs I heard then: Glenn Miller's Pennsylvania 6-5000, Stan Kenton and Julie Christie with Tampico, the Mills Brothers' Across the Alley from the Alamo, for example. Pa, short and bald, took orders from the customers and Ma, her graying hair pinned up in a bun under a red kerchief, prepared the sandwiches - peanut butter and jelly, ham and cheese, BLT, grilled cheese, hamburgers, etc. - with loving care.
Campion kids liked to spend free afternoons in the forested bluffs a mile or so down the farm road beside Ma's where they could roam unsupervised back into the colored hills in the autumn and spring, and go skiing in the winter.
There was a gouge in the bluffside they used for tobogganing that wandered downhill, dodging birch trees as it went, and, lower down, sugar maples and chestnuts and snowbrush crowding in the crevices of stone outcrops. The slope raced as it reached the lower levels, twisting, bouncing over ancient roots, then abruptly pulled up where prairie fields rolled out to carpet the valley floor. It was the ride of a lifetime, if you survived.
Tobogganing was dangerous and thrilling, but skiing was another story. For example, there were no ski boots, no chair lifts, no ski wax, and the skis, checked out at the athletic shack in Campion Hall, were super long, pre-historic World War I, primitive, and were tied on one's feet with leather ribbons. Some guys wore sweat socks and sneakers and nearly froze their toes. They trudged through a mile or so of wet snow to get there, then slogged up the hill with skis over their shoulders, slipping and sliding along, until they finally reached a place where they could tie on their skis and start the swift and bumpy but short ride down, then, at the bottom, undo their skis, hoist them up on their shoulders and once again begin the plod up the slippery slope.
After an exhausting day and a long tramp home, stopping at Ma's for some of her scrumptious rations was, as you can imagine, obligatory.
Harpo claimed Ma loved him so much she created a special sandwich just for him, the Harpo Sandwich. On a Saturday in early May after we had completed our short bounds duty, we dashed across the highway to Ma's. The place was full of kids with small eager faces shouting, smoking and singing to the juke box. How poor Ma ever stood the pandemonium, I never will know.
When she glimpsed Harpo at the counter she beamed and wiped her hands on her apron.
"Vell, ver you bin? I miss you!"
"Important stuff," Harpo lied.
"I heard 'bout dat. Important stuff! Tree veeks important stuff," and, grinning, she waggled her finger at him.
Harpo ordered a Harpo Sandwich and coke from Pa and so did I, not knowing what kind of epicurean delight I was about to encounter.
When Ma had prepared the two Harpos, I lifted a corner of the toast of mine to steal a look inside to see what it was made of that made it so special. It contained mayonnaise, boiled ham, bologna, Swiss cheese, peanut butter, grape jelly, sliced tomato, dill pickle and lettuce, and cost thirty-five cents, the most expensive item on Ma's menu. And it truly was special, just as advertised. If I had been more affluent then, I would have ordered seconds.
I looked at Harpo: he was well into gastronomic rapture.
From John Donnelly '52
John Donnelly, S.J., '52
I just finished reading the most recent Campion Forever--I found interesting the contributions of Jesuits about their time at Campion. I graduated from Campion in 1952 and entered the Jesuits. I taught at Campion in 1961-62. After Ordination I earned a Ph.D. in History from University of Wisconsin and then taught history at Marquette University for 42 years.
I published 15 books; a Marquette University journal noted I taught more students than any other professor at M.U.--largely because I taught 500 students at 9:00 and 500 at 1:00 in Hist. 001 and 002 in the Varsity Theater for 26 semesters.
I would like to write a brief account of my 5 Campion years similar to those Jesuit accounts of their Campion years in the most recent Campion Forever.
Dear Tom, Eight of us from Campion 1952 entered the Jesuits after graduation--probably the most of any Campion class. I think 4 went to the Chicago Province, the other 4 to the Missouri province.
Four left the Jesuits before ordination, as far as I know.
In what is now the Detroit-Chicago Province were Clement Metzger and Ned Mattimoe. Clement died Dec. 16, 2009; much of his last years he worked at the Jesuit Retreat House in Cleveland. Ned Mattimoe is still alive and lives at the Jesuit retirement community at Clarkston, Michigan; most of his priestly life was parish work.
Donald Driscoll and I got our training in the Wisconsin Province: 2 years novitiate at Oshkosh, 2 years Latin and Greek at St. Stanislaus Seminary at Florissant outside St. Louis, 3 years studying philosophy at St. Louis University, 3 years teaching at our high schools, 4 years of theology at St. Mary's Kansas. Don [d. March 22, 2007] spent most of his life teaching theology at Creighton University in Omaha.
I will be more detailed about my life. After finishing theology and a year of tertianship, priestly training, I spent 4 years earning a doctorate from U.W.-Madison, my 3rd year I had a research fellowship from Harvard's center near Florence, Italy. Most of my later research was on '16th Century Italians'. Having finished my Ph.D., I began teaching history at Marquette University for 40 years full time, then 2 half time. I taught Hist. 001 and 002, [Western Civilization]--13 years I lectured students in the Varsity Theater, 500 at 9:00, 500 at 1:00, Mondays and Wednesdays; I had 12 teaching assistants who taught discussion classes on Thursdays and Fridays. This was the most important part of my life. I had regular small classes on 'The Renaissance' and 'The Reformation', Ancient Greece and Rome, and World War II [my hobby].
I have produced 15 books: wrote, translated or edited. I have published many book chapters, articles, encyclopedia articles, and book reviews; almost 200 all told. I retired 2 years ago to the Wisconsin Province S.J. retirement home in Wauwatosa, Wisconsin, a suburb of Milwaukee. Now I pray for the church and the Society of Jesus.
John Patrick Donnelly, S.J. class of 1952
Campion Forever!
From Bill Friedrichs '69
Bill Friedrichs '69
I look forward to the Newsletter and enjoy reading the Campion stories of the past from former students and faculty. It evokes lots of fond memories and I appreciate Tom Olson, our Moderator, Student Council President and Keeper of the Flame for maintaining the Website and Newsletter. I first met Tom in summer of 1967 when he was a Camp Campion camper and I was one of his counselors. I told him I would throw together a few recollections of my years in Prairie du Chien and thoughts on my Campion experience.
I arrived in Prairie du Chien in the school year of 60-61. I was 9 or 10 years old. My father, L.G. Friedrichs Sr. was to coach football at yet another Jesuit High School called Campion. The Jesuits got to him early when he was a high schooler himself at Jesuit High School in New Orleans. He loved the order and all that it stood for. Coaching football for the Jesuits was his passion and everything else was pretty much secondary. When you live in PDC and your father works at Campion, the school pretty much becomes the focal point of your life. A home football game wasn't just an event, it was a happening. A win meant a party and a loss meant frowns and silence. Home basketball games, pep rallies and bonfires were all mandatory attendance and we looked forward to every one. Early 60's, varsity football games were played in the quadrangle and basketball games were played in what would become the "frosh" gym in Loyola Hall. A basketball game in that little gym was quite the rocking affair. Who could forget the pep bands- "Tequila", the Crossfires and the Weekenders. Coach 'Lumpy' Lundstrom was calling the shots and I remember clearly Ron Jerrick from Iowa hitting the corner jumper time after time, game after game. His younger brother Roger would stay with us some visiting weekends and later become a great Campion athlete in his own right. The years all run together now and I'm too lazy to accurately reconstruct but it was all pretty exciting for a small town grade schooler. Hoffman Hall got built and everything seemed to be upgraded- a place to swim, pick up b-ball, beautiful locker rooms and a cafeteria that made hamburgers. A large part of my early education came out of Hoffman Hall. My summer job was to assist the football managers in their duties during the early 2 a day practices starting in Aug. I mostly recall the teams of 64 and 65 because they were so dominating- especially 64. I even remember a couple of the Mgr's, Bob LaChance and Mike Gibbony- good guys who I'm sure didn't really need a kid hanging around. Somebody had to wash and sort the sweaty jocks, towels and tee-shirts. I listened a lot and learned that these good, Catholic boys seemed to really like to talk about the opposite sex with many colorful words. These were great years with many great athletes- the Meads, Danny Garrity, Mark Farrell, John Klieforth and Jim Kriedelbaugh just to name a few. They were undefeated with a tie at Marquette being the only blemish. The next year came future NFLer John "Hoss" Shinners, Ken Fisher and a small back LG Friedrichs Jr who in one game bounced off the goal post unconscious attempting to catch a pass from Billy Lochner. 50 some years later, I still get asked if he hung on to the ball. I looked up to those guys and saw early what could be accomplished if you want something bad enough. I would listen to the old coach in team meetings always using phrases like "singleness of purpose", "going gets tough" etc. and many others and it's funny how they stay with you forever. He had his flaws but his belief in the game of football and what it could do for young men was never to be questioned.
In basketball, the opening of Hoffman Hall was incredible. The gym was bigger, the music got louder and the student body was forever totally behind their team. I remember this guy Corkey Collins one year. He could hit from everywhere. If there was a 3 point line back then he could have been the school's highest scorer.
In the fall of 1965, it was my time to enter this new world of Halls and nicknames.
Rising from entrance exam anxiety, suddenly there was Bro. "Snow", "Fr. Duke", "Crusty" Fr. A , Fr. "Greasy" Jerry and Bro. "Machine" No disrespect here, we were 14 years old. There was Kostka Hall, jug Hall, the mess hall, study hall, and on and on. As a townie(to be nice), you arrived in the AM dark and returned home in the PM dark. It was quite the regimen, but at least Mom was there. There were leagues to play in whether you wanted to or not. There were ROTC uniforms and a new rifle range in the basement of a new dorm. There was A Class to F Class movement and don't get caught going the wrong way. I remember the newly carpeted classrooms of Campion Hall inviting competition for the biggest hocker that you would rub into the carpet with your wingtips.
About that time, this new, fiery Coach Clem Massey shows up and starts talking about going to the Catholic state basketball tournament- yeah right. He then made it happen with a bunch of mostly juniors- Wickkem, Wetterau, Kaiser and Riekleman after Johnson hits the shot at Aquinas. It was very exciting making the trip to Milwaukee. A Campion team hadn't been there in a long time I was told. I've run into several of those guys over the years and like to remind them of how much I enjoyed their over-achievement.
I will always be indebted to so many of the Jesuits and lay teachers from back then, priests and scholastics who were also close family friends. Some have passed and some are still with us. Fr. Walt Halloren of "Exorcism" fame, Fr. JJ O'Leary, Mr. Pat Murphy, Mr. Steve Scherer, Fr. Frank Burke to name only a few. There was Coach Peterson and Coach Campbell, family friends who also loved what they were doing. The Friedrichs had a special love for Fr. Howard Kalb, President of the school until our last couple of years there. We've all debated the reasons for the demise of Campion, but one thing seems certain. Things began to change dramatically when Fr. Kalb was no longer President. Nobody loved Campion and all that it stood for more than Fr. Kalb.
I'm sure that most all of us who got the chance to experience Campion will be forever grateful like me. The Jesuit focus of that era was competition and personal responsibility- something that served me well. Present day society might take a lesson.
We left Campion in 1967 and it's hard to believe it was almost 50 years ago. I've really enjoyed re-connecting with my '69' cIassmates at our yearly golf reunion. We all look past the barbwire that surrounds the school today and remember with lots of laughs the friendships and positive stuff we left with.
God Bless,
Bill Friedrichs '69
From Charles Baumann S.J., '63
Dear Campion Forever,
After living 4 years in Milwaukee, WI. I am moving back to Creighton University in Omaha, NE. I plan to work a half-time volunteer job (20 hours/week) at Siena/Francis House, a homeless shelter in Omaha. I was employed there, years ago, and have worked as a volunteer there in other years. I look forward to being at S/F and to being back in Omaha. The shelter is located only 10 blocks from where I will be living.
Fr. Charles Baumann, S.J.
Jesuit Community/Creighton University
From John Hyland '46
John C. Hyland '46
I'm not sure if anyone has related what it was like at Campion during the big war...WWII! The war had already started when I began my freshman year. During those years we had to bring our ration cards, that were issued by the government, to school and they in turn used them to purchase the various things that we only got a certain amount during a week or month. Meat, sugar, tires, were just a few. We did find out that at times the cafeteria was giving us horse meat. It was tougher than beef but editable sometimes.
I received my orders to take my physical for the draft in Chicago soon after I graduated. I turned 18 in January during my senior year.
Fortunately, the war ended before I graduated and I was saved. I then attended Marquette (more Jesuits) majoring in Journalism. While I didn't finish there, it was interesting . As I had been on the Campionette I did a lot writing. Bob Wheeler and I kind of worked together and had lots of fun. That experience and Marquette gave me the desire to continue over the years and for the last 30 years since I retired I have done nothing more than golf. I was able to become Club Champion at my course in Door County. Lived there about 25 years. Played golf usually 3 to 4 times a week for many years. I was also able to win several state wide tournaments including the senior PG A for my age at the time. During this period I also bought a golf course in Green Bay along with the PGA pro who was our pro for Door County. That's when I lost my legs. Driving from Sturgeon Bay to Green Bay every morning, working 'till 10 every night and then driving back. Near an hour drive. Played lots of golf and on my feet all day besides. That did it. I had to sell my half at the end of the year and was able to make a nice profit.
My writings were mostly political. I read as much as I could every day and was active on over a hundred Conservative sites on the internet. I now get near 300 e-mails daily.
I worked about 2 years for Dr. Ben Carson who had run for President. I was on two of his National Teams. Editorial and a special secret team of only 10 of us throughout the nation who were responsible for first responders to negative stories in newspapers and TV anywhere in the country. It was very exciting and nerve racking but a lot of fun. I still blog on many of the sites that are Liberal!
I'd love to hear from any '46 graduates who may still be around. Many of us of course have passed away.
God Bless and keep the faith!
JCH
Ghost of Joe Campion...

Circa 1916 Campion Company A

1916-1917 Basketball Team
America's Lost Colleges
John Duskey '63 reflects on the 50th anniversary of the Big Change.
The Big Change
John Duskey
Boarding Schools, Jesuits, and Campion
The factors that led directly to the closing of Campion High School are well known. In this article some of the larger forces in the Church that led to the school's closing will be examined. The fact that the school had to close should not be solely blamed on the Jesuits who served at Campion over the school's last nine years. At the same time, one would have to admit there were some administrative missteps during that agonizing time. Our purpose is not to recount what happened at Campion in those years, but to look at the larger picture. Questions are raised here that challenge some assumptions that had been made about Campion, such as:
The relative isolation of students at Campion did not meet the needs of the Church, as regards interaction with the outside world;
Implementation of the documents of the Second Vatican Council made it necessary for the Jesuits to do exactly what they did at Campion.
There is no demand for residential secondary education and no role for such schools in the Church and in society today.
Here is a brief chronology of events:
---
---
October 28, 1958 Angelo Cardinal Roncalli is elected Pope and chooses the name John XXIII.
October 11, 1962 to December 8, 1965 Second Vatican Council is held
June 21, 1963 After the death of Pope John XXIII, Giovanni Cardinal Montini is elected Pope and chooses the name Paul VI
October 5, 1964 Fr; John Baptist Janssens, Father General of the Jesuits, dies. It became necessary to call the thirty-first General Congregation (31GC) of the Jesuit order to elect a new superior..
May 22, 1965 At the 31st General Congregation of the Jesuit order, Fr. Pedro Arrupe is chosen as Father General, and Fr. Arrupe announces the Jesuits' new mission as "service of faith and the promotion of justice."
October 28, 1965 Pope Paul VI approves and proclaims Gravissimum Educationis, the declaration of the Second Vatican Council on Christian Education.
October 28, 1965 Pope Paul VI approves and proclaims Perfectae Caritatis, the decree of the Second Vatican Council on Adaptation and Renewal of Religious Life.
December 7, 1965 Pope Paul VI approves and promulgates Gaudium et Spes, the Pastoral Constitution of the Second Vatican Council on the Church in the Modern World.
June 1966 Fr. Howard Kalb is removed as President at Campion, and replaced by Fr. Robert Hilbert.
September 1966 Fr. Hilbert announces many changes at Campion (The Big Change), including attendance at Mass becoming optional. (See the Campionette article, dated; October 1, 1966 )
March 7 1975 The Jesuits conclude their 32nd General Congregation
April 1975 The Jesuits announce that Campion will close as of May 1975.

---
---
The story of Campion's closing did not begin in 1965. It began with Pope John XXIII and his statements that the Church should open itself up to the modern world, and exercise a preferential option for the poor. While not dogmatic, these declarations have influenced events since that time.
While much of the talk at that time saw the modern world in a positive light, it should be pointed out that, by the late 1950s, Catholic influence was waning, and influences hostile to the Church, in film, in music, and in social-political debate in the public square were growing. The political causes favoring artificial birth control, and abortion were gaining in strength. The unfortunate direction of the modern world was becoming clear. The vision of the Second Vatican Council was that the Church should encounter the modern world and exert a positive influence on it. That vision did not become a reality.
The Second Vatican Council
Pope John summoned the second Vatican Council in January 1959. He called for some preparatory documents to be written prior to the opening session in October 1962. He expected that the Council would approve those documents in a single session. When this did not happen, it became clear that the Council would continue for years, exploring some issues that eventually became contentious.
Pope John died on June 3, 1963, and, on June 21, Cardinal Montini of Milan was elected and took the name Paul VI; he decided that the Council would continue. The Council proceeded to send several documents to Pope Paul, who promptly approved them. On December 8, 1965, the council was closed.
Three of these documents concern us here. Perfectae Caritatis, on the adaptation and renewal of religious life, gave communities of religious the opportunity to decrease some of the demands placed on their members. This could include changes (#17) in the religious habit and changes (#3) in the manner of living, praying and working. Smaller communities were encouraged to combine with other similar communities, and conferences of religious superiors were to be established.
Much of this did not pertain to the Jesuits, as they were and are the largest religious order in the Church. Even from the time of their foundation, the Jesuits never practiced the common recitation of the Divine Office. While wearing the cassock nearly all the time would no longer be required, it was still logical and helpful for Jesuits in a school situation to wear the cassock as an expression of their authority, both in the classroom and in various prefecting assignments, such as in the dorms, the dining hall, and in the recreation rooms. While the time schedules of Jesuit priests, brothers, and scholastics could be liberalized, there are certain natural limitations on this, e,g, meal times, class schedule times, and times for perfecting assignments.
Another important document of the Council is Gravissimum Educationis, on Christian Education. This is one document that does not get much attention, perhaps because it primarily reinforces the traditional teaching of the Church on education.
The first and most important mandate is the salvation of souls, a process that is helped by knowledge of the Faith, and the customs of its practice. The document also firmly states the importance of the role of parents, who, by the grace of reception of the sacrament of matrimony, have the primary responsibility for the Christian education of their children. And therefore, whatever is done in schools must be done in cooperation with the parents of the students.
One clear example of parental influence that we remember from our days at Campion was the rule that a hat must be worn outdoors during winter. Parents expressed a concern for the health of their sons, and the Jesuits at Campion responded properly. The primary evidence of the Jesuits proper respect for the role of parents is their support for and cooperation with the various mothers' clubs and fathers' clubs.
The third document is Gaudium et Spes, the Pastoral Constitution of the Second Vatican Council on the Church in the Modern World. It addresses some problems of special urgency: fostering the nobility of marriage and the family; the proper development of culture; economic, social, and political life, and peace throughout the world.
These are all important issues. A half-century later, we see less respect for the family, scandalous topics in film and music, and conflict over political, economic and social issues. As contentious as the Cuban missile crisis was in 1962, we have conflicts today that appear to be much worse. The intention of the Church was that lay people, using a strong foundation in the Faith from their Catholic education, would have a strong positive impact on the world.
A proper implementation of these desires in Campion's curriculum would include a greater consideration of economic, social and political issues in public life. Before the Council, Campion's curriculum could have used more economics and sociology, and more of an infusion of the Church's social teaching into Religion classes. (We were fortunate to have Fr. Thomas Hoffman doing this, but the school needed more.) Priests and educators teach social justice. Then graduates should go into the modern world and promote social justice. As for having a cultural influence on society, student experience should include greater opportunities for student development in such areas as music, film, drama, and the arts in general. With a quality Catholic education, graduates would be equipped to take Christ with them and influence the modern world. That didn't happen as the fathers of the Second Vatican Council intended. Some people saw the message of Gaudium et Spes, and in fact, the message of the whole Council, as liberating. Note that, in the "Big Change" issue , 'ette editors Bob Schwalbach and M.K. Carroll asked: "just because my life isn't regulated minute by minute, can I stop studying?" That same question pertains to the whole Church. Vatican II wasn't liberating; it gave us more responsibility.
The Jesuits 31st General Congregation, 1965-66
The Jesuits 31st General Congregation (31GC) met on May 7, 1965 and, on May 22, elected Fr. Pedro Arrupe as Father General. Knowing that the Vatican Council would not conclude until December, they established some commissions to consider various subjects and adjourned on July 15, so that they could consider all the issues in the light of Vatican II. The second session of 31GC began on September 8, 1966 and issued several decrees, including decree 28 on Education. Because of Fr. Arrupe's emphasis on the service of Faith and the promotion of justice, the social apostolate was given a certain priority. The training of Jesuits must include the social dimension. The changes allowed Jesuits to do some creative things on personal initiative. Fr. Arrupe indicated that social justice without faith and love was just another, possibly violent ideology. Jesuits, even today, still need to work to integrate the Faith with social justice.
Regarding decree 28, the Jesuits at 31GC saw education as one of the primary ministries of the Society. The goal was to enable students to be cultured, and in both private and public lives, men who are authentically Christian. The congregation said (#10) that students should be selected of whom we can expect greater progress, greater influence on society, regardless of social class. Financial endowments were suggested, so that parents of talented young people could select Jesuit schools for their children
Schools should only be established (#11) where they show promise of contributing to the welfare of the Church, and where an adequate supply of Jesuits can be allocated to the school.
Section (#12) is important; it begins (#12a): The first care of Jesuits should be that the students acquire that knowledge and character which is worthy of Christians. Thus a suitable amount of time should be allocated to the teaching of Christian Doctrine and religion. Jesuits should also give good example by their hard work and dedication in religious life. (We saw a lot of this dedication at Campion; I've been told that the good example of Jesuits led to a substantial number of vocations from our class.)
Two very significant sections are (#12c): "Let youth be progressively formed to liturgical and personal prayer." They envision that exercises of piety could be proposed, rather than imposed, as students come to be more mature. Also, the Jesuits of 31GC pointed out (#12d) that spiritual and apostolic activities, such as sodalities, are a means of character formation that should be established, directed, and esteemed.
Jesuits are reminded (#13) that teaching is not restricted to some hours or to some persons. The curriculum is really the sum total of student experiences. And in section 17, they state that it is during the high school years that students should synthesize religion and culture and be strongly oriented towards good and away from evil. There follows an ominous statement: "Having weighed the objections made nowadays against secondary schools by those (Jesuits) who would restrict themselves to pastoral ministries, the Society again asserts that the teaching of youth according to the principles of our Institute, even in the so-called profane disciplines, is entirely conformed to our vocation and to our sacerdotal character. Indeed, it is the ministry to which the Society owes most of its growth."
They asserted (#18) that schools should improve continually, becoming centers of culture and faith for the laity, families of students and alumni. A closer cooperation with parents is important, as they bear the primary responsibility for the education of their children. The congregation references principles of sound pedagogy found in the Ratio Studiorum.
The Ratio Studiorum contains detailed regulations for Jesuit education as it existed in the 16th century. It contains prescriptions, even for what is to be done in class on Fridays and Saturdays. Many of those rules seem to be obsolete, but upon further review, I found this memorable statement in the Common Rules for Teachers of the Lower Classes:

"(#3) Let the teacher see to it that all are present at Mass every day and at the sermon on feast days."
Still, the 31GC decree on education contains the following text in section (#21) "After they have consulted with Father General, provincials should decide in light of the circumstances of persons and place, whether daily Mass should be obligatory in our residential secondary schools."
Note that this item refers to daily Mass, but not Mass on Sundays and Holydays of Obligation. One way to understand this seemingly contradictory statement is to look at (#23) in the same document: "Coeducation in secondary schools is not to be allowed except with the approval of Father General."
It is clear that these kinds of decisions are, in one way or another, reserved to Father General, and are regarded as serious movements away from the Jesuit ideal. Also, in (#27), Jesuits should collaborate with lay people, "who will always be the natural interpreters for us of the modern world."
Campion High School in This Context
Based on the Decree of 31GC, it appears that the Jesuits in Rome had some questions about whether or not Campion High School should continue to operate. Did Campion contribute to the welfare of the Church? The answer to this is subjective. Delegates to 31GC apparently were not sure that a boarding high school that catered to an elite clientele would meet this criterion.
In the fall of 1965, there were 35 priests and scholastics, active in teaching and administration, plus ten brothers, allocated to Campion High school. There were 590 students attending the school at that time. There were also nine laymen instructors, plus three men teaching in the ROTC program.
Maintaining this level of personnel would require four or five new scholastics to be assigned to Campion every year, as scholastics typically stayed at Campion for three years. It would also require the school to keep about 20 active priests on the faculty. Personnel decisions are made by the Wisconsin Province, and the Provincial had to weigh the priorities among Campion, Marquette High, and Creighton Prep, as well as the two great universities. Add to this the other pastoral and missionary ministries that had now become matters of great interest to the Wisconsin Province Jesuits. Those other ministries may have appeared to the Jesuits as contributing more significantly to the welfare of the Church.
The 31CG decree on education states (#11) our schools should only be established (or continue to operate) where they show promise of contributing to the welfare of the Church, and where they "can be furnished with an adequate supply of competent Jesuits, without harm to the training or studies of our own members." Although the actual facts were only known to a limited number of Jesuits, it is not unreasonable to believe, in view of that ominous statement in (#17), that the Jesuits had decided as early as 1966 that Campion would eventually have to close.
At the end of the 1965-66 school year, Fr. Kalb left the office of President. It is certainly possible that the incoming president would be assigned the duty to close the school. The man put in that unpleasant position was Fr. Robert Hilbert, a former math teacher at Marquette High School.
The Big Change
With this context, we examine the first two pages of the Campionette of October 1, 1966. John Melcher '68, in his interview with Fr. Hilbert, mentions the changes. Fr. Hilbert responds, saying the changes came about after the general agreement of the faculty. Melcher says he had heard that Fr. Hilbert himself was the driving force behind the changes. Editors M. K. Carroll '67 and Bob Schwalbach '67 speculated that it was Fr. James V. O'Connor who pushed through the changes. What we know from subsequent history is that not all the faculty members favored the changes. So, why would Fr. Hilbert say there was general agreement of the faculty? It is simply good policy for the chief administrator to present students with the idea that there is unity among the faculty. Then the students, if they wanted to give credit for the changes, would give credit to all the faculty members.
As for the issues of authority and discipline and compulsory Mass attendance, Fr. Hilbert's intention may have been to implement GC31 Decree 28, section 12(c) "Let the youth be progressively formed to liturgical and personal prayer. As they come to be more mature, exercises of piety should be proposed to them, rather than imposed."
There are some problems with the announcement of changed disciplinary policy: Keeping in mind that there were many changes in the rite of the Mass implemented in 1964 and 1965, and that people throughout the Church were receiving new instructions about the meaning of the Mass, it is difficult to interpret the statement that optional Mass "does not mean a difference in the meaning of the Mass."
Early in his article on the "Big Change" Melcher stated, "The biggest surprise upon the students' arrival was the number of rule changes." As a general rule in school administration, surprises are not good. One may question if the maturity of Campion students was evaluated by the faculty as to whether attendance at Mass should be proposed, instead of imposed. And if major rule changes were such a surprise, one may question whether the changes were discussed with parents. Some parents, if they knew about these impending changes, would want to encourage their sons to continue to attend daily Mass, even if it were not required. It looks like this didn't happen.
At the same time, there were big changes in the Jesuit order. Disagreements about Fr. Arrupe's leadership, particularly in Spain, threatened a split in the order. This was prevented by the intervention of Pope Paul VI. Fr. Howell (see the note below) cites the emphasis of the Church on ministry to the poor, and the dismantling the Jesuits' relationship with the wealthy elite, as one of the pertinent circumstances. Among the Jesuits, there seemed to be a loss of identity in the midst of creative innovation. Between 1966 and 1974, as many as 800 to 1100 Jesuits were leaving the order each year, and far fewer were entering the Society. The total number of Jesuits was decreasing sharply.
The Last Nine Years
The "Big Change" foretold the story of nine terrible years that eventually destroyed the school's good reputation. I have heard that some faculty members during those years were sincerely trying to create a new type of school, moving away from attendance at Mass and toward an emphasis on social justice. Actually, as long as Campion was presenting itself as a Catholic school, it should be noted that both participation at Mass and social justice are important facets of the Catholic Faith. As Fr. Arrupe indicated, they should both be integrated in Jesuit apostolates. And the faculty could not determine the school's vision without the concurrence of parents and administration. We can't say for sure that these conditions were met. Jesuit authors point out that the Jesuits had failed to properly integrate Faith and Social Justice into their mission. Confusion about the meaning of the Mass was not helpful, and any indication that the Mass is unimportant would be ultimately destructive.
One incident in this period is worth recalling here, as it may have given evidence of the Jesuits' true intentions: In December 1969, after a troublesome poem had been printed in the Campionette, Fr. Hilbert defended the decision to print the poem, saying in a newspaper interview, "If my position closes the school, it closes the school." (I suggest the reader should look at the full Beaumier article.) I have heard it said that the Jesuits considered Campion to be their own "Vietnam," in that they wanted to get out of Campion, just as most Americans wanted their country to get out of the Vietnam War.
The Jesuits opened their 32nd General Congregation (32GC) on December 2, 1974. In their guidelines for concerted action, they stated (#60) "We should pursue and intensify the work of formation in every sphere of education, while subjecting it at the same time to continual scrutiny." They also stated (#76) "The review of our ministries and the deployment of our available manpower and resources must pay great attention to the role in the service of faith and the promotion of justice which can be played by our educational institutions, periodicals, parishes, retreat houses, and the other apostolic works for which we are responsible." The 32GC closed on March 7, 1975, and the Wisconsin Province Jesuits returned home to set about their course of action. It was already clear by fall 1974 that the Jesuits did not have available manpower or finances to keep Campion open. They soon announced that Campion would close.
Probably the greatest tragedy was the failure of the Jesuits at Campion to draw students closer to the Catholic Faith. Casey Beaumier, S.J., in an article published in the book "Inequity in Education: A Historical Perspective" (Debra Meyers and Burke Miller, eds. Lexington Books: 2009) cited a survey of Campion seniors by Joseph H. Fichter, S.J., (Jesuit High Schools Revisited; Washington D.C.: Jesuit Educational Association, 1969) with these findings:
The majority of seniors believed that Campion did very little or nothing at all to help them foster a greater love of God.
Seventy-one percent said they received Holy Communion much less than before they arrived at the school.
Almost a quarter felt that teachers had taken very little interest in them as students.
This gives evidence that, as early as 1969, the Jesuits at Campion were failing in the most important part of their mission.
Some Conclusions
There were five major factors that led to Campion's demise; they are all interrelated. One leads to another, then that leads to another. The relationship isn't always linear, but we have to start somewhere: This history provides a lesson for boarding schools in general.
Standards of discipline were lessened. Melcher mentions in the Campionette article, that besides optional Mass, bermuda shorts were allowed, and outgoing mail would no longer be censored. Fr. Hilbert's statement in the article presents his evaluation of what is 'overly protective' and his classification of Campion students by level of maturity without any evidence/experience to support his statement. There are stories among and about former Campion students regarding the lack of discipline in those later years, but this is not the place to repeat them.
Shortage of Jesuits. When a newly-certified teacher is interviewing for his first job, he knows the principal is evaluating him, but, at the same time, he is evaluating the principal and the school. He asks himself "Do I really want to teach here?" He looks for stability and consistency in the administration, and he needs to know that school discipline is properly maintained. In a few years after the Big Change, it became generally known that discipline was a problem at Campion. And thus, when Jesuit scholastics were offered choices for their assignment during regency (the three years of high school teaching) they would express a willingness to go anywhere except Campion.

Also, we see that some priests who had been at Campion for a long time were able to leave. By the time of Campion's final year, there were only six scholastics and fifteen priests on a faculty and administration that numbered nearly forty. Yet, the faculty was at nearly the same size in 1974 as it was in 1966, when the school was at its peak enrollment. The personnel problem wasn't just a decrease in the overall number of Jesuits in the province, or a reallocation of Jesuit personnel to other schools.

More lay teachers were needed, when the school had fewer Jesuits. Initially this wouldn't be too much of a problem. But a decreasing Jesuit presence means you eventually have a school that is not a Jesuit high school. In any case, more lay teachers means there were increasing operating costs, just at the time when utilities and food and other fixed costs were increasing. The normal response of a business would be to increase the price charged. That was not easy to do at Campion. A hike in tuition would contradict the school's intention to include good students whose families are not able to pay the higher cost of tuition. Also, an increase in tuition would probably be met with even lower student enrollment.
Considerable efforts at fund raising. There were two problems with this:

the early 1970s were not a time of prosperity; those who had money to give had a little less money to give, and had to manage resources carefully.
People throughout the larger Campion Community - nearly all of us - had heard of how Fr. Hilbert handled the "Poem Incident."

Whether because of that or because they disagreed with the lack of discipline, the decreased emphasis on the Mass and the Catholic Faith, or the attempt at a "social justice" agenda, there were probably some potential donors who found an amicable way to turn down the school's request for financial help.

One amicable way may be called the "Yes, Father" syndrome, i.e., when you disagree with a priest, you don't say that you disagree. You simply nod and smile and say friendly things as though you agree. You don't know if the priest will really listen to your contrary opinion, or if he will become argumentative or even vindictive. And you don't want to find out. Afterwards, you can simply not send a donation, take your son out of school, or whatever.

On the other hand, I recently found this note in my files, from a Campion alumnus. (I'm not sure of the date): "they should have at least communicated their needs to us alumni so that we could respond with our support...Campion had many friends who could have helped, but we were never consulted." To contact all potential donors would have required a larger staff, which would increase expenses. In any case, it is hard to raise funds when it looks like the school is about to close.

Decreasing enrollment. Parents sent their sons to Campion in order to provide high quality academics, foundations in character development and the Faith, a full program of "extra-curricular" activities, and a better discipline program than what they could provide at home. When the quality of the program was decreasing, parents knew that it would not do much good to argue with the Jesuits about it. (The "yes, Father" syndrome.) The easiest answer was to remove their sons from the school. At the same time, it was becoming difficult to recruit incoming freshmen. Notice the trends in FALL enrollments:

1968
1969
1970
1971
1972
1973
1974
Total
Enrollment
562
498
403
400
335
291
290
Decreased
Enrollment
FR-SO JU
57
79
78
12
47
33
14
Incoming
Freshmen
171
129
103
103
92
75
75

Even in the school's best years, there were ordinarily 40 to 50 students from the three lower classes that did not return the following year. (This was the net change, including addition of transfer students.) But the losses in 1969 and 1970 were nearly double the usual. Coupled with decreases in freshman enrollment, the school faced a serious loss.

Even today, there are successful boarding schools with large campuses like Campion's, and enrollments close to 300. To be successful with decreased enrollment requires administrative creativity. The problem wasn't lower enrollment; it was the reason why enrollment was dropping.

In some of the sources, one sees that some Jesuits believed that elite boarding schools were not a good way for the Society of Jesus to spend its resources. There were some Jesuits (see 31GC, cited above) who wanted to do pastoral work, rather than teaching. There is no consistent, world-wide agreement about this. Today, in some places, Jesuits operate schools (typically not boarding schools) for the elite. But even in some of their best schools, the number of Jesuits is very small in relation to the total number of faculty and students. Today, the numbers at Marquette High and Creighton Prep are alike: About 1000 students, faculty and staff totaling 130 to 140, and only 7 or 8 Jesuits assigned to the school. Tuition at Marquette High is $12,445 per year. At Creighton Prep it averages $10,165 per year.

Jesuits in the Wisconsin Province, at the time Campion closed, wanted to prioritize their other schools, and give a more prominent position to their other ministries. Today, the number of Jesuits is down so seriously that the Wisconsin province is being merged with the Chicago and Detroit provinces.

The desire for a boarding school education is just as valid today as it was a half-century ago. The Jesuits, for several valid reasons, concluded that they were unable to help make this option available. Given the demands a boarding school places on administration and faculty, and the need to have the right people involved as teachers, we should accept the Jesuits' decision, and move on.

In the Church Today

Some parents, in fact many parents, not just the wealthy or the elite, want their sons to be somewhat isolated from the distractions of the outside world during their high school years, in order to foster concentration on their academic and educational goals. Parents should be able to choose the type of school that they believe would be best for their children. High School graduates with the best in Christian education in their Faith, as well as in many fields of study, are best equipped for the challenges of the modern world. This is not something that can be done with students who are enrolled in public schools. In recent years, we have seen elite persons, claiming to be Catholic, give public scandal to those around them, by their lack of understanding or refusal to accept the Catholic Faith.

It is good, in fact, necessary, for the Church to interact with the modern world. This must be done from a position of strength, the strength of good Catholic education. It is necessary to have the 'elite' as a part of this position of strength. And yes, the Church should do what it can to help the poor, particularly with financial assistance. However, sometimes and in some ways, the poor are actually rich, in that they may be better equipped to feel their dependence on God, and thus better motivated to further their own spiritual well-being.

The Church, that is, all of us, should be mindful of what Our Lord said (Matthew 19:24) "It is easier for a camel to go through the eye of a needle than for someone who is rich to enter the kingdom of God." We can conclude that it is very important for the Church to devote resources to the education and Christian formation of the rich. Not only of the rich, but of the elite, who, whether they become rich or not, are important in any case. In the elite, the Church can find a source of intellectual and moral excellence, more vocations and greater financial support.

A quick review of boarding schools today (at BoardingSchoolReview.com) shows that there are, in the US, over 300 boarding schools, but only 24 of them are Catholic. Four are all-girls high schools, seven are all-boys high schools, and twelve are co-ed high schools. But of these, only 5 had a majority of students as boarders. There is still a demand. In some cases Catholic families have sent their sons to non-Catholic boarding schools. Some families simply send their sons to their local school, even though they would send them to an elite boarding school if one were available.

Catholic boarding schools put students in a situation where they are surrounded by the Catholic Faith in every part of the day. This takes a major commitment on the part of both the student and the faculty. If the graduates of such schools were more prominent in the life of the Church and in the world, the vision of Vatican II for influence in the modern world could eventually be achieved.

---

---

Note on sources: Much of this article is drawn from conversations I have had with former Campion faculty and former Campion students, in the years since the school closed. In addition I have referred to copies of letters and other articles about Campion that I have been given over the years. I have also been influenced by my experience as principal of the Illinois Center for Rehabilitation and Education, as a Master's student in both History and Educational Administration at Northeastern Illinois University and as a doctoral student in Curriculum Studies at the University of Illinois at Chicago. Besides the items that are cited in the above text, I recommend for further reading...

An article by Patrick Howell, S.J., "The New Jesuits: The Response of the Society of Jesus to Vatican II, 1962-2012: some alacrity, some resistance." Like the Beaumier article, Howell shows a Jesuit viewpoint, and details some Jesuit history.
A 'third person' view of Jesuit Education by Fr. Michael McMahon (summer 2004). Using the classical Jesuit model, his order has had to build a new, larger seminary due to increased vocations.
Available at The Jesuit Model of Education
Two articles in Crisis magazine by Fr. Regis Scanlon, OFM Cap, taking a positive attitude on the real Vatican II.
May 10, 2013 Fifty Years Later - Vatican II's Unfinished Business
May 22, 2013 Assessing Vatican II - A Respone to My Critics
From Paul McCullough '70
While Campion's decline and closure were sad, I have always taken heart in knowing that, as I alluded to in the January 2003 CF newsletter, if acceptance to selective colleges is any barometer of the school's performance, Campion was still doing an excellent job in almost all of its final years. Indeed, doing well at Campion during this time still gave students a chance to "dream big" with respect to college. The following data is derived from The Campion Knight from 1965 to 1975, and from alumni themselves.
By 1965 and 1966, between one half and two thirds of a graduating class chose Catholic undergraduate institutions. Entry to the "Catholic Ivy League" during this period was: 1965 - Notre Dame (7), Boston College (8), Georgetown (5); 1966 - Notre Dame (10), Boston College (5), College of The Holy Cross (3), Georgetown (3). Santa Clara was a popular place in 1966 (10). Regis and Xavier Universities were also very popular.
Between 1965 and 1967, students also matriculated at Dartmouth (2), Harvard, Yale (2), Stanford (3), The University of Pennsylvania and Williams.
In the Class of 1968, 78 of 120 students (65%) chose Catholic colleges. One student entered Yale.
The graduates of the Class of 1969 (109 students) gained entry into schools such as Notre Dame (5), Georgetown (5), Marquette (9), Holy Cross (2), Boston College, Cornell (2) and Yale.
In the following years, students showed more of a propensity to select secular schools over Catholic institutions and this trend continued up to Campion's closing.
Students from the Class of 1970 (120 students) left to enroll at schools such as Harvard (two were admitted - one chose to go elsewhere), Princeton, Brown, Haverford, Carlton (2), Rice, University of Chicago, Macalaster, Northwestern (2), Washington University, George Washington University, Tulane, U.S. Naval Academy, Clark University, Georgetown, Boston College, Notre Dame, Villanova (2), Loyola (Chicago)(6), and Marquette (2), among others.
In the '71 class, one student each left for Harvard, Columbia and Brown.
Among the '72 and '73 classes, one student each went to Stanford and The Massachusetts Institute of Technology.
From the last class (1975), two matriculated at Johns Hopkins.
Although securing a student's admission to a good college was not Campion's sole mission (vis-a-vis those of fostering religious growth, moral fiber, social/athletic skills, etc, etc) it certainly was an important one, in my opinion. In an objective way, Campion's accomplishments in selective college placement demonstrated the type of "finished product" the school was capable of putting out.
Looking at the aerial campus photograph on the cover of their annual report, I have paused to think about the inmates at The Prairie du Chien Correctional Institution who elect to take the technical courses or the high school equivalency instruction offered.......the work of the place goes on.
From Doc Miles '56
1956 Reunion Report
Now sitting at Terminal 1, Gate C-31 at O'Hare Airport in Chicago after having a wonderful 2 day Campion high reunion at the Whitehall Hotel. Nick Baldwin and I took the Airport Espresso shuttle to the airport (one hour from downtown). I got out at terminal 1 where United departs from ( to fly to Memphis - where my car is). Nick went on to terminal 2 where Delta (to Salt Lake City) is located. We'll be leaving within the hour. Everyone said this was the best reunion yet.
After the banquet last night the microphone was passed around so everyone could speak for 5 minutes on their experiences while spending 4 years at this Jesuit military boarding school. Everyone let lose on things they did that were against the rules and almost everyone was surprised that others were doing the same. I didn't feel so bad after that.
What Nick Baldwin, Gay Anderson and I said (having guns and where we hid them) was by far the most surprising story. I hid my .22 revolver in the bottom of one of my boots and he hid his 9mm inside an old record player (after the motor and guts were removed) and it sat on the top shelf of his desk the whole of senior year as the many weekly room inspectors walked by (less than 2 feet away).
One of our teachers was at the reunion, Fr. Joe Eagan,S.J., a 94 year old Jesuit, celebrating his 75th year as a Jesuit and a Campion graduate, class of 1940. He said the mass with Jim Radde, S.J. '56 before the banquet last night and is a very comical and alert person.
It's safe to say that all had a wonderful time.
Charles A. Lambeck
1942-2016
In memory of Chuck, who along with Hugie were responsible for many of the All Class Florida Reunions. Following is excerpted from legacy.com...
He graduated from Campion Jesuit High School in 1960 and immediately went on to serve in the military. Chuck served two tours in Vietnam with much of his time spent on air cushioned vehicles. He was career Navy, dedicated through and through, spending 26-1/2 years before retiring in SIMA Mayport in 1986 as Senior Chief. Chuck never completely cut ties with his military service as he went on to work with Mantec, Tesco and Raytheon developing government manuals for weapons systems, military training and research and development.
Chuck was a man full of ideas and opinions which he often shared in his many letters to the editor. An articulate, quick witted man, he offered sound advice and could always determine the best solution to a problem. To his Navy family, Chuck was considered a great shipmate; a man they enjoyed on their crew-he always looked out for his fellow sailors.
He was a good friend to many. Chuck had a presence that would fill a room. A dull time was never had with him. He enjoyed reading, any movie with "the duke", a good steak, from time to time a rum and coke, and his Green Bay Packers. Most of all, he enjoyed his grandchildren. His family will always remember him as a hardworking, genuine, and caring person. You always knew where you stood with him.
Chuck was one of the good guys. Chuck...the active duty chiefs salute you, your retired Chiefs welcome you. Wishing you the traditional "Fair Winds and Following Seas".
---

Obituaries:
Alumni who have passed in 2016:
Bishop Thomas G. Doran '54 Death Notice from the Rockford Diocese.


| name | class_of | deceaseddate | city_grad |
| --- | --- | --- | --- |
| Glenn M. Burkholder | 1953 | 2016-02-10 | San Antonio |
| John T. Kalb | 1946 | 2016-02-15 | Dubuque |
| Michael Luke | 1972 | 2016-02-20 | Chicago |
| Martin L. Ohlert | 1959 | 2016-02-26 | Prairie du Chien |
| Thomas J. Rieckelman | 1970 | 2016-02-29 | Glenview |
| Donald E. Casey | 1942 | 2016-03-14 | Lake Forest |
| Michael B. Lange | 1952 | 2016-03-19 | Tiffin |
| Christopher B. Braun | 1972 | 2016-04-02 | Decatur |
| James J. Williamson | 1947 | 2016-04-14 | Appleton |
| William G. Simpson | 1941 | 2016-04-24 | Chicago |
| Irvin B. Bruce | 1947 | 2016-05-28 | Colorado Springs |
| John J. Gaffney | 1957 | 2016-06-01 | Rockford |
| Abbot G. Spaulding | 1951 | 2016-06-04 | Homewood |
| Michael R. Obmascher | 1969 | 2016-06-28 | Prairie du Chien |
| Chuck Lambeck | 1960 | 2016-07-04 | Oshkosh |
| Robert A. Westerkamp | 1952 | 2016-07-05 | Lakewood |
| Timothy J. Stock | 1963 | 2016-07-09 | Rock Island |
| John Joseph 'Jack' Becker | 1947 | 2016-07-25 | Park Ridge |
| Jim M. Temple | 1953 | 2016-07-27 | Des Moines |
| Patrick F. Brady | 1963 | 2016-08-10 | Chippewa Falls |
| James W. Ryan | 1972 | 2016-08-11 | Janesville |
| Patrick L. Crooks | 1952 | 2016-08-26 | Wausau |
| John R. Toomey | 1950 | 2016-08-28 | Oak Park |
| Thomas G. Doran | 1954 | 2016-09-01 | Rockford |
| Philip Sharkey | 1954 | 2016-09-04 | Toulon |
| George William Parker, MD | 1953 | 2016-09-05 | Delaware |
| John David Farrell | 1955 | 2016-09-18 | Clarksburg |
| James W. Bayley | 1957 | 2016-10-03 | Lafayette |
| John L. Thompson | 1963 | 2016-10-28 | Atkins |
| Bob Haverkamp | 1953 | 2016-11-08 | Naperville |
| John E. Bernbrock, S.J. | 1944 | 2016-11-11 | Aurora |
| James W. Ryan | 1957 | 2016-11-18 | River Forrest |
| Ralph Lawrence Schiavone | 1970 | 2016-12-20 | Berkeley |
| Robert S. Maxwell | 1947 | 2016-12-26 | Lexington |
| Denis D. Faber, M.D. | 1953 | 2016-12-28 | Dubuque |

Alumni who have passed in 2015, 2014, 2013, 2012.
Faculty who have passed:

John W. Wambach, S.J. 2016-09-15, 1959-61 Teacher of Latin, Greek. 1977 Pastor St Johns & later St. Gabriels in PdC
Fr. Robert H. Fitzgerald, S.J. 2016-03-17, 1971-1975 Teacher of English
Carol Ann Peterson Chilson, 2016-03-27, Home Coming Queen of 1955

Fr. Roland J. Teske, S.J. 2015-05-18, 1959-1962 Teacher of Latin and Greek
Fr. Theodore L. Rynes, S.J. 2015-05-29, 1958-1958 Scholastic, Teacher of English
Irene Mezera, 2015-10-23 Loyola Cafeteria