VOLUME 19 • CHAPTER 4 • October 2019
---
Memoirs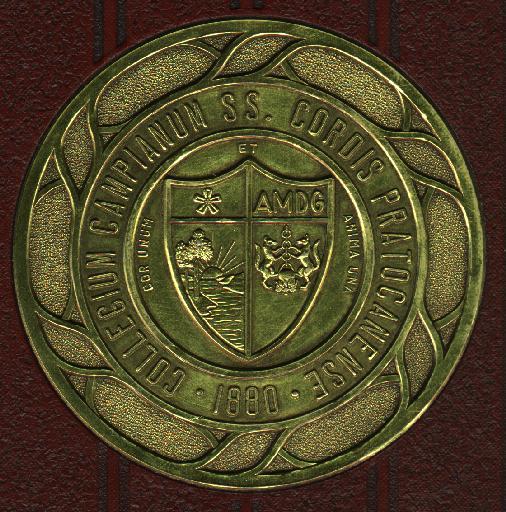 The first Campionette, the student newsletter, was published 102 years ago, on November 11, 1917. The first Editor of the Campionette was Tom O'Connor, class of 1920. The last official issue was the one announcing the closing of the school in May 1975. Over the years various classes have published special editions for their class reunions, of which some have been pretty extravagant.
The Campion Forever Newsletter was first published by Aaron Huguenard, class of 1947 in 2000 as a means for alumni and faculty to keep in touch and share in life experiences.
We've been trying to get memoirs from retired and not-so-retired Campion Jebbies for our newsletter for quite some time. We don't care if the memoirs are about when they went to Campion, taught at Campion, or just what they've done since leaving Campion. We just want to hear something from our mentors in the first person; perhaps words of wisdom learned while
IHS
; typically we only get 3rd person post mortem. Not to lay all the blame on the Jebbies... why can't we get memoirs from more alumni. Where are all those other authors and editors of the old 'ette.
While it has been a task getting people to submit articles, there are a few dedicated alumni and Jebbies who do regularly provide ideas for articles. This is a good thing, else I would have to conjure the
'Ghost of Joe Campion'
for ideas more than I care to.
---
By John Duskey '63
James E. Fitzgerald, S.J.
Fr. James E. Fitzgerald, S. J. entered the Jesuits at age 18. After the usual course of studies at St. Stanislaus seminary and St. Louis University, for his regency service, he was assigned to Campion, where he taught U.S. History and Latin. After Theological studies at St.Marys, Kansas, he was ordained to the priesthood in Omaha. Father Jim had entered the order at the same time as his twin brother Bob, and they were both ordained on their 31st birthday, June 9, 1966.
After some years in the 1970s in graduate school at Stanford University, Fr. James Fitzgerald spent most of his years of active ministry in the advancement (fund raising) offices at Creighton University and at Marquette University. He moved to the Jesuit Community at St. Camillus in Wauwatosa in 2008.
It was in 2010 that I visited the Jesuits at Camillus and had lunch with Fr. Fitzgerald and Fr. Larkin. It was an opportunity to recall many of our Jesuit teachers who were no longer with us, and to identify those who might be available for one of my future visits. We had a particularly memorable conversation after the death of his twin brother Bob.
He had lots of stories to tell, and, as I also knew many of the same people, it was interesting to me to hear the "inside story" of some of the events I already knew about during my years at Marquette University.
Probably the most significant of these was the story of the "Greater Marquette Program" by which the University, with the help of Federal financing, was able to purchase vacant land in and near the campus, after the older buildings had been torn down. There was substantial political in-fighting, and Fr. Jim had all the stories. It would make a good book, except for some details; Most of the people who could corroborate his stories are already dead, and there are reasons that those who are still alive might not want the stories to be published.
Fr. Jim also gave me some insight into the day to day life of a scholastic at Campion during the early 1960s when he taught there. What we saw were scholastics who just showed up at the right time in the rec room, in the dining hall, at the intramural games, and in study halls. But the fact is that they had a continuous array of assignments that filled their days, leaving possibly as much time to prepare classes, grade papers, and develop teaching strategies as we had to spend in study halls on those assignments.
He has been described as an intrepid researcher. He would look into the financial status of potential donors and suggest how much money the University should request from them. He was also very loquacious and eager to engage in conversation.
He was very helpful to me in the articles I have written for Campion Forever, giving me information that I might not have heard from other sources. He spoke with high praise of the Spring 1963 production of Oliver Twist, and encouraged me to write the article about it. The last article he helped me on was the description of the new Jesuit building at Camillus. He listed for me a number of suggestions which have been developed into this great new facility.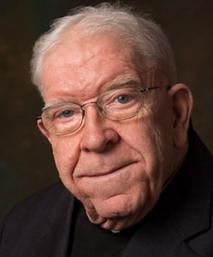 I attended the wake and funeral on Monday, September 16, and had lunch at Camillus the next day. I spoke with a number of our Jesuit friends: Fr. Joseph Eagan, Bro. Ed Gill, Fr. James O'Leary, Fr. Doug Leonhardt, Fr. Terry Brannan, and our (1963) classmate, Fr. Jonathan Haschka. Also in attendance at the funeral was L. G. Friedrichs, Jr., of the class of 1965. There was an especially large crowd at Madonna della Strada chapel for the funeral Mass, as Fr. Fitzgerald had many friends and family who came to pray for the repose of the soul of this fine Jesuit priest who dedicated his life to the advancement of two great Jesuit Universities.
[EDITOR:] Fr. Jim was another CF advisor I will miss! RIP my friend.
From Class of 1969
CJHS 1969 Class 50th Reunion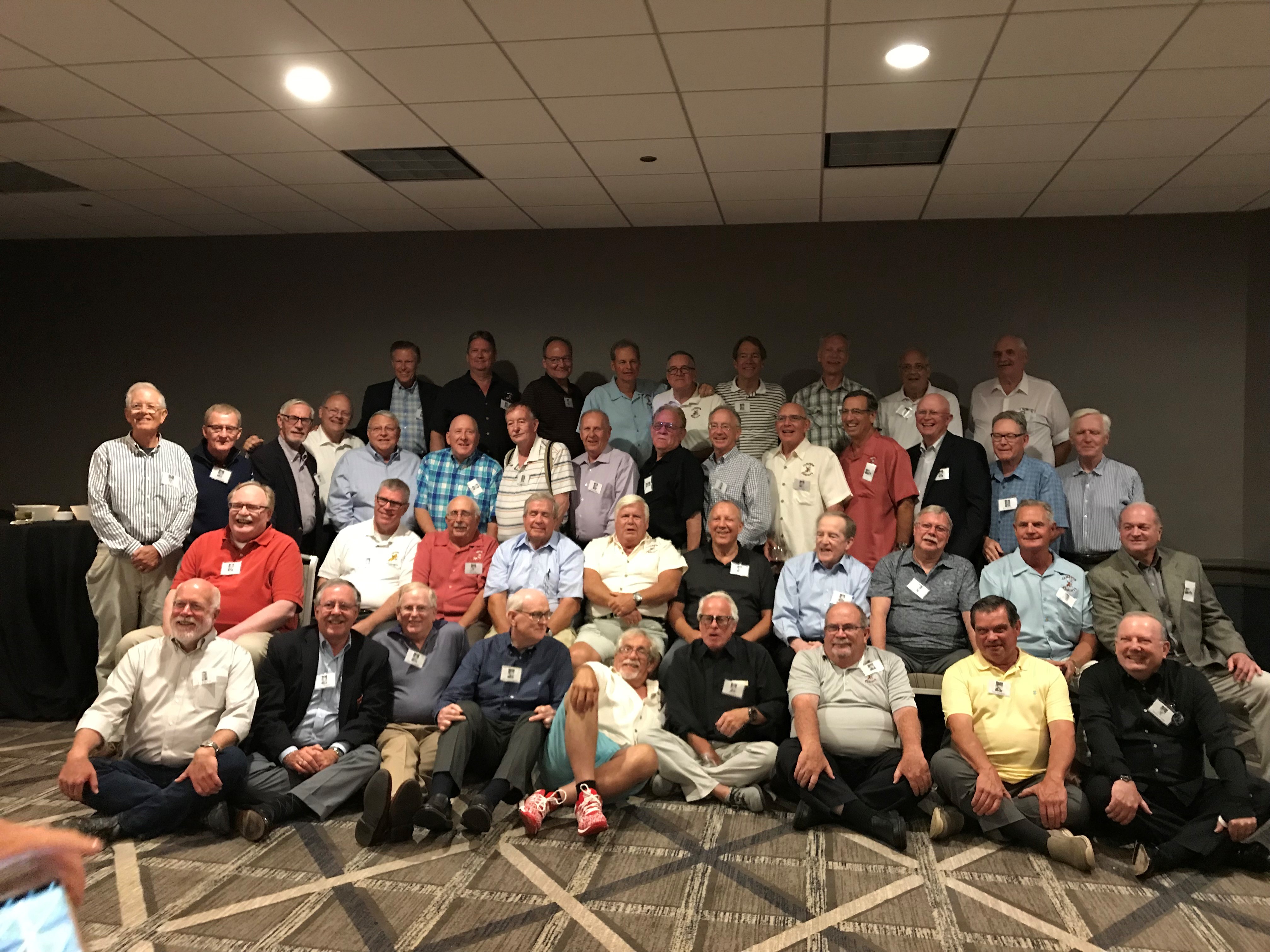 Row 1 L-R:
Mark Blichert, Jerry Wagner, Tom Conaghan, Kevin Cunningham, Tim McCarty, John Ryan, Joe Riley, Tom Douglas, George Schultz
Row 2 L-R:
Jerry Panther, John Shouvlin, Bob Stoltz, Brian Fox, Tom Flood, Bill George, Fran Root, Kent Owen, Bill Friedrichs, Joe Olivieri
Row 3 L-R:
Matt Dee, Jim Jennings, Jack Hyland, Jerry Nora, Dan Hespen, Mark Paunicka, Mile Kurbs, Duane Kelling, Les Norman, George Moran, Lee Staak, Greg Miller, Bill Devine, Bob Johnson, Dennis Farrell
Row 4 L-R:
Tim Galvin, Steve Miller, Jim Ryan, John Clark, Jim Trausch, Larry Stone, Michael Betlach, Cark Uberti, Tim Weisensel.
[EDITOR:] Reunion Archives can use some updates. Any volunteers?
From Dan Lipke '72
Knights of Columbus - Campion Council 1840
Tom, attached please find a copy of the article I promised you...
All the best,
Dan Lipke, KofC - Campion Council 1840, PdC, WI.
---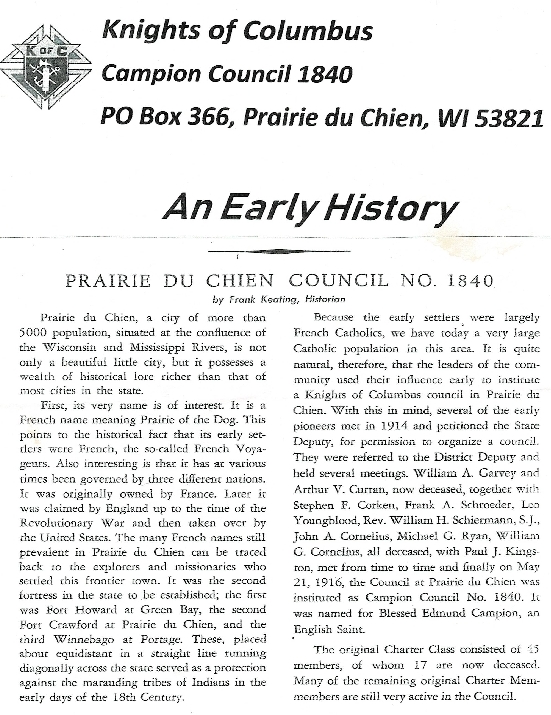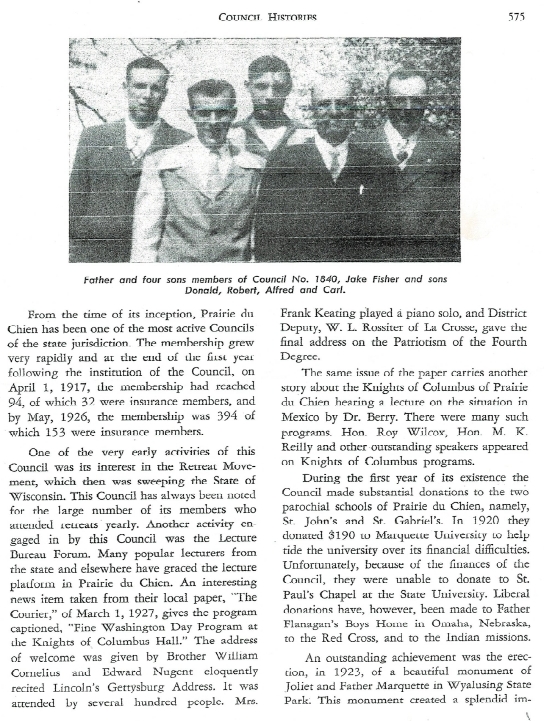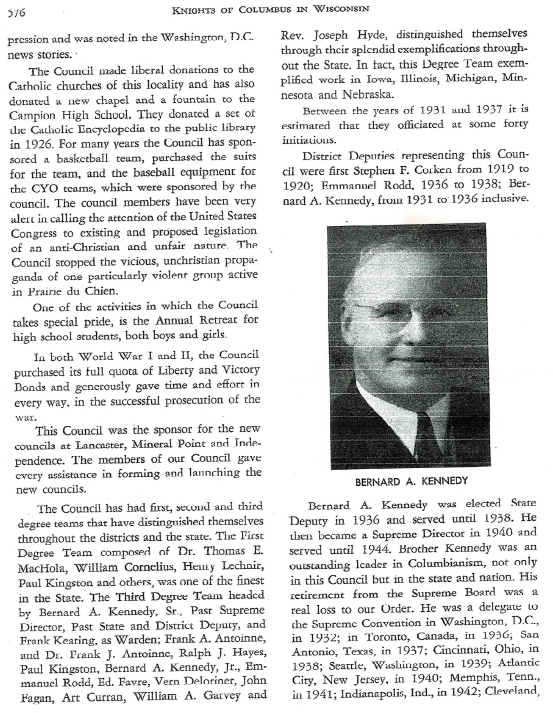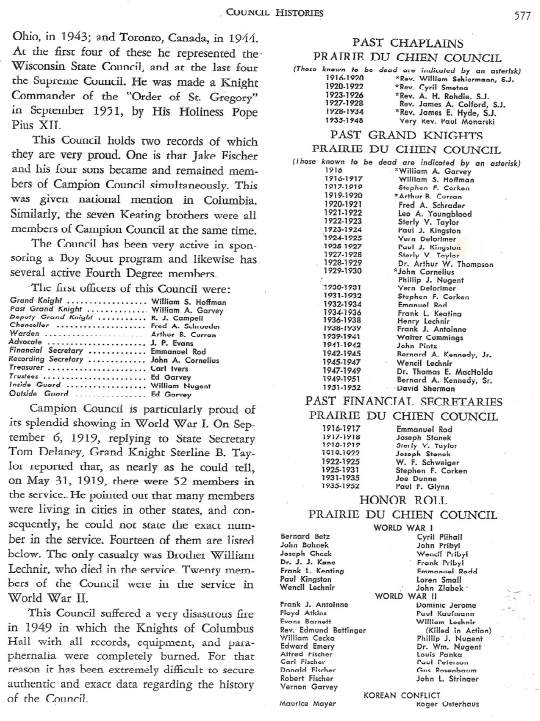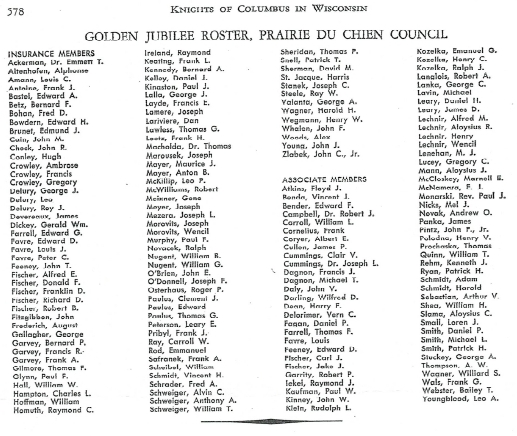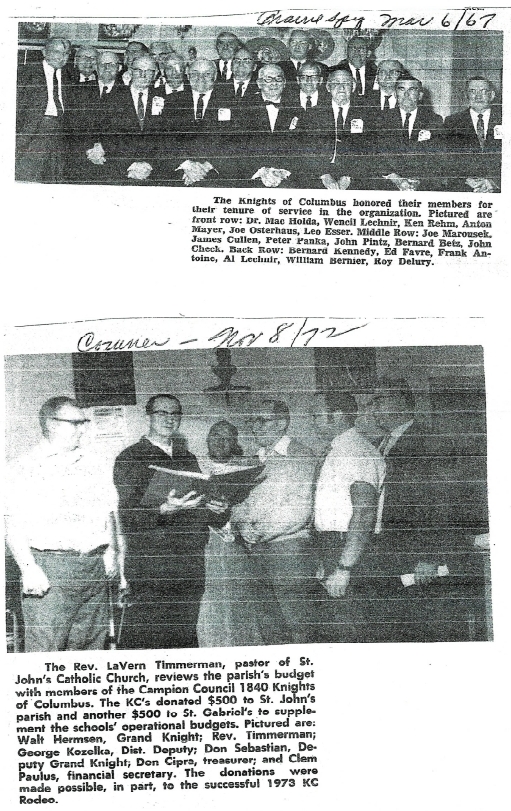 From Alisa
Notable Dick Boushka '51
[Dick] Boushka attended Campion High School in Prairie du Chien, Wisconsin, before enrolling at Saint Louis University in 1951. He was a standout basketball player and student during his time at SLU. On the basketball court, Boushka ended his illustrious Billiken career owning virtually every scoring record at the time. His career scoring average of 19.3 ppg over 75 games still ranks second in school history. Additionally, he is 11th all-time at SLU in total points with 1,448. Boushka earned All-America honors in 1955. Academically, he was one of the University's brightest students. He was the highest ranking student among geophysical engineering majors in his class. Boushka is a 1976 inductee into the Billiken Hall of Fame and was voted to SLU's Men's Basketball All-Century team in 2015. His No. 24 jersey is retired and hangs in the rafters of Chaifetz Arena.
Following his graduation from SLU in 1955, Boushka earned a gold medal while playing on the 1956 United States Olympic team in Melbourne, Australia. His Olympic team still holds the record for largest margin of victory. He holds an Olympic record which can never be broken, just tied. Highest percentage free throws (100%), minimum 10 attempts. He then was drafted by the Minneapolis Lakers, but chose instead to play semi-pro basketball for Vickers Petroleum team, while working for the company. He continued to leave his mark on the sport of basketball throughout his lifetime, and in 1987 he was selected as the President of the Naismith Memorial Basketball Hall of Fame.
He married Joan Lillis in 1956 and moved to Wichita, Kansas. Where they reared 5 sons. Spending countless hours watching them play sports and grow into adults.
He quickly moved up the Vickers company ladder, becoming the president of the company by the time he was 29. He retired from corporate world and became an entrepreneur in his late 40's, owning restaurants, shopping centers, interests in an energy company and a race track. He maintained a strong faith throughout his life and enjoyed attending weekly Mass and educated his children through the parochial system. He enjoyed golfing, playing cards, smoking his cigars, listening to his beloved Cardinals on the radio, watching his sons and grandchildren play all kind of sports and spending time at the race track. His love of the track started with owning horses and moved into track ownership (Woodlands in Kansas City). He was a kind, sweet, gentle man. He was not a glass half full, but a glass "full" kind of guy. He always saw the best in people and was a pleasure to be around. His personality was larger than life. Most of all he was proud of his sons, a lasting legacy which will continue in the next generations.
---
From John Duskey '63
Flashback with Reynold Frutkin
On June 29-30, the class of 1963 held a reunion at the Comfort Inn-O'Hare in Des Plaines, IL. What made the event special was the fact that Mr. Reynold Frutkin, our English teacher during junior year, attended. We had not seen him since he left Campion in the spring of 1962. He is one of a small number of our teachers who is still alive, and he did leave a lasting impression on us.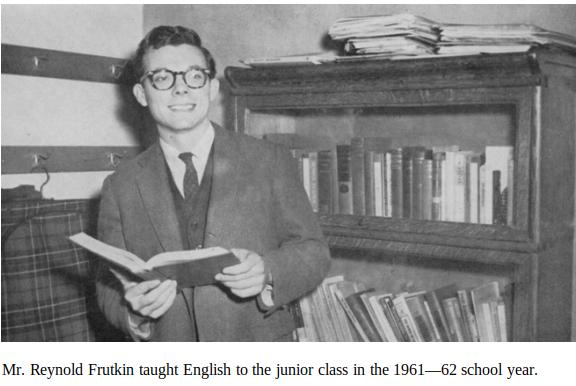 His classes were marked by extensive readings from the book Prose and Poetry of America, and a few exercises from a book titled Effective Writing. Among the memorable experiences in his class were the novels Red Badge of Courage and The Scarlet Letter. We also studied several poems, short stories, and some non-fiction, too.
When I think back on all the things we studied in English class, fifty-seven years ago, I do so in the light of my experience as an English teacher at Kenwood Academy in the Hyde Park neighborhood. My Chicago students enjoyed Romeo and Juliet, but even more important, they learned from the experience of studying Martin Luther King's Letter from Birmingham Jail.
The curriculum in our years (1959-63) at Campion was closely tied with the Catholic culture of that time. (I will admit that I couldn't find my copy of Prose and Poetry of America, so I bought one on ebay to refresh my memory.) Our book included poems by Robert Frost, James J. Daly (Campion faculty, 1911-20), Joyce Kilmer, Emily Dickinson, John Bannister Tabb, and Walt Whitman (including O Captain, My Captain). There were non-fiction pieces by Bishop Fulton Sheen, Francis X. Talbot, Carl Sandburg, and Henry David Thoreau. The cover of the book was a Kodachrome copy of the (c1200) painting "Enthroned Madonna and Child" from the National Gallery of Art, with the color film copy from Francis G. Mayer Art Color Slides in New York.
In the introduction, the Editors, Fr. Maline and Fr. Manion, state that many of their choices for this book have a Catholic orientation, but many works that are strictly secular are also included. It is clear that such a book as this could never be considered for use in anything other than a Catholic school. Strictly speaking, many of the works in this four-book, four year series would be more appropriate readings for a Religion class.
My contention is that the purpose of education is to teach the student, not the information he is expected to know, but rather how to think. By this standard, the Prose and Poetry books may be questionable. They assume that the students, and the teacher, are Catholic, to the point where the English teacher is, to some degree, also a Religion teacher.
The point here is that Mr. Frutkin knew the Jesuits and the Jesuits knew Mr. Frutkin. He was hired by Fr. William J. Doran, our principal, upon learning that the incoming group of Jesuit scholastics for fall 1961 would have one less man than previously expected. Fr. Doran contacted his friends at Xavier University in Cincinnati and asked if they could recommend a highly-qualified graduate for a teaching position for the 1961-62 school year. Reynold Frutkin was the man they recommended.
Mr. Frutkin had a room on the third floor of Campion Hall, immediately adjacent to the 3B classroom. That room served as his sleeping room and his office. He recalls having at "vow of poverty" type of salary. And while all of the Jesuit faculty were dressed in black-and-white, it was always a joy to see Mr. Frutkin, dressed in color.
We knew very little about him while we were at Campion. He had a girlfriend, Sally, who lived in Washington D.C., and was a brilliant classical actress attending the famed theatre program at Catholic University. That relationship came to an end sometime in spring 1962.
His relationship with the Jesuits on the faculty was not so much complex as just empty. He knew the Jesuits to be members of a team with a vigorous esprit de corps, and understood that he was simply not part of that. He viewed this not as alienation, but as a lost opportunity to get to know his students-us-more fully through the eyes (and voices) of his fellow teachers, who were, in fact, silent. So, in a larger perspective, this was a lost opportunity to get to know us.
Permit me to add my personal perspective on this situation, as I know what it is like to be a principal of a school. It is the job of school leadership to open up communications among the faculty, particularly teachers in their first year at a school, and those teachers who share many of the same students. This is sometimes neglected in public education, as well as in elite boarding schools. Silence on this matter can easily be interpreted as a message "don't help him" or "don't talk to him." And this can lead to real alienation. It is one of the things that can be improved in education without adding substantially to costs.
Fortunately, there was an experience that provided a brighter side to this picture. Mr. Joseph O'Neill, S.J., and the Masquers group kindly invited Mr. Frutkin to direct one of three one-act plays for the Masquers to present over the Easter weekend. One play, "The Commissioner," was directed by Mr. Paul Megan, S.J. Another play, "The Blindmen," was directed by Mr. O'Neill. The third play, Eugene O'Neill's "Where the Cross Is Made," was directed by Mr. Frutkin. It starred seniors Ron Kaye and Al Aubiel, and freshman Greg Green. Mr. Frutkin enjoyed this part of his work at Campion. I would like to explore this subject further, but it has been difficult to contact the actors in the play. For one thing, Al Aubiel and Greg Green, unfortunately, are deceased.
While he had enjoyed acting roles at Xavier and after, this was his first undertaking as a director, a pursuit that led him, some four years later, to the Yale School of Drama. There he majored in directing from 1966-69 and, after a dissertation, to a D.F.A. degree (Doctor of Fine Arts) in 1972. After 1969, and while working on his dissertation, he served as an editor for the Yale Alumni Magazine until 1974.
During our breakfast at Tiffany's Restaurant during the reunion, we talked about the value of drama and active theater practice, not only in the English curriculum, but also as a wonderfully practical way to attune oneself to other people and the conflicts of life, not to mention the training it provides in organizing people, action, and speech to an interesting purpose-all the stuff that goes into "puttin' on a show." Mr. Frutkin told us that his theatre training was ideal preparation for his eventual (and final) career as a lawyer, who loved to mix it up in the courtroom.
My criticism of Campion's curriculum, even from senior year and the years when I was in graduate school in the late sixties, was that we did not spend enough time on Rhetoric and Composition. Argumentation, Description and Narrative writing were minimized, to some extent reserved for Speech class or debate team as though it were a side activity. My criticism of teaching drama is that it should not be just another reading assignment; it should be, as Mr. Frutkin stated, active theater practice. Fortunately, many Campion students had an excellent drama experience the following year, in the Masquers presentation of Oliver Twist.
As for poetry, I can't deny that, at one time in the sixties, I said that it is a "bunch of crap." Too many people heard what I said. I don't believe that now, and I don't think I believed it then. It was an expression of my frustration with the study of Vergil during senior year. But in my life, poetry seemed to supplant the study of Rhetoric and Composition, which had to wait until college. High school teachers don't always choose what they want to teach; they are given an array of material that they are told to teach. Evaluating a teacher is something different from evaluating a curriculum. In the case of Mr. Frutkin, he is without a doubt the teacher whom I take the most joy in remembering, and certainly one of the best.
---

Obituaries:

| name | class_of | deceaseddate | city_grad |
| --- | --- | --- | --- |
| John J. Marek | 1974 | 2019-01-03 | Chicago |
| Edward M. Carstensen | 1969 | 2019-01-24 | Davenport |
| Gerald L. Sullivan | 1965 | 2019-02-03 | Shullsburg |
| Melvin A. Quinn | 1959 | 2019-02-13 | Prairie du Chien |
| Patrick T. Koester | 1973 | 2019-02-16 | Frankfort |
| Richard Bouschka | 1951 | 2019-02-19 | Springfield |
| Gary M. Riley | 1965 | 2019-02-19 | Waterloo |
| Frank C. Sturm | 1948 | 2019-02-20 | Alexandria |
| Charles Jack Remien, Jr. | 1960 | 2019-02-22 | Winetka |
| Thomas C. Birdsall | 1954 | 2019-03-08 | Clayton |
| James F. Parks | 1954 | 2019-03-14 | Chicago |
| Joseph K. Schroeder | 1950 | 2019-04-05 | Leipsic |
| John C. McNellis | 1943 | 2019-04-06 | Elmhurst |
| Edmund A. Mikalofsky | 1952 | 2019-04-12 | Sheboygan |
| Gary R. Harkensee | 1971 | 2019-04-19 | Park Ridge |
| John D. Kuhn | 1954 | 2019-04-20 | Chicago |
| Charles F. Phee | 1968 | 2019-04-20 | Centralia |
| Arthur M. McDonald | 1957 | 2019-05-24 | Minneapolis |
| Patrick D. Bowlen | 1962 | 2019-06-13 | Edmonton |
| Arthur H. Wagener | 1945 | 2019-06-13 | Waconia |
| John H. Fairbairn | 1969 | 2019-07-30 | Gary |
| Clayton E. Whiting, Jr. | 1954 | 2019-08-16 | River Forest |
| John F. Kelley | 1949 | 2019-09-09 | Leipsic |
| Emil J. Denemark II | 1944 | 2019-09-18 | Riverside |
| Richard M. Stroh | 1963 | 2019-09-19 | Chicago |
| Mark A. Pfeiffer | 1971 | 2019-09-22 | McGregor |
| Richard F. Bussan | 1955 | 2019-10-00 | Galena |
| Jonathan Haschka, S.J. | 1963 | 2019-10-03 | Minneapolis |
| John M. O'Connor | 1957 | 2019-10-07 | Dubuque |
| Edward J. Mattimoe, S.J. | 1952 | 2019-10-20 | Toledo |
| William J. Conlin | 1949 | 2019-10-27 | Ann Arbor |
| Gilbert D. Austin | 1960 | 2019-10-31 | Rockford |
| William J. Gitzke | 1961 | 2019-11-00 | Cary |
| Frederick J. Minchk | 1955 | 2019-11-04 | Prairie du Chien |
| Michael E. Frazier | 1972 | 2019-12-01 | Elk Grove Village |
| Tom R. Wild | 1977 | 2019-12-09 | Dyersville |
| Edward T. Schrader | 1955 | 2019-12-13 | Seymour |
| Lawrence A. Cuneo | 1952 | 2019-12-26 | Chicago |
| James M. Lardner | 1964 | 2019-12-27 | Detroit |

Alumni who have passed in 2018, 2017, 2016, 2015, 2014, 2013, 2012.
All known by class.
Faculty who have passed:

Fr. James E. Fitzgerald, S.J. 2019-10-12, Teacher of U.S. History 1960-1963
Fr. James H. Ryan, S.J. 2019-07-28, Teacher of Religion 1970-1972.
Loretta A. Oehler 2019-06-19, Student Laundry