VOLUME 20 • CHAPTER 3 • July 2020
---
Memoirs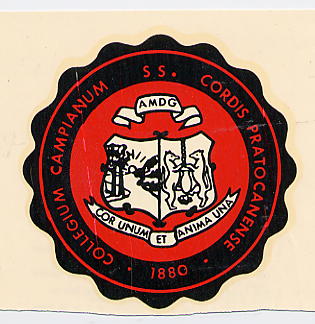 The first Campionette, the student newsletter, was published 102 years ago, on November 11, 1917. The first Editor of the Campionette was Tom O'Connor, class of 1920. The last official issue was the one announcing the closing of the school in May 1975. Over the years various classes have published special editions for their class reunions, of which some have been pretty extravagant.
The Campion Forever Newsletter was first published by Aaron Huguenard, class of 1947 in 2000 as a means for alumni and faculty to keep in touch and share in life experiences.
We've been trying to get memoirs from retired and not-so-retired Campion Jebbies for our newsletter for quite some time. We don't care if the memoirs are about when they went to Campion, taught at Campion, or just what they've done since leaving Campion. We just want to hear something from our mentors in the first person; perhaps words of wisdom learned while
IHS
; typically we only get 3rd person post mortem. Not to lay all the blame on the Jebbies... why can't we get memoirs from more alumni. Where are all those other authors and editors of the old 'ette.
While it has been a task getting people to submit articles, there are a few dedicated alumni and Jebbies who do regularly provide ideas for articles. This is a good thing, else I would have to conjure the
'Ghost of Joe Campion'
for ideas more than I care to.
---
From the Desk Of Tom Olson '72
Happy Fathers Day! I am sending this out a bit early. There is a lot of 'Fathers' in this issue. Hopefully everybody gets it in time. Otherwise, Happy Belated Fathers Day!
For a future issue, I am looking for boffo stories from our alumni musicians concerning their career experiences. I know a few that have awesome stories to share. Don't be shy! Shy? A Knight, shy? That would be a quandry, for sure!
Chris Otto has an article about the End Times... no, not the one of interpreted predictions from our Bible, although these Latter Days have been interesting. No, it is about the end days of our infamous football team. "Go Knights".
Joe Hrncirik wrote about his interesting Jebbie interactions in his article, "A Few More Jesuit Characters". Most interesting history he has had.
In the April 2020 issue, Pat Mower set off a spree remembering our teachers and prefects. This, July 2020 issue he is continuing his story and "sticking to it!".
John Duskey asked alumni who they thought were influential teachers. In his article he summarizes those teachers in the order of their calling to their Campion Ministry.
Enjoy the Manitowoc Minute for some Wisconsin humor.
---
From Ghost of Joe Campion - Manitowoc Minute
---
From Chris Otto '75
The Decline and Fall of Campion Football
From a Class of 75er Who Was There
By Chris Otto '75
In October 1974 a northern Wisconsin newspaper recalled the humiliation 10 years earlier on their local team by the Campion Knights, led by future NFL player John Shinners, by the lopsided score of 60 something to zip. That year they returned the favor 70 something to zero on the hapless remains of a once dominant Campion team in its futile and winless last season. How did this happen to a once feared and renowned program?
The Class of 75 reported in August 1971, the last to graduate and participate in and witness the steady erosion of a formerly prestigious boarding school sports legacy. Only two of us would experience the entire 4 years, lack of participation being one of the reasons for the decline and eventual implosion.
I grew up immersed in the Monsters of the Midway Chicago Bears of Butkus, Ditka and Sears, the only games we could get in Iowa in the mid-60s, as well as the then dynastic Nebraska Cornhuskers. I was an offensive lineman in grade school. My formidable father had been All State at Creighton Prep and recruited to the University of San Francisco (USF) which then had an exceptional program with multiple future NFL all pros including 3 Hall of Famers and eventual legendary Commissioner Pete Rozelle on staff. (Note: Many Jesuit Colleges such as USF and St. Louis University (SLU) had successful programs which were dropped in the post-WWII era. SLU actually owns an historic landmark in football history with the first forward pass attempts and completions in a 1906 game.)
My first exposure to Campion Football was the Class of 72 varsity that had an impressive array of talent led by Ed Keane at quarterback and lineman Mike O'Malley. I recall a winning season but not an outcome that matched expectations from previous successful 69 and 70 seasons. Few anticipated that this would be the last winning season for Campion Football.
Spurred by a dynamic Varsity program, Freshmen tryouts on the field behind the Freshman Gym were chaotic with a large percentage of our class giving it a shot, up to 60 or more. The roster was soon whittled down to 30-35 based on equipment availability. It later occurred to us that some of those cut may have developed into decent players we could have well used a few years later. Some of the cast offs soon became engaged in less wholesome activities leading to academic failure or dropping out, one of the reasons for the eventual 1975 school closing.
Having played center in grade school I assumed that would be my role. I liked handling the ball and starting the plays. I was miffed but not deterred when the coach assigned a smaller guy whose brother was an alumni to MY position. I lined up opposite him at nose tackle during a scrimmage. After brushing him aside and roaming the backfield at will for a few plays I was the starting center.
Frosh football had its comedic moments. During practice, Coach Mullins told me to run around the goal posts after some petty practice infraction. A few minutes later he observed me still circling. He meant once. "Get the hell back here," he said. I started out as the long snapper until I hiked the ball over the punter's head during a game. Against the local Prairie squad, I got kicked in the head on the ground after a play was over.
I was not a great player. I had size, large bones and occupied space but was not particularly fast or strong, though I excelled at downfield blocking according to Coach Campbell. Most of our squad was serviceable at best. We had one standout player: John "Matt" Sloan from Davenport. Fast, strong, fierce, fearless and possessed the killer instinct my dad said I lacked. After our freshman game with Prairie he took the field with our JV and made an interception. He was solid Division 1 material. Going up against him in practice was humbling and painful.
After the season was over, getting asked to attend "Early Football" with the varsity as a sophomore was a milestone for aspiring letterman and I feared I was on the bubble. An ominous development was when I observed some of my classmates strutting around campus in the Spring in personalized white mesh jerseys they ordered with the varsity. I had not heard of the order or was not asked. In any case, I did not have the $20 or so to spend on one. Eventually I was formally made aware that my presence was requested in mid-August. Safe to say I did not know what I was getting into.
Early Football meant three sessions a day which consisted of sweaty soreness compounded by bruises on top of contusions. Two brutal 90-120 minute morning and afternoon practices in full pads and evening in shorts. Most of the wet gear never really dried. In those days very water was rarely dispensed during the practice, I remember once and felt guilty. Offseason and Preseason conditioning would have made sense and life less miserable . As a lineman we were under the tender mercies of Coach "Fuzzy" Fullerton, gentle, concerned counselor by trade, fire breathing sadist on the field. As a freshman, when we were not practicing with the varsity he could be heard bellowing on the lower fields all the way to the quadrangle demanding linemen put their backs into pushing the 7-man sled harder and faster.
Each morning and afternoon practice consisted of a jog to the field in full pads, followed by calisthenics and what are now considered harmful ballistic stretches. Then we would break into backs and lineman for 45 minutes of hellacious drills. Coach Fuzzy had a schedule taped to the glass on his office window so you could mentally prepare for the 5 to 10 minute drill segments you would endure while constantly in motion and gasping for breath while pounding the ground or your teammates. It was Jane Fonda with violence.
One popular drill was to crab walk up a mound where your teammate would whack you with a hand-held pad. On one memorable occasion our 2 wide body tackles were in line together and the first gave the other what could best be described as a tap. Coach Fuzzy roared. "WHAT IS THIS, THE MUTUAL APPRECIATION SOCIETY"? A brutal tackling drill was to start lying on the ground and get up as the other guy was handed the ball and may the best man survive. At my lowest I took it all out Adam Sandler Waterboy style on a teammate who wondered what got into me.
We had a crash course in weight training. Bench, squat and deadlift stations with three increasing weights. The first was doable, the second barely and the third weight I could not budge. The skinny bars cut into the hands and back at the heavier weights. I think we did these every day.
I broke down so bad I may have called my mommy and begged to come home. She may have said too bad. Thanks Mom. Running back Tony Altimari's Dad was there on a middle age boot camp program and his wise and kindly guidance helped us get through the worst. Tony was enthusiastic but his playing days were cut short by multiple shoulder separations enabling him to focus on becoming a surgeon and rock star.
The 72 season looked promising with many talented 73ers led by Mike McVary and Mike Roll. However the reality was extremely disappointing with the sum total being much less than the talented parts. We were on the wrong end of a lot of ass-kickings and long quiet bus rides home were the norm, sometimes without stopping for chow. We might have won 2 games. I did not play once. I confess that at the October night games in the north country freezing on the sidelines I wasn't too eager to go in cold and get hit late in the game. One late night leaving Hoffman Hall one of our starting seniors lit up a smoke on the walk back. I got the feeling not everyone was taking this sport as seriously as Walter Camp intended.
Sadly, the overall Campion experience was deteriorating at an accelerating rate. Occasional debauchery by high-performers that was winked at turned into consistent degradation and a race to the bottom. A campus that put on Jesus Christ Superstar in 1971 became a parody of itself. Latin and Theology were replaced by Social Justice training, English by "Interact" and ethnic studies where not much studying took place. Mandatory Freshman Study Hall fell by the wayside my first year. A typical day in the (below average) matriculating life: get up late, check the mail room, go to lunch, then back to the dorms to get high in a room with blacked out windows, psychedelic posters and ultraviolet lights.
I showed up for the 1973 August early session in better shape. The Class of 74 had great spirit, turned out some eager if not overly talented bodies and had inspired leadership in Terry Johnson and David Betlach. Terry Johnson was pound for pound the toughest guy I ever played with. Once practicing kickoffs I hit him low and hard but he somersaulted over me, leapt up and made the tackle. Betlach was a quietly confident, highly intelligent and talented athlete in many sports.
Before we put the pads on Coach Campbell announced the starting lineup and had me starting at tackle. I was shocked and thought he confused my abilities with my size. The 74 seniors had a solid, cohesive group who morphed into an aggressive defensive line. It was a big improvement over the previous season, not quite a turnaround but a moral victory at least. I recall being just below 500 and we were in most games. The archive I saw said 2-4-1 but I think we won at least 3 games which sounds bad but not terrible when not much was expected.
One drawback to declining enrollment and participation in football was that even as a starting varsity junior, I was required to play the JV schedule as well. I guess the exercise and experience did not hurt but the extra six games was a lot and fortunately I did not get hurt. Some of those guys we cut freshman year would have come in handy about then and the next year.
I learned about program inflation that year. After sweating out the early season I was barely 170 at around 6'. On the program I grew to 6'2" and 190, a size I eventually exceeded after graduation. With the departure of Coach Fullerton we had an older redneck coach from a nearby town. One JV game against his hometown, their homecoming, he proudly pointed out to us a young man in a wheel chair who had been paralyzed life during a game. Our response was a collective shudder.
The summer before senior year I was recruited by the new coach at my hometown Iowa Catholic high school which I declined. They ironically had a great year and fond memories. At Campion the chickens finally came home to roost. We only had 7 seniors on the roster and only Kevin McVary and I from our sophomore group. Poor Coach Campbell had to endure the humiliation of riding out this 0-8 debacle but rarely showed how he must have felt. The man had incredible class and stoicism.
The lowest of many lows was the Marshfield Columbus game where our Captain, Matt Sloan got nailed on the 2nd half kickoff return with a helmet to helmet head injury that ended his football career, most of his senior year and almost his life. It was devastating during a lopsided loss to lose your best player to an unknown outcome. Fortunately the area had great neurosurgeons to get him on the long road to recovery. At our homecoming game I got field lime under my sweaty pads and my knee was raw by the end of the game. Over the next week the scab would crack and bleed very time I bent the joint or moved. I sat out the next to last game though Dr. Garrity thought I was a slacker for doing so. I played my last game at Eau Claire Regis which my Dad attended. Not our worse loss but I don't recall him being impressed.
And that is how we rode Campion Football into the ground. Am I bitter? No. Do I regret going to Campion? No. There were some tremendous people there who influenced my life. Besides Coach Campbell; Dean Andy Thon, Principal Boor, Frs. Dan McDonald, James Strzok, Al Diulio, Bob Liewike, John McNellis and Pat Murphy who were also my tennis coaches and many others I will forget to mention. One regret: could have gone to mass more.
Though there was human collateral damage in the closing years of the school, there were success stories as well. Kevin McVary and Tony Altimari became successful MDs along with at least four others in our class: Ralph Chester, Peter Geldner, Tim Cordes and Joe Havlik. The older I get the less I am impressed by Doctors and other "professionals" but at the time it was the gold standard of success and a significant accomplishment. My senior year roommate Michael Brennan became a big player in Chicago commercial real estate. Underclassman Brian Paulson SJ is Provincal for USA Midwest.
I graduated from the U.S. Coast Guard Academy where I did not play football but rowed crew which I continued for a few years after graduation in Detroit and St. Louis and still do on the ubiquitous Concept 2 machines in gyms and clubs throughout the land. Ironically, I got the idea for USCGA from Tony Altimari who had been urged to look at it but was not interested. Kevin McVary had told me how cool rowing was which prompted me to join the program. There were things that shaped my life positively and likely would not have occurred had I not gone to Campion.
The Director of Athletics at USCGA was Captain Otto Graham, an old NFL legend who was a tremendous influence and outsized personality. I would not have had the same rapport with him if I had never played the game. I met the original Monster of the Midway, George Musso of the 1930s and 40s Bears, before he died. He was one of the first oversized linemen and an old-timer addition to the Hall of Fame as linemen of his era were largely ignored. He had an amazing library of football literature and treasured reminiscing about the old days, signing posters and making appearances for the Hall. They had great lives and I am endeavoring to do the same.
Note: Many thanks to Dr. Kevin McVary for his suggestions and insights. Any errors are mine.
---
From Joe Hrncirik '64
A Few More Jesuit Characters
By Joe Hrncirik '64
Thanks, Pat. I enjoyed your write-up for Campion Forever[April 2020]. I would like to add a few more Jesuit Characters to the list.
First is Father John M. Scott, S.J.; Scotty as, I recall him being called, was the first Jesuit I met. My first encounter was his column on the back page of "Our Weekly Messenger", a 10 to 12 page Catholic themed news magazine we started receiving in about 5th or 6th grade. His columns were about science and God, mainly the space program. I met him in real life in the summer of 1958. I was attending summer camp in the Black Hills of South Dakota, Ghost Canyon Ranch, think Spin and Marty from the Mickey Mouse Club. I went to Mass in Hermosa, SD, a small town about 8 miles from the camp. We always got there early as my counselor was hot on the counter girl at the Bakery/Cafe across the road from the Church.
I was seated in the second row of pews. From the Altar a booming voice said, "You, lad, I am in need of an altar-boy". As I was the only person in the church, I guessed Fr. Scott was addressing me. I walked up and admitted I hadn't learned the Latin quick enough and been kicked out of altar-boy training. Scotty simply said, can you read the response card. I said "yes". Can you follow directions. I said "yes". He said we will have no problems and we didn't. I served Mass for him for the next three weekends. Nothing dropped, nothing spilled, nobody wacked in the throat with the paten. After the last Mass I served for him, he asked me if I knew what certain responses actually were in English and did I understand them. I did know what he meant and he said "knowing what a response actually means is far more important than having them memorized in Latin and having no idea of their value". For some reason, Fr. Scott seemed to know more about my father's roll in the Manhattan Project, much of which I didn't know till the 1990's when some of the project's history was declassified and a few of my FOIA requests were granted to information that is "restricted" to those with a need to know for special reasons.
I met Fr. Carey, S.J. on my neighbors front porch about midsummer 1958. He was visiting the Choutka's who had two boys become Campion Men, Ralph and Lauren and Russ (Crossfire) Choutka about to start his freshman year. He sensed fresh meat, particularly when he found out (or already knew) that my cousin Francis was a teacher at St. Ignatius JHS in Chicago. As I look back now, I may have been viewed as a prize to be captured between the Wisconsin Jesuits and the Chicago Jesuits. My cousin Francis, served at St. Ignatius for 54 years as a teacher, AP, Principal and President of the school. His devotion to God and the School probably saved from the fate of Campion.
At Campion, I remember Fr. Aspenleiter, S.J., nickname "Crusty" due to his extreme psoriasis. Fr. Aspenleiter always seemed to know more about my family heritage than I did. He was a student of European History, particularly Austria-Hungarian history, including the 30 years war. Forty plus years later, in a town called Vestin (pronounced "Settine" with a Texas drawl) I saw a memorial to the men who started the 30 years war; 8 of the 13 names on the monument were HRNCIRIK's. I did enjoy his world history class and wonder if my father didn't ask him to not tell me my family history.
Mr. Power was one of my friends at Campion. He is the one who told me that my dad passed away, a tough day for me at Campion. He always looked out for me and was someone I could talk to and share my feelings without it being blabbed all over the refectory. He and Major Everhard got me through the rest of that year.
Mr. Teske, S.J. made an interesting impression on me. I was afraid of getting clobbered on the head with a hymnal so I always responded and sang loudly so he would know I was awake and paying attention to Mass. Thanks to him I still enjoy every time I go to Mass and participate in the Sacred Mysteries. He also played a good game of Basketball and taught me how to referee a game, keeping control without interfering with the flow of the game.
Fr. Burke, S.J. was one of the prefects on the 4th floor of Marquette Hall senior year. I enjoyed talking with him and seeking his counsel regarding choosing a college. After Campion, going to Loyola and working part-time in a real urban environment was exactly what I needed. I lived at home and commuted via the CB&Q to and from school. I learned and observed the real world and was ready for life after college.
Fr. Francis L. Filas, S.J. was a religion teacher at Loyola. He taught us the meaning of passion for a mission by his devotion to the Shroud of Turin. If it were not for Fr. Filas, the shroud would still be a dusty cloth in the back of the Cathedral Turin, Italy. He brought it forward and pushed it science and theology to examine the validity of the linen cloth. To date, science can only tell us that the edge of the cloth is from the middle ages and no one has been given a sample of the middle of the cloth to study scientifically.
These are some of the Jesuits that influenced me at Campion and Loyola.
Joe
---
From Pat Mower '64
Jesuits I knew, or THOUGHT I knew - 2
By Pat Mower
More Jebbies from the past...
The real first Jesuit that comes to mind is U2. Don't remember if I mentioned him in the last article, but that's ok, he is worth mentioning again. Mr. Power, S.J.. He was an English teacher, I think our freshman year teacher. Neat and clean. He seemed a little haughty to me. Had a very confident walk. Appears to have had a problem because he wanted to be with another group of boys then he was in.
In Oct 1962, during the Cuban Missle Crisis, he had stood up on the steps of Marquette Hall, the Senior Dorm, for those who went after our class, and was talking. He made a statement about something like, "You too can..." and away it went. U-2 became his "sobriquet" Since I think I mentioned last time that double entandre is a Jesuit strong suit. Don't know what happened to his problem, but I do know he left the Jesuits, got married, and when I last talked to him at 80 in the mid-atlantic state he lived in, he had fond memories of most of the guys we talked about. He was always around us, especially in the field below old Lawler and Kostka halls. He would take off his cassock, roll up his sleeves and play ball. He is deceased now, died about 4 or 5 months after I last talked to him. I would like to ask him in his words, did he enjoy being at Campion, and did he enjoy being a Jesuit?
Another scholastic I remember so very well was Mike Sheridan, S.J.. I don't know what the other Jesuits called him, but I would be on something like "Big Mike"! He was not fat, but I wouldn't have wanted to go a few rounds with him anywhere. Luckily, was one of those who always seemed to have a smile on his face. He seemed very jocular and easy going. As I said, this is from the perspective of one of the students. Remember, the scholastics were all under as much pressure as we were. He died very soon after we left Campion of a heart attack. That makes me sad, because he was sure to be one of the better people to become a priest. Not too easy going, but not a tyrant either.
Mr. Egan, S.J., a scholastic during our time, was a polar opposite to both Power and Sheridan. He was one hell of an intense Jesuit; and he let it be known. He gave me my first jug the day BEFORE classes started. Perko and I were having a contest to see how small we could write on a half sheet of paper by entering as many numbers as possible. Understand that there was actually nothing for us to read, calculate or think about - at least in our minds. So, you know how you get this feeling that there is someone just watching your back and thinking about something? Well, Mr. Egan was doing that, and asked us what we were doing. We told him, and his only words were: Jug, both of you. How in the hell were we to understand that we were supposed to read ahead? Come on, class hadn't even started yet. Maybe THAT is why I started and finished in C class.
Slim Jim Egan is how he was known. I didn't know that until someone else mentioned it. I was always looking over my shoulder after that. The picture is of him after he became a priest and extremely liberal. I got to know him extremely well, after he decided I wasn't the goof off he thought I was.
In sophmore year, one of my classmates who took my jacket freshman year, and wrote some nasty stuff on it, got in the biggest trouble you could get into next to murder. I was called down from my room in Lucy Hall. My roomate at the time, Mike Carragher, thought the world had ended since he was convinced I was going to be a Jesuit since I rarely did anything that attracted the Jebbies attention. I fooled ya Mike. Anyway, Egan met me downstairs and after reassuring me that I had done nothing wrong, got the individual, showed him the jacket, then told him his father would be there in 45 minutes to take him home - forever. Note that today this classmate and I are actually friends, and I hold nothing against him. It's been over fifty years; nothing is that important either, except for murder.
So now I will talk about someone I actually didn't know very well. Oscar Benzinger, S.J.. He was an upper class prefect and teacher, so we didn't have much contact with him. He was usually very smiling and in general good natured. I would see him once in a while somewhere walking around observing. Lots of Jesuits "observed" us, 99% of the time. That was their job when not prefecting or teaching us in class or on the grounds. Mr. Biever, S.J. became Fr. Biever, S.J. and later Provincial of the Wisconsin Province! He is one of the many "stars" that came out of the Campion groups of Jesuits.
Prefecting was a job that could be said to be what prison guards do. We always thought about Campion as a sort of prison, thought it was far from it. The Jesuits must have been picked very well. They would see someone have an interest in something, and would bone up on it and start a club or class on it. They would watch TV with us, joke with us, sometimes when they could tell someone was feeling blue, they would be there to help. They were the "Big Brothers" that the priests could not be. They were approximately 10 years older than we were, so they were much closer in age to us. They were also, as I said before, under close scrutiny by the Rev. Fathers! The jesuits who were scholastics with us, and who I have talked to since they became priests, all said the same thing: Campion was a PLUS for them. They understood that we were more than likely the brightest students in any Jesuit high school because of the process required to enter. They understood also that some of the parents were not very visible during the year. When you live in Saudi Arabia or Venezuela it is not easy to just enter the US and travel to the far north to see your son. Many of my classmates that I have talked to felt that they were "Warehoused" at Campion. In a way, we all were. Our parents, however, were looking out for our best interests and trying to get us the best education they could. It was expensive and it was tough.
I can truly say that I have nothing but good and great memories of my years at Campion. I was probably not the one anyone thought would keep things going for the class of 1964. I was the organist, one of the smallest guys in class, a C Class guy, middle of the road, and for sure lazy. Little did I know, I fit in perfectly with my class. They didn't know it either!
I would like to see more people write their memories about Campion. Especially the classes around my time. It seems after about 1967, the Campion we knew faded away. Slowly at first, then more rapidly as the years went by. This is true about everything I think, so it is nothing that is uniquely a Campion occurrence.
The Jesuits we knew and either loved or didn't like, we were the class of 1964. We had no color, we had no financial status, our parents only matter in the fact that they sent us to these Jesuits. The only thing the Jebbies cared about was our well-being and the knowledge we learned. They taught us that nothing matter as to our stature, physical appearance, or anything else. We were all individuals. To this day, I think of ALL my classmates, be they liberal, conservative or anything else, as the best classmates I could have had. I didn't stop at only finding those with whom I agreed with - I went after all of them, and I still am!
The class of 1964 was hailed by Fr. Howard E. Kalb, S.J., Class of 1941 as the exemplar class of what a class should look like. What it should achieve, and what it should BE like. Little did I know that when Fr. Frank Carey, S.J. - the chief instigator to us and our parents to come to Campion, stepped into my 8th grade classroom I would some 55 plus year later, remember EVERY individual in my class. Have gathered them together once more, have served over 21 years in the Military learning not one, but several languages. My mother had she known at the beginning would have pushed me harder. The absolute best thing I did was agreeing to come back to Campion in 1974 and play the final concert on that Mother's Day weekend in May.
Enjoy yourselves, and don't let anything get you down. Campion indeed was a place for, as Mr. Walla, Tom's father said, "Men of Destiny". We have doctors, lawyers, business people of all types, and yes even some career military people. We don't have any Jesuits, but that is THEIR loss, not ours. To be a member of the Class of 1964 is the Biggest award I could have EVER been given. It was something I earned.
---
From the Desk Of John Duskey '63
Thank you to Campion Faculty,
who influenced our lives
As we recall our days at Campion, we remember the faculty, who taught us in many different ways. For some of us, the best remembered way was in the classroom. And yet, our teachers were with us all the time-at least from 6:00 a.m. until 10:00 p.m.-seven days a week while we were at Campion. There was no small amount of learning that took place outside the classroom, and it offered opportunities for personal development and leadership qualities.
My intention here is not to create my own list of faculty who influenced me, but rather to assemble a list from a larger time period, based on the responses I received from the several alumni I contacted. Whoever wants to know my own personal list should read between the lines, read the fine print, in other articles I have written, e.g., the articles on particular teachers, on the Freshman Rec Room, and on Oliver Twist.
There are twenty names on the list that follows, and they are listed in the order in which they first joined the faculty at Campion. It is hard to distinguish between those who served us well inside and outside the classroom. This was different for different groups of students. However, there are some generalizations worth noting. Those who were moderators for the Campionette and for the Knight yearbook got students involved and helped them through the work of creating a publication. Those who were coaches had a particular influence on the athletes they coached. Those who organized intramural leagues put team captains into a position where they had to step in and take a leadership role. Forensic coaches and debate team moderators were not only instructors in the art of public speaking; they were present to offer students encouragement and guidance toward a successful effort.
The same kind of educational role affects students who were in R.O.T.C., sodality, band, choir and glee club and several other activities. These were not really "extra-curricular activities," as is commonly assumed, but a part of that great curriculum of learning that we experienced during our days at Campion. It was the faculty, many of them Jesuits, who gave us the structure, the organization, the opportunities for learning. The following is a list of twenty outstanding teachers. Though only three of them are alive at this time, our thanks should go out to each of them, and to all the others who enabled the school's educational mission.
Rev. Carl E. Zachman, S. J. 1930-31, 1932-34, 1946-55, 1956-71. He taught Math, Latin, and Religion. Several alumni expressed fond memories of Fr. Zachman's Latin Class. He was also remembered for his years as a student, and for playing baseball at Campion, both in High School and in College. He was one of the last graduates of Campion College, which closed in 1925. After leaving Campion in 1971, he spent the last five years of his life at St. Vincent's home in Omaha, Nebraska.
[EDIT: unknown HS '12; Campion College of Sacred Heart, Class of 1916]
Mr. Sydney S. deRanitz 1939-75. He was music teacher and director of the ROTC marching band, and the Concert Band. He gave individual music lessons to many Campion students, helping them to improve their musicianship and contribute to a better band. He could take a student who was not a great musician and get the most and the best performance out of him. Not only did he direct the Band at Concerts, he produced a real show every time he had the opportunity, particularly in the biennial spring concerts. He was generous with his time for students when they needed his help.
Rev. Robert H. Millmann, S. J. 1938-40, 1949-64. Taught English and Religion, and worked in Sports Information, as well as serving as chaplain at St. Maryr's Academy. He also served as moderator for publications including the Campionette. He got students involved in publications and, on a few occasions, was able to set up a Campion student with a girl from St. Mary's Academy for a Campion school dance. Fondly remembered, he died suddenly in February 1964, in his room in Lawler Hall.
Rev. Walter Halloran, S. J. 1945-46, 1957-63. Taught History and Religion and coached several sports. He is remembered for his brief description of an unusual experience in 1949 while he was in St. Louis, an experience that was modified and retold in the film "The Exorcist". He returned to Campion in 1957. While he was closest to the athletes, he was interested in all of his students. He was sent to Marquette University to teach History, 1963-1966. He volunteered to serve as a chaplain in the US Army and eventually trained as a paratrooper and served in Vietnam where he earned two bronze stars. After 1971, he had several other assignments with the Jesuits until his death in 2005.
[EDIT: Walter was also an alumni from the class of 1939]
Rev. John M. Scott, S. J. 1948-78. Taught Physics and General Science. His classes included interesting demonstrations and he always found a way to get students to remember the basic principles. He also wrote many books about science and other topics. After the school closed in 1975, he served as superior of the Jesuit Community at Campion until the property was sold in 1978.
Rev. Francis J. Aspenleiter, S. J. 1949-70. Taught History of Western Civilization and Religion. In fact, he was the author of textbooks used in both of those courses. He made it clear what he wanted students to know for his tests. He headed Junior Division and was a major part in the life of every freshman in those years. In addition, he served as JV baseball coach. The 1962 Knight Yearbook was dedicated to him.
Rev. Howard E. Kalb, S. J. 1949-51, 1957-66. Taught Algebra and was the dean of Kostka Hall, and the first Dean of Lucey Hall when that building opened in 1959. Fr. Kalb was a 1941 graduate of Campion and taught at Campion as a scholastic. After his ordination he returned to Campion and on October 10, 1960, was named the school's president. Even with those responsibilities and a busy schedule, he continued to teach Advanced Algebra to juniors and remained close to the students. He served as president for several of the school's best years, until June 5, 1966.
Mr. Neil Cahill, S. J. 1950-53. Taught History and Speech. Neil Cahill was a highly regarded and well liked scholastic at Campion. George Braasch '54 stated, "Everyone loved the man. After Campion he went to Creighton where he was one of the most respected and loved Jesuits according to Creighton alumni that I came across. He never avoided coming to class of '54 reunions. He had many fans."
Mr. James O. Peterson 1953-71. He was a versatile Social Studies teacher, instructing students in History, Sociology, and Economics. In addition, he is well-remembered as the football coach, basketball coach and baseball coach who also served as the school's Athletic Director. After leaving Campion, he served on the Crawford County Board, and was chairman 1968-70. From 1971 to 1983, he headed the Department of Motor Vehicles for the State of Wisconsin.
Rev. Joseph Eagan, S. J. 1956-62. Taught English to seniors. He served as a prefect in Marquette Hall when it was the senior residence. But he is well-remembered by all the classes for his work coordinating the Sodality activities and for his years when he served as moderator of the Campion Knight yearbook. Even now, as the years have gone by, he still enjoys coming to Campion reunions.
[EDIT: Joseph was graduate of the class of 1940.]
Rev. William J. Doran, S.J., 1956-57, as assistant principal, and 1958-68, as principal. One of the most forward-thinking of the Jesuits, he listened to students' concerns and was willing to change the curriculum in response to perceived needs. Sociology and Classical Languages are two examples of this. He was helpful to seniors in the choice of a college. In addition, seniors found out in the faculty-senior class softball game, that Fr. Doran was an excellent pitcher. After leaving Campion, he served for several years as President of Marquette High School in Milwaukee.
Rev. Gene Dutkiewicz, S. J., 1957-58 as a scholastic, taught Chemistry, and after ordination, 1963-69 taught math and served as assistant principal. He came to know well the minds of students and initiated several programs that were helpful to the school community. As assistant principal, he had the difficult task of balancing the rights of students and the common good of the whole school.
Rev. Thomas A. Hoffman, S. J., 1959-66, teacher of Latin, speech, history, and sociology. He was also a floor prefect in Lucey Hall and a key man in the development of the school's curriculum. In the early sixties, it was apparent that the study of sociology should be brought into the life of every student. At the urging of Fr. William Doran, Fr. Hoffman was designated to teach all four sections of sociology for one semester in senior year. Fr. Hoffman also served as moderator of the debate team. At the end of his life, he recalled that his years at Campion were the highlight of his career.
Rev. Roland J. Teske, S. J., 1959-62, teacher of Latin and Greek. He served as a scholastic at Campion for three years and shared his knowledge of Virgil and Homer with juniors and seniors. As Mr. Teske had such a friendly, easy-going reputation in his early years in the Society, his superiors had warned him to be very strict with Campion students. This he did. At the same time, when he was a floor prefect in Lucey Hall, came to know him better and benefited from his friendship. He went on to be an outstanding scholar as a Philosophy professor at Marquette University. At his funeral, it was pointed out that there will never again be such a Jesuit as Fr. Roland Teske.
Rev. Michael P. Sheridan, S.J. 1959-62, teacher of sophomore English, had an impressive classroom presence, and also an active role in students' lives, as a dorm prefect, forensics coach and, in 1961-62, as Knight yearbook moderator. After his years at Campion, he worked in administration at Marquette University, and spent most of his career at Creighton. Unfortunately he died young, in spring of 1978.
Rev. James A. Egan, S. J., 1959-62, as a scholastic, taught English, and, again in 1968-70, 1971-73. Taught Religion and social studies. He was also a successful forensics coach and sodality moderator. Mr. Egan was praised by the students in his freshman English classes for his well organized program of instruction. He loved the school and returned after ordination and shared his deep interest in social issues with students into the seventies.
Mr. Louis G. Friedrichs, 1961-67, teacher of Algebra and Geometry, Football Coach. He joined the Campion faculty in January of 1961 at the start of the second semester. He was able to get the most and the best out of Campion's students, in the classroom and on the football field. The 1966 Knight yearbook was dedicated to him.
Mr. Paul J. Megan, S. J. 1961-64, teacher of Latin, Art, Choir director, and pep band director. He had a terrific interest in all of the Fine Arts, and his work on the presentation of Oliver Twist in spring 1963 was outstanding. In addition, he organized a film festival in 1964, which offered students the chance to see some foreign films that displayed different viewpoints.
Mr. Joseph P. O'Neill, 1962-64 as a Jesuit scholastic, he was a teacher of English and Drama He also worked in admissions at Campion after leaving the Jesuits, 1969-72. He took an active part in students' lives both inside and outside the classroom. Along with Paul Megan, he directed Oliver Twist; he directed several other plays as moderator of Masquers. Having left the Jesuits, he returned to Campion in 1969 with the difficult assignment to work in admissions. He contributed substantially to the Campion Forever article on Oliver Twist. Mr. O'Neill went on to a career as a commodities broker with the Chicago Board of Trade.
Mr. Maurice Oehler, 1962-71 teacher of Chemistry, joined the Campion faculty in fall of 1962, fulfilling a need the school had for continuity in this position. His classes, and the lab work associated with them, were always interesting. He left Campion in 1971 and taught at Prairie High for several years until his retirement. One of his great contributions to the world of Chemistry was [EDIT: his founding of] the celebration of "Mole Day" on October 23. He joined a group of his former students for dinner at Huckleberry's in June 2019, and died in January 2020.
---

Obituaries:

| name | class_of | deceaseddate | city_grad |
| --- | --- | --- | --- |
| David W. Nelson | 1969 | 2020-01-02 | Meridan |
| James W. Vickers | 1946 | 2020-01-06 | Wichita |
| Dan P. Moloney | 1949 | 2020-01-25 | Bernard |
| Bruce R. McAuliffe | 1948 | 2020-02-11 | Lakewood |
| John C. Monosmith | 1959 | 2020-02-14 | Rockford |
| Edward F. Conlin | 1948 | 2020-02-15 | Ann Harbor |
| Thomas L. Burton | 1961 | 2020-02-19 | Cedar Rapids |
| Rev. Ron J. Ansay | 1950 | 2020-02-25 | Milwuakee |
| Donald D. Duggan | 1969 | 2020-03-03 | Waukon |
| Edward L. Schrems | 1963 | 2020-03-21 | Saginaw |
| Irvin L. Pfab | 1951 | 2020-03-21 | Bernard |
| Paul C. Wagner | 1970 | 2020-04-04 | Sidney |
| John J. Osmanski | 1969 | 2020-04-07 | Evanston |
| Robert E. Pulvermacher | 1964 | 2020-04-14 | Richland Center |
| Joseph A Bongiorno | 1959 | 2020-04-14 | Albany |
| Rev. William J. Kelly, S.J. | 1941 | 2020-04-16 | Oak Park |
| Harry Schwab | 1945 | 2020-04-20 | Akron |
| Francis P. Ryan | 1945 | 2020-05-03 | Wayne |
| Richard J. Kozelka | 1957 | 2020-05-22 | Prairie du Chien |
| Irving I. Schiek, III | 1959 | 2020-05-27 | Rhinelander |
| Edward G. Zinschlag | 1959 | 2020-06-05 | Mattoon |
| William T. Osmanski, Jr. | 1967 | 2020-06-06 | Evanston |
| Thomas S. Eck | 1965 | 2020-06-07 | Williams Bay |
| Daniel J. Earls | 1962 | 2020-06-21 | Cincinnati |
| Anthony J. Rudis, Jr. | 1959 | 2020-06-27 | Chicago |
| James H. Mueller | 1967 | 2020-07-00 | New Berlin |
| Ronald R. Michno | 1960 | 2020-07-01 | Gages Lake |
| Paul T. Hoefs, II | 1944 | 2020-07-15 | Wood Lake |
| John O. Uberti | 1965 | 2020-07-18 | Detroit |
| Patrick Coughlin | 1957 | 2020-07-21 | Sioux Falls |
| Gregory B. Vatterott | 1960 | 2020-08-05 | St. Louis |
| Daniel R. Herely | 1959 | 2020-08-06 | Harvard |
| Martin F. King | 1951 | 2020-08-07 | Madison |
| Larry J. Lundy | 1955 | 2020-08-24 | Appleton |
| Thomas F. Ross | 1971 | 2020-08-26 | Hammond |
| Paul Novack | 1959 | 2020-08-31 | Berwyn |
| Kem A. Wuellner | 1970 | 2020-09-07 | Alton |
| Robert L. Broghammer | 1959 | 2020-09-10 | Cedar Rapids |
| Gregory F. Cryns | 1964 | 2020-09-24 | Arlington Heights |
| Steve Joncha | 1970 | 2020-10-17 | Barrington |
| John William McKenzie | 1949 | 2020-10-22 | Appleton |
| Francis Bichl | 1951 | 2020-10-23 | Wilmette |
| Robert S. Anson | 1963 | 2020-11-02 | Cleveland Heights |
| John J. Molidor | 1948 | 2020-11-11 | Round Lake |
| Charles P. Meehan | 1950 | 2020-11-13 | Lincoln |
| James Doyle Brewer | 1949 | 2020-11-17 | Laurel |
| John J. Fatum, Sr. | 1945 | 2020-11-25 | Oceanport |
| Richard A. Keeney | 1950 | 2020-11-28 | Akron |
| Robert J. Riley | 1975 | 2020-12-10 | Munster |
| Brian M. Lavan | 1954 | 2020-12-12 | Brighton |
| Thomas J. Kretz | 1953 | 2020-12-14 | Antigo |
| John R. Spence | 1947 | 2020-12-17 | Williams Bay |
| Thomas M. O'Beirne | 1957 | 2020-12-17 | Tolono |

Alumni who have passed in 2019, 2018, 2017, 2016, 2015, 2014, 2013, 2012.
All known by class.
Faculty who have passed:

Bro. Edward C. Gill, S.J., 2020-06-06, Treasurer & Automobiles Caretaker 1970-1976
Fr. William J. Kidd, S.J., 2020-03-03, Teacher of Math, 1966-1974
Rev Bernard Coughlin, S.J., 2020-01-28, Teacher of Latin, Sociology and Drama, 1949-1952
Maurice L. Oehler, 2020-01-23, Professor Chemistry 1962-1971, Founder Mole Day
Fr. James E. Fitzgerald, S.J. 2019-10-12, Teacher of U.S. History 1960-1963
Fr. James H. Ryan, S.J. 2019-07-28, Teacher of Religion 1970-1972.
Loretta A. Oehler 2019-06-19, Student Laundry
Fr. Ted Hottinger, S.J. 2019-04-22, Teach of Religion, English 1959-1960.
Ralph Dublinski 2019-02-20, Teacher of Algebra and Geometry 1958-1960.
Fr. Eugene F. Merz, S.J. 2019-01-16, Teacher of Religion 1964-1965.